To Buy or Not to Buy Another Sexy Heated Body Warmer...?!?

This post is published via LeoFinance.
6 months ago
Nov 23 2022 7:58 pm
-
2 minutes read
Now that the weather is turning cold I am really appreciating the heated body warmer I bought back in summer...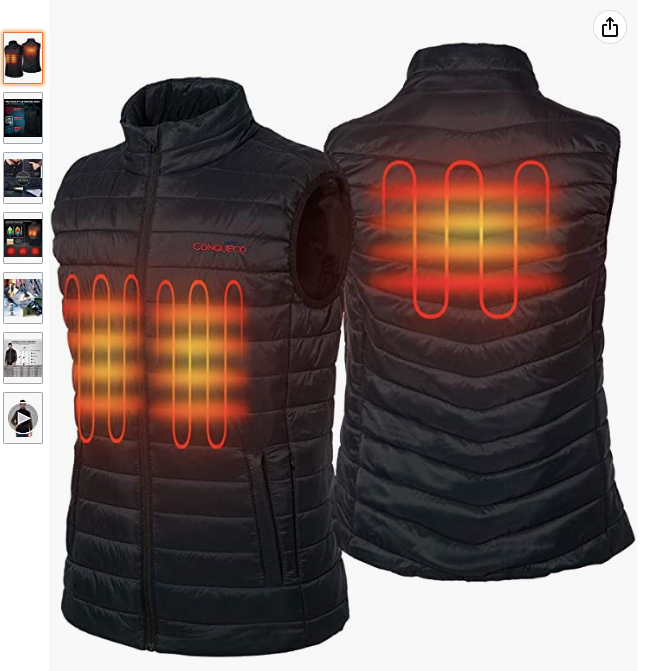 Just trust me on this, i'm writing this from the GF's house and it's damp and cold outside, and not that warm inside but I am proper fucking TOASTY thanks to this thing!
The only downside of the body warmer I got is the size: I bought a medium thinking I'd wear it as a snug-fitting under-layer to an outer jacket and I got the sizing just right for that, but it's so good now I'm thinking I'd also just quite like a large size which would be, well, more more size - as in the size that actually fits and doesn't look too small.
The reason for this being that it's so good that I don't really need an outer layer when it's dry, which will probably be the case at least 30% of the time over winter here in the U.K. and the medium one looks a bit silly as it is (deliberately) too small.
Now I can afford another one these larger sized bad boys no problemo, but I'm currently in my 'if you don't really NEED it then don't buy it mode'.
These things cost £100, which is 100% worth it as they basically eradicate the need for a warm jacket all winter - all you need is a relatively thin outer layer to keep the wind and/ or rain off as necessarily, but £!00 hmmm....
I'd kind of rather that were sitting in my new 5% saver account earning me some interest, it's £100 towards the new land fund I'm currently just starting to build as that's got to be my next major purchase.
And I really don't want to get into the habit of IMMEDIATELY buying a second version of something I've already got just for the sake of aesthetics.
It's an old discipline I used to be much better at practicing a few years ago and I want to get back into the habit of doing so.
Although NB I will say two further things....
I'm hoping to buy some land in the next couple of years - if I had a longer term time-frame I'd probably just buy this ting now given the inflation rate and its capacity to undermine the value of FIAT.
In fact I might even change my mind about purchasing this 'ting NOW given the inflation rate... hmmm.
Also I'm probably going to buy my GF one of these things - this is the sort of love that needs to be shared, it's just a shame I can't hand the one I've got down, it just wouldn't fit being a bloke's cut, tits and all!
Oh actually fuck it maybe I should just buy two of these things in the Black Friday deals...?
Posted Using LeoFinance Beta