Travala.com Monthly Report: January 2023 Sees Metrics Up and Business Thriving - A Positive Sign for the Future

This post is published via LeoFinance.
4 months ago
Feb 09 2023 9:39 am
-
2 minutes read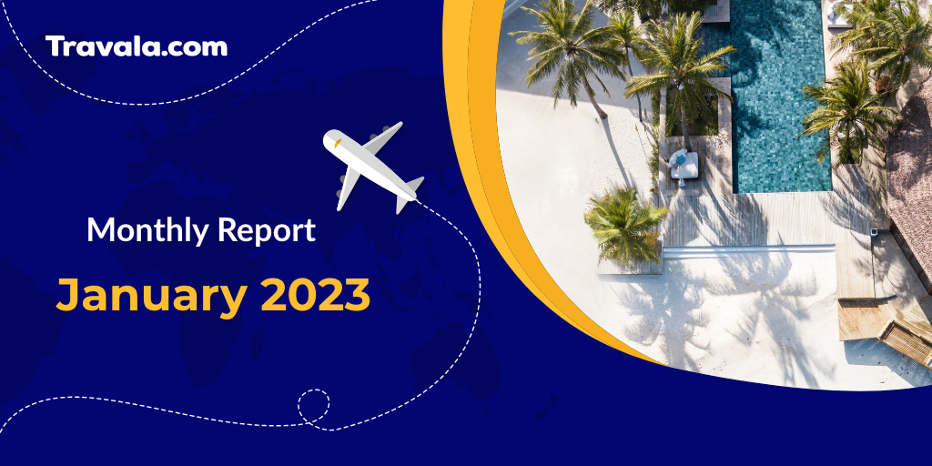 Travala.com, the leading cryptocurrency-friendly travel booking platform, has released its January 2023 monthly report, highlighting its key performance metrics for the month. The report provides a comprehensive overview of the company's growth and performance, comparing it to the previous monthly report from December 20229.
Compared to December 2022, the January 2023 report shows a significant increase in several metrics. The total number of booked properties increased by 29.8%, reaching 31,961 properties in January. The total number of booked nights also rose by 29.6%, reaching 110,726 nights in January. Additionally, the average booking value per order increased by 12.5%, reaching $222.44 in January.
In terms of platform usage, the report showed a significant increase in the number of registered users, which rose by 8.9%, reaching 2,719,603 registered users in January. Furthermore, the report revealed an increase in the number of active users, which rose by 11.9%, reaching 1,589,603 active users in January.
The report also indicated a growth in the number of AVA token holders, with a 19.2% increase compared to December 2022. The report also showed an increase in the overall AVA token liquidity, with a 14.1% increase in the total AVA token market cap, reaching $47,132,151 in January.
In conclusion, the January 2023 monthly report shows positive growth for Travala.com in several key metrics, with increases in total bookings, platform usage, and token holders. This suggests that the business is running well and has a strong performance. The company's focus on expanding its reach and providing a user-friendly platform has helped to drive growth and increase adoption. With continued growth and positive trends, Travala.com is poised for continued success in the future. This article was written with the help of ChatGPT.
This is @no-advice for @spinvest-leo
Posted Using LeoFinance Beta