What is LeoFinance and How Does it Work? | New LeoFinance FAQ Page

This post is published via LeoFinance.
We've been spending a lot of time on outward initiatives to get more users onto LeoFinance. This includes marketing/creating content on Twitter, YouTube, Podcasting platforms, Medium, Linkedin, etc.
The goal here is what our goal has always been: to bring in new users both to LeoFinance and to the Hive blockchain ecosystem.
Thanks to the new Hiveonboard tool, we've been able to sign up some users with accounts and delegate them some HP so that they've got the RCs to interact.
Having a proper FAQ page is more important now than ever before. As we've been onboarding users that are off of Hive (and also users that are on Hive, but don't understand what LEO/LeoFinance is), we've been collecting some of the most frequently asked questions to create this FAQ page.
Many members of the community (i.e. @trumpman, @uyobong, @taskmaster4450, @katerinaramm, @steliosfan and others) have been doing a great job in bringing in new users to LEO. With all of this increased attention, we need a solidified place to send users who want to learn about the nuances and inner workings of LeoFinance.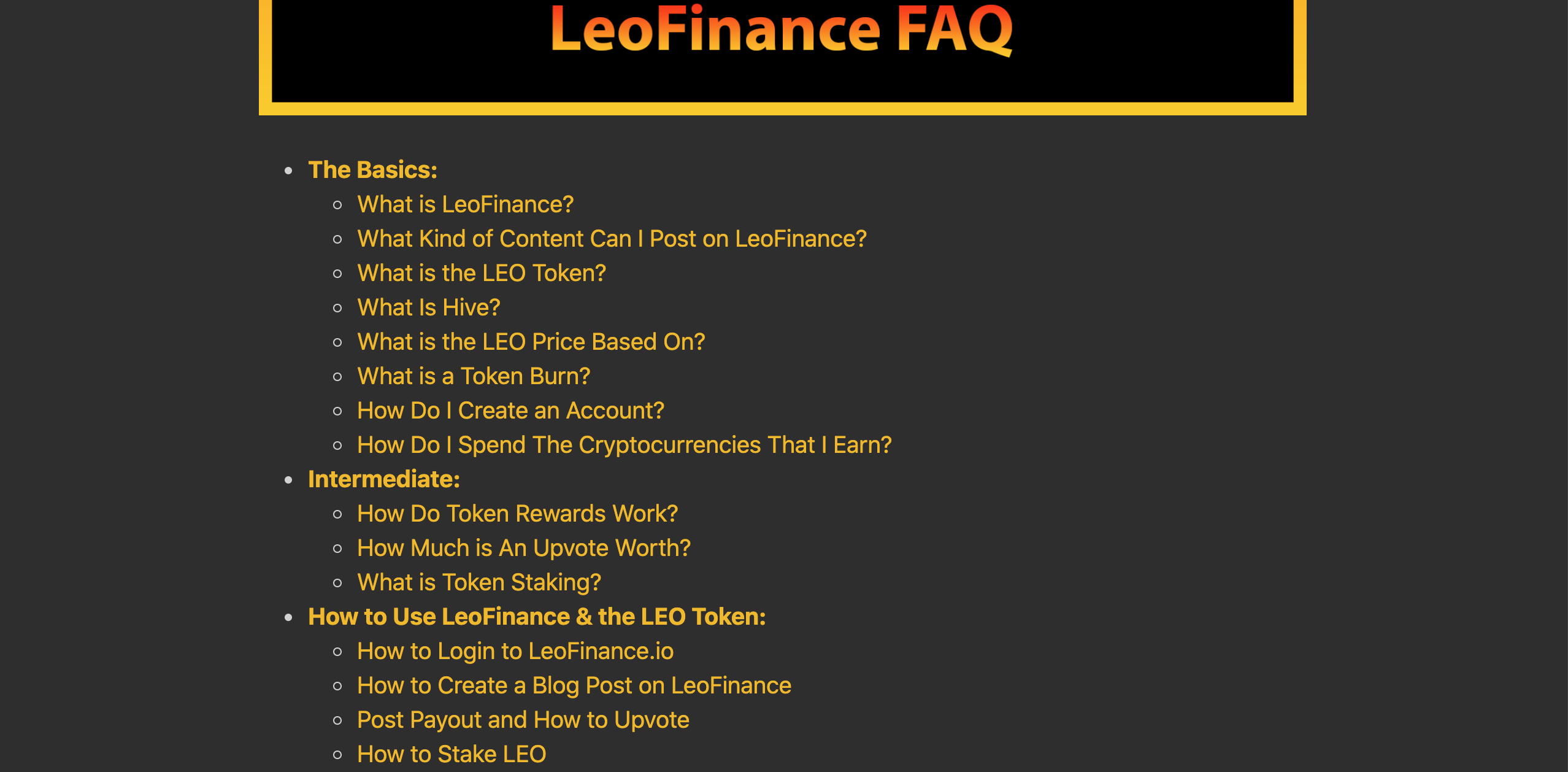 The FAQ Page is easy to navigate. Just use the Table of Contents at the top to find a question that is relevant or just read it through if you want to try and find something about LeoFinance that you may not have known.
This page is primarily intended for two groups:
Non-Hive users that we onboard via Twitter and other platforms
Existing Hive users that don't know much or anything about LeoFinance/Second-Layer communities on Hive
Anytime we see a question being asked frequently that we haven't included in the guide, we're adding it to the list. This page will grow over time as we see more users come to LeoFinance and ask about what this community is and how it all works.
If you have been interacting with new users and think of any questions, feel free to drop them down below or shoot them over on Discord and we'll update the list. The goal here is to create the ultimate resource that any of our community members can link back to when explaining LeoFinance to a new user.
Another thing I wanted to mention is how best to share this guide. For some users, it may make sense to just send them to the general FAQ page. For other users, it may make sense to send them to a specific section. I'll leave that up to your discretion, but if you decide that a user would be best served with a specific section of the FAQ page, just use the anchor link function to send them there:
For example:
Each section has its own respective anchor link. If you're looking for the link to a particular section, you can find it in the table of contents at the top of the page.

LeoFinance is an online community for crypto & finance. We run several projects that are powered by Hive and the LEO token economy:
| Track Hive Data | Blog & Earn LEO | LEO FAQ | |:---------------------------------: |:-----------------------------------: |:-----------------------------------: | | Hivestats | LeoFinance | Learn More | |
|
|
|
| Trade Hive Tokens | Learn & Contribute | Hive Witness | |:-----------------------------------: |:-------------------------------: |:-------------------------------: | | LeoDex | LeoPedia | Vote |
|
|
|

Posted Using LeoFinance