01-03-2023 - Hive Power Up Day [EN]-[IT]

3 months ago
Mar 01 2023 8:59 am
-
5 minutes read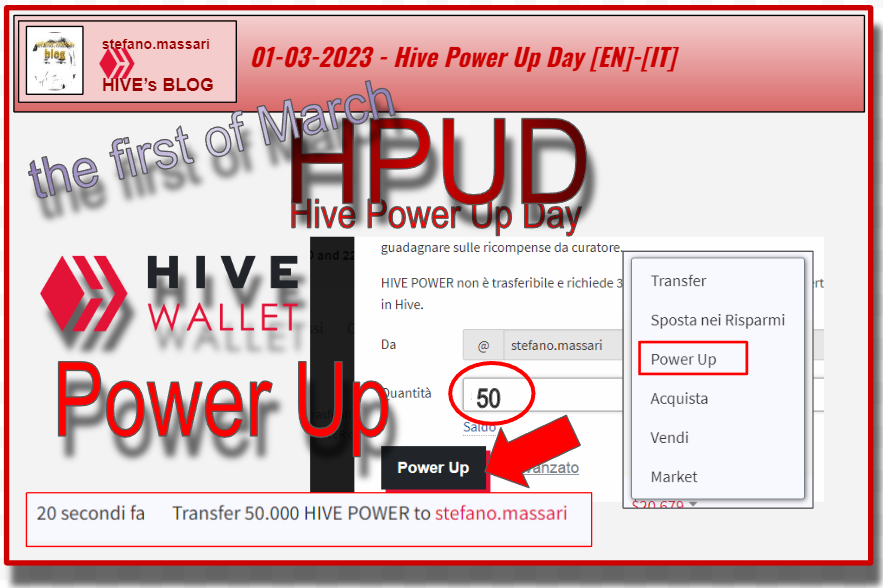 ---
~~~ La versione in italiano inizia subito dopo la versione in inglese ~~~
---
ENGLISH Considerations I am ready for the third Power Up in 2023. The last time I participated was just last month. Doing Power Up increases one's influence on the platform and this allows us to have a more valuable upvote and also puts us in a position to earn more from the activity we do within the platform. On 01-02-2023 I had participated in this initiative by making a power up of 50 HIVE, today 01-03-2023 I can participate in this initiative with 50 HIVE. Practically the same participation fee as last month. I am interested in increasing my influence on this platform because I find it very dynamic. I also see that there are developments all the time and many applications. Another relevant factor is that there are very good users on the various social platforms built on HIVE, so it means that HIVE is able to attract and retain highly professional bloggers.
Link to a post about the Power Up Day on 1 March 2023. Here is the post by HIVE user traciyork talking about this latest Hive Power Up Day
The HPUD countdown The AMAZING Hive Power Up Day badge is obtained by performing the Power Up within 24 hours on 1 March 2023 according to UTC (Coordinated Universal Time). At https://hivebuzz.me/@hivebuzz you can find the countdown to determine how much more time you have to participate in Power Up Day. I remind you that you have 24 hours to participate and you can only participate one day per month, this day coincides with the first day of each month. The Power Up window shows the monthly Power Ups in which you have participated in the past. I would like to remind you that to check how many HPUDs one has participated in, one must go to https://hivebuzz.me/@hivebuzz and choose the folder with the green flap and the words "POWER UP". In that folder there will be a list of power ups performed and a list of upcoming HPUDs. Today 01-03-2023 in the HIVE BUZZ ranking I am in 2580th place. A goal I can set for myself would be to be in the top 2500, although I would like to be in the top 2000. However, I will now set myself an achievable goal, namely to climb the rankings by about eighty positions in a year.
Guide to a Power Up Here's an old guide I did a while ago, I promise I'll update it again soon.
Conclusions Today is 1 March 2023 and it is the third Hive Power Up Day of the year. It is my intention to be able to participate in all Power Ups in the year 2023. If the price of HIVE in the coming period goes down I will be able to participate with larger sums, otherwise I will have to keep doing 50 HP Power Ups every month if not less. Let's see if the price of HIVE will help me in the coming months, i.e. go down a little.
Question Are you going to participate or have you participated?
Previous Posts
Disclaimer I am not a financial advisor, so what is written in this post is a personal opinion, not financial advice. If you want to invest, you have to do it consciously and on your own responsibility.
Referral My HIVE referral link: https://hiveonboard.com?ref=stefano.massari

ITALIAN Considerazioni Sono pronto per il terzo Power Up del 2023. L'ultima volta che ho partecipato era proprio il mese scorso. Fare Power Up aumenta la propria influenza sulla piattaforma e questo ci permette di avere un upvote di maggior valore e ci mette in condizione anche di guadagnare di più dall'attività che svolgiamo all'interno della piattaforma.. Il 01-02-2023 avevo partecipato a questa iniziativa facendo un power up di 50 HIVE, oggi 01-03-2023 riesco a partecipare a questa iniziativa con 50 HIVE. Praticamente la stessa quota di partecipazione del mese scorso. Sono interessato ad aumentare la mia influenza su questa piattaforma perché la trovo molto dinamica. Inoltre vedo che ci sono sviluppi in continuazione e molte applicazioni. Altro fattore rilevante è che sulle varie piattaforme social costruite su HIVE ci sono utenti molto bravi, quindi significa che HIVE è in grado di attirare e trattenere blogger di alta professionalità.
Link ad un post che parla del Power Up Day del 1 Marzo 2023 Ecco qui il post dell'utente HIVE traciyork in cui si parla di quest'ultimo Hive Power Up Day
Il conto alla rovescia del HPUD Il badge AMAZING Hive Power Up Day si ottiene eseguendo il Power Up entro le 24 ore del 1 marzo 2023 secondo l'ora UTC (tempo coordinato universale). Sul sito https://hivebuzz.me/@hivebuzz si può trovare il conto alla rovescia per determinare quanto tempo ancora si ha per partecipare al Power Up Day. Ricordo che si hanno 24 ore per partecipare e si può partecipare solo un giorno al mese, questo giorno coincide con il primo giorno di ogni mese. Nella finestra Power Up sono indicati i Power up mensili a cui si è preso parte in passato. Ricordo che per verificare a quanti HPUD uno ha partecipato si deve andare sul sito di https://hivebuzz.me/@hivebuzz e scegliere la cartella con il lembo verde e la scritta "POWER UP". In quella cartella ci sarà un elenco dei power up effettuati ed un elenco dei nuovi prossimi HPUD. Oggi 01-03-2023 nella classifica di HIVE BUZZ sono al 2580 esimo posto. Un obiettivo che posso pormi potrebbe essere quello di rientrare tra i primi 2500, anche se mi piacerebbe essere tra i primi 2000. Comunque adesso mi porrò un obiettivo raggiungibile, cioè di scalare la classifica di circa un'ottantina di posizioni in un anno.
Guida per effettuare un Power Up Qui di seguito una vecchia guida che feci tempo fa, prometto a breve la rifarò aggiornata.
Conclusioni Oggi è il 1 marzo del 2023 ed è il terzo Hive Power Up Day dell'anno. E' mia intenzione riuscire a partecipare a tutti i Power Up dell'anno 2023. Se il prezzo di HIVE nel prossimo periodo si abbasserà potrò partecipare con somme più rilevanti, altrimenti dovrò continuare a fare dei Power Up da 50 HP ogni mese se non di meno. Vediamo se il prezzo di HIVE mi aiuterà nei prossimi mesi, cioè scenderà un pochino.
Domanda Voi avete intenzione di partecipare o avete partecipato?
Post precedenti
Disclaimer Non sono un consulente finanziario, quindi ciò che è scritto in questo post è un'opinione personale, non un consiglio finanziario. Se volete investire dovete farlo consapevolmente e sotto la vostra responsabilità.
Referral Il mio referral link di HIVE: https://hiveonboard.com?ref=stefano.massari
---
THE END