05-03-2023 - Let's have a look at AUDIO [EN]-[IT]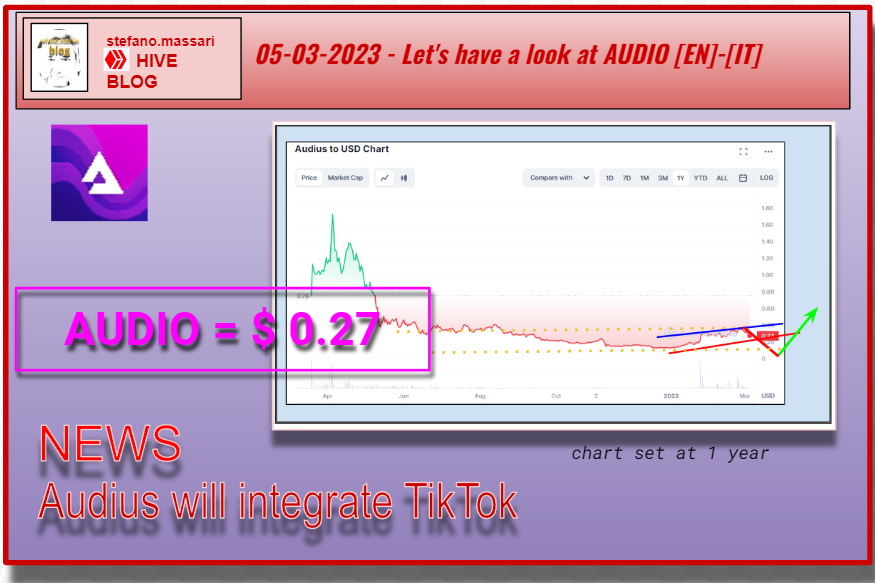 Chart screenshot from: https://coinmarketcap.com/currencies/audius/
Logo image owned by: https://audius.co/
---
~~~ La versione in italiano inizia subito dopo la versione in inglese ~~~
ENGLISH Cryptocurrency data. Audius features: Token name: AUDIO Application area: blockchain related to the music industry Ranking position: 132 Blockchain on which the contract runs: Ethereum Market Capitalization: $0.267 billion Circulating Supply: 0.990 billion tokens Max Supply: There is no ceiling Total Supply: 1.160 billion tokens
Considerations The last time I had taken a look at the Audius (AUDIO) data was 30-10-2022, let's go and see what has changed since that date. The position in Coinmarketcap ranking has changed, AUDIO was in 154th place while today it is in 132nd place. The capitalization has increased, it went from $0.167 billion to $0.267 billion USD.
News Latest Audius, the Web3 music streaming platform, will integrate TikTok. The news came out on Coindesk and was released on March 3.
Users will be able to share Audius songs in their TikTok videos. The integration could further amplify the reach of Audius. News source: https://www.coindesk.com/web3/2023/02/23/web3-music-streaming-platform-audius-integrates-tiktok/
Chart analysis Chart screenshots taken from: https://coinmarketcap.com/ On 30-10-2022 AUDIO was worth $0.20, today 05-03-2023 instead it is worth $0.27. Below is the old forecast compared to the current situation. The old forecast turns out to be wrong. I predicted a period of lateralization, instead the token had a period where it was bought and not sold.

Let's take a look at the chart set at 1 year (also included in the cover graphic):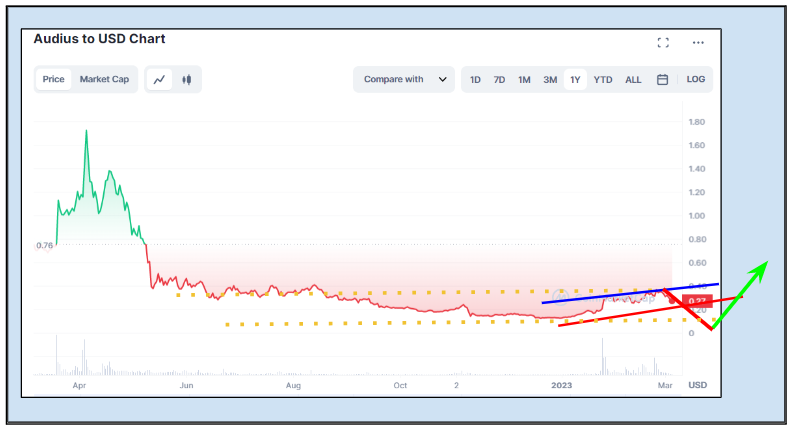 This 1-year set chart shows that AUDIO has been inside a bullish channel since January 2023. The price, in late February, hit the dynamic resistance trend line and is now falling. There is a 70 percent probability that the price will fall towards $0.15 or even further below, towards $0.12. It seems to me that right now the pressure of the sellers is greater than the pressure of the buyers.
Conclusions Compared to October 2022, Audius has increased its capitalization by $100 million, also it has moved up in coinmarketcap ranking moving from 154th place to 132nd. The latest interesting news came out a few days ago, Audius is adding support for the popular social media platform TikTok.
Question What do you think about AUDIUS? Do you think the music market will also move to blockchain?
Previous posts
My AUDIUS profile https://audius.co/stem73
Disclaimer I am not a financial advisor, so what is written in this post is a personal opinion, not financial advice. If you want to invest, you have to do it consciously and on your own responsibility.
Referral My HIVE referral link: https://hiveonboard.com?ref=stefano.massari

ITALIAN Dati della criptovaluta Caratteristiche di Audius: Nome del Token: AUDIO Settore di applicazione: blockchain collegata al settore musicale Posizione in classifica: 132 Blockchain su cui gira il contratto: Ethereum Capitalizzazione di mercato: 0,267 miliardi di dollari Circulating Supply: 0,990 miliardi di token Max Supply: Non c'è una tetto massimo Total Supply: 1,160 miliardi di token
Considerazioni L'ultima volta che avevo dato un'occhiata ai dati di Audius (AUDIO) era il 30-10-2022, andiamo a vedere cosa è cambiato da quella data. La posizione nella classifica di Coinmarketcap è cambiata, AUDIO si trovava al 154esimo posto mentre oggi è al 132esimo posto. La capitalizzazione è aumentata, è passata da 0,167 miliardi di dollari di dollari a 0,267 miliardi di dollari di dollari.
Ultime notizie Audius, la piattaforma di streaming musicale Web3, integrerà TikTok. La notizia è uscita su Coindesk ed è stata diffusa il 3 marzo.
Gli utenti potranno condividere i brani Audius nei loro video TikTok. L'integrazione potrebbe amplificare ulteriormente la portata di Audius. Sorgente della notizia: https://www.coindesk.com/web3/2023/02/23/web3-music-streaming-platform-audius-integrates-tiktok/
Analisi del grafico Screenshot dei grafici presi da: https://coinmarketcap.com/ Il 30-10-2022 AUDIO valeva 0,20 $, oggi 05-03-2023 invece vale 0,27 $. Qui di seguito la vecchia previsione in confronto all'attuale situazione. La vecchia previsione risulta sbagliata. Avevo previsto un periodo di lateralizzazione, invece il token ha avuto un periodo in cui è stato acquistato e non venduto.

Andiamo a dare un'occhiata al grafico impostato ad 1 anno (inserito anche nella grafica di copertina):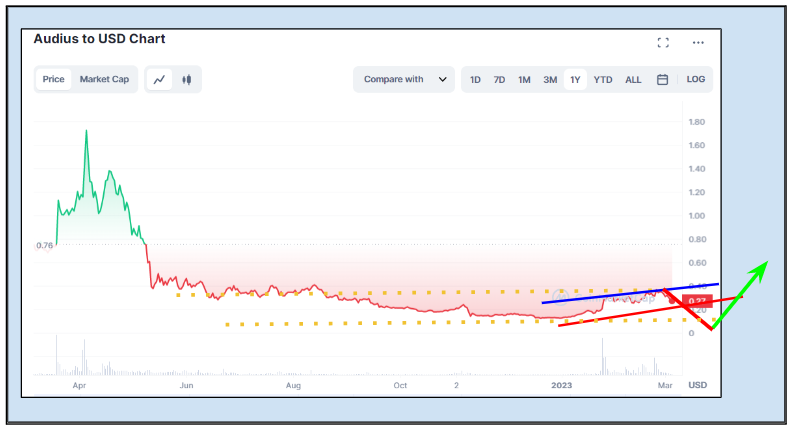 Questo grafico impostato ad 1 anno mostra che AUDIO si trova all'interno di un canale rialzista da gennaio 2023. Il prezzo, verso fine febbraio, è andato a sbattere sulla trend line di resistenza dinamica ed ora sta scendendo. C'è una probabilità del 70% che il prezzo scenda verso i 0,15$ oppure ancora più sotto, verso i 0,12$. Mi sembra che in questo momento la pressione dei venditori sia maggiore di quella dei compratori.
Conclusioni Rispetto ad ottobre 2022, Audius ha aumentato la sua capitalizzazione di 100 milioni di dollari, inoltre è risalito nella classifica di coinmarketcap portandosi dal 154esimo posto al 132esimo. L'ultima interessante notizia è uscita qualche giorno fa, Audius sta aggiungendo il supporto per la popolare piattaforma social media TikTok.
Domanda Cosa ne pensate di AUDIUS? Secondo voi anche il mercato musicale si trasferirà su blockchain?
Post precedenti
Il mio profilo di AUDIUS https://audius.co/stem73
Disclaimer Non sono un consulente finanziario, quindi ciò che è scritto in questo post è un'opinione personale, non un consiglio finanziario. Se volete investire dovete farlo consapevolmente e sotto la vostra responsabilità.
Referral Il mio referral link di HIVE: https://hiveonboard.com?ref=stefano.massari
---
THE END