12-03-2023 - Short Crypto News [EN]-[IT]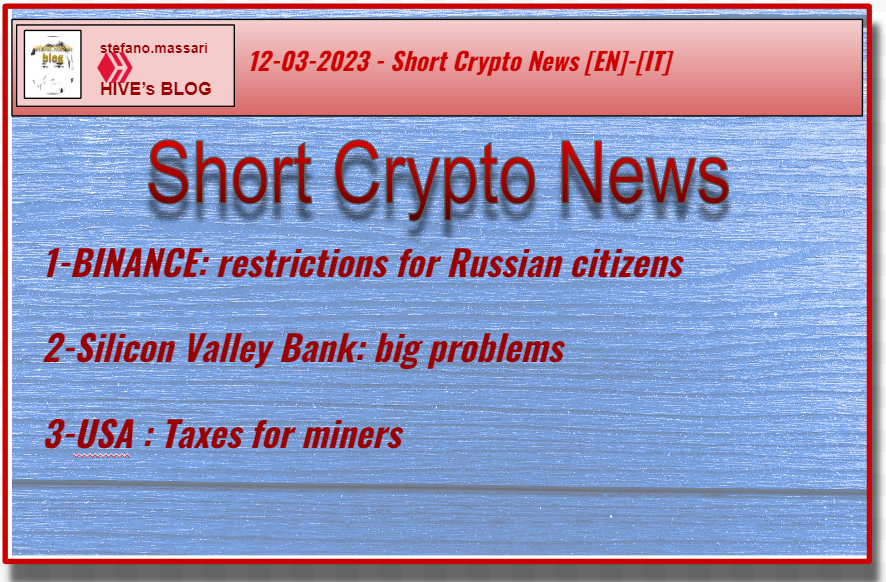 ---
~~~ La versione in italiano inizia subito dopo la versione in inglese ~~~
---
ENGLISH Short news from the world of cryptocurrencies 1-BINANCE: restrictions for Russian citizens. In order to remain compliant with the latest European sanctions, Binance has introduced new restrictions for Russian users. Buying and selling dollars or euros via Binance's P2P service will no longer be possible for Russian citizens and residents of the Russian Federation. Binance had already applied restrictive rules in the past, but has now introduced new ones in order to remain compliant with the new European restrictions.
2-Silicon Valley Bank: big problems Problems for Silicon Valley Bank. Silicon Valley Bank is the second largest bank failure in US banking history. It appears that Circle, the issuer of the USDC stablecoin, has a large exposure to Silicon Valley Bank. This event caused USDC to lose its peg in recent days.
3-USA: Taxes for miners In the US, efforts are being made to reduce the activity of miners. According to a budget proposal by President Joe Biden, cryptocurrency miners could be subject to a 30% tax on electricity costs. Beware because it would appear that cryptocurrency miners who purchase their electricity needs off-grid would also have to pay the tax. It is likely that they will be asked to estimate the costs of electricity generated by any power generation plant.
_
My opinion 1-Binance again aligns itself with European restrictions on Russia. It seems to me that Binance has made its choice, preferring to stay close to the Western bloc. 2-Bad news for the banking sector, but also affecting the crypto sector. Not a good time for banks and crypto. One of them will be saved. 3-The taxes that one would like to charge US miners are very clear. It doesn't seem to me to be a tax only against miners who use energy, it seems to be against miners in general, as the legislation should also include miners who use off-grid electricity.
Question What do you guys think about these three news items? What is your opinion on them?
Previous Posts
Referral My HIVE referral link: https://hiveonboard.com?ref=stefano.massari

ITALIAN Notizie brevi dal mondo delle criptovalute 1-BINANCE: restrizioni per i cittadini russi. Per rimanere conforme alle ultime sanzioni europee, Binance ha introdotto nuove restrizioni per gli utenti russi. Acquistare e vendere dollari o euro attraverso il servizio P2P di Binance non sarà più possibile per i cittadini russi e i residenti nella Federazione Russa. Binance aveva già applicato le norme restrittive in passato, ma ora ne ha introdotte altre per rimanere conforme alle nuove restrizioni europee.
2-Silicon Valley Bank: grossi problemi Problemi per la Silicon Valley Bank. La Silicon Valley Bank è il secondo fallimento più grande della storia bancaria degli USA. Sembra che Circle, l'emittente della stablecoin USDC, abbia una grossa esposizione alla Silicon Valley Bank. Questo avvenimento ha fatto sì che USDC perdesse il peg in questi ultimi giorni.
3-USA: Tasse per i miners Negli USA si sta cercando di ridurre l'attività dei miners. In base ad una proposta di bilancio del presidente Joe Biden i minatori di criptovalute potrebbero essere soggetti ad una tassa del 30% sui costi dell'elettricità. Attenzione perchè sembrerebbe che le tasse le dovrebbero pagare anche i minatori di criptovalute che acquistano il loro fabbisogno di energia elettrica fuori rete. E' probabile che a loro verrà chiesto di stimare i costi dell'energia elettrica generata da qualsiasi impianto di generazione di energia elettrica.
_
La mia opinione 1-Binance si allinea nuovamente alle restrizioni europee nei confronti della Russia. A me sembra che Binance abbia fatto la sua scelta, preferisce stare vicino al blocco occidentale. 2-Una pessima notizia per il settore bancario, ma che ha anche avuto ripercussioni nel settore crypto. Non è un buon momento per le banche e per le crypto. Una delle due si salverà. 3-Le tasse che si vorrebbero far pagare ai miners USA sono molto chiare. Non mi sembra una tassa solo contro i miner che usano energia, sembra che sia contro i miners in generale, visto che la normativa dovrebbe comprendere anche i miners che usano energia elettrica off-grid.
Domanda Voi cosa ne pensate di queste tre notizie? Qual'è la vostra opinione a riguardo?
Post precedente
Referral Il mio referral link di HIVE: https://hiveonboard.com?ref=stefano.massari
---
source news 1: https://news.bitcoin.com/binance-bans-russians-from-p2p-transactions-with-dollars-and-euros/
source news 2: https://www.coindesk.com/markets/2023/03/10/scrutiny-falls-on-43b-usdc-stablecoins-cash-reserves-at-failed-silicon-valley-bank/?outputType=amp
source news 3: https://cointelegraph.com/news/biden-budget-proposes-30-tax-on-crypto-mining-electricity-usage?utm_source=Telegram&utm_medium=social
THE END