15-03-2023 - Leo Power Up Day [EN]-[IT]

This post is published via LeoFinance.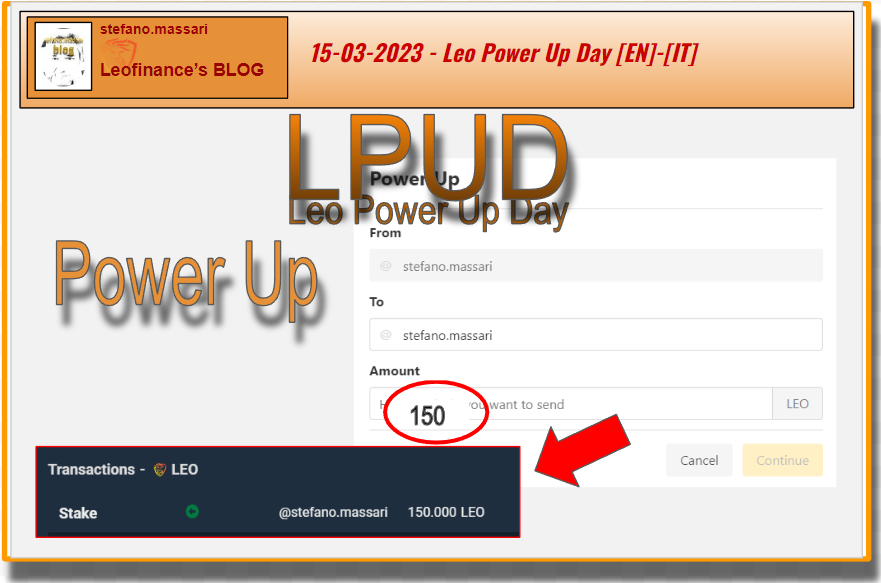 ---
~~~ La versione in italiano inizia subito dopo la versione in inglese ~~~
---
ENGLISH Considerations Today I participated in the LPUD with 150 LPs. Leo Finance is a Social platform built on blockchain HIVE covering financial topics. We can find information related to Bitcoin, Ethereum, DeFI, stock market, business news, blockchain and technology related news. The LEO token is a second-level token and on 15-02-2023 its value was $0.055, while today 15-03-2023 it is worth $0.045 Below are some LEO Apps:

LEODEX ( https://leodex.io/market/LEO ) This application is a decentralized exchange built by the Leofinance team. From the application you can exchange HIVE tokens with second-level tokens from the HIVE blockchain. There is a page dedicated to the marketplace for second-level HIVE tokens. You can also monitor your HIVE wallet by being able to see all the second-level tokens in your possession as well. Finally, there is a page dedicated to issued orders to check which orders have activated and which still need to be activated.

HIVE STATS ( https://hivestats.io/ ) From this application you can see statistics related to your HIVE profile. Below are some examples. You can track rewards by also seeing those received over 7 days or the last 30 days. One can check one's Current Vote Value. Also one can monitor one's reputation by being able to see the figure with three significant numbers after the comma..
The LPUD Countdown. By going into the Hivebuzz website ( https://hivebuzz.me/ ) you can monitor how much time is left to power up during LEO POWER UP DAY. By going to the Power Up page and scrolling to the bottom you can see the hours and minutes left until Leo Power Up Day expires.
Conclusions Leofinance is a project in my opinion well set up in which one can find many interesting articles regarding finance and crypto finance. Being a decentralized blogging platform the news is less manipulated and more realistic. Today is Leo Power Up day and I definitely wanted to participate to make my contribution.
ITALIAN Considerazioni Oggi ho partecipato all'LPUD con 150 LP. Leo Finance è una piattaforma Social costruita su blockchain HIVE che tratta di argomenti finanziari. Possiamo trovare informazioni relative a Bitcoin, Ethereum, DeFI, mercato azionario, notizie di economia, notizie relative alla blockchain e alla tecnologia. Il token LEO è un token di secondo livello ed il 15-02-2023 il suo valore era di 0,055 $, mentre oggi 15-03-2023 vale 0,045 $ Qui di seguito alcune LEO Apps:

LEODEX ( https://leodex.io/market/LEO ) Questa applicazione è un exchange decentralizzato costruito dal team di Leofinance. Dall'applicazione si possono scambiare token HIVE con token di secondo livello della blockchain di HIVE. C'è una pagina dedicata al mercato dei token HIVE di secondo livello. Si può inoltre monitorare il proprio portafoglio HIVE riuscendo a vedere anche tutti i token di secondo livello in proprio possesso. Infine c'è una pagona dedicata agli ordini emessi per controllare quali ordini si sono attivati e quali ancora si devono attivare.

HIVE STATS ( https://hivestats.io/ ) Da questa applicazione potete vedere delle statistiche relative al proprio profilo HIVE. Qui di seguito alcuni esempi. Si possono monitorare le ricompense vedendo anche quelle ricevute nell'arco di 7 giorni o degli ultimi 30 giorni. Si può controllare il proprio Current Vote Value. Inoltre si può monitorare la propria reputazione potendo vedere la cifra con tre numeri significativi dopo la virgola..
Il conto alla rovescia del LPUD Entrando nel sito di Hivebuzz ( https://hivebuzz.me/ ) si può monitorare quanto tempo rimane ancora per effettuare il power up durante il LEO POWER UP DAY. Andando nella pagina del Power Up e scorrendo verso il fondo si possono vedere le ore ei minuti che mancano allo scadere del Leo Power Up Day.
Conclusioni Leofinance è un progetto a mio avviso ben impostato nel quale si possono trovare tanti articoli interessanti a riguardo della finanza e cripto finanza. Essendo una piattaforma di blogging decentralizzata le notizie sono meno manipolate e più realistiche. Oggi è il giorno del Leo Power Up ed ho voluto assolutamente partecipare per dare il mio contributo.
THE END
Posted Using LeoFinance Beta