19-03-2023- Let's have a look at SOLANA [EN]-[IT]

Chart screenshot from: https://coinmarketcap.com/currencies/solana/ Logo source: https://solana.com/it
---
~~~ La versione in italiano inizia subito dopo la versione in inglese ~~~
---
ENGLISH Cryptocurrency data Solana features: Token name: SOL Application area: blockchain with smart contracts Ranking Position: 10 Consensus algorithms: POH (Proof of History) Market Capitalization: $8.3 billion Circulating Supply: 0.3383 billion tokens Max Supply: There is no ceiling Total Supply: 0.539 billion
Considerations The last time I had taken a look at SOLANA's (SOL) data was 01-08-2023, let's look at what has changed since that date. The position in Coinmarketcap ranking has changed, SOL was in 5th place while today it is in 10th place. Capitalization decreased, it went from $14.5 billion to $8.3 billion.
Early News Anatoly Yakovenko, founder of Solana, said that after the various disruptions blockchain had in 2022, the priority this 2023 is to create stability across Solana's entire network. The blockchain has been restarted several times in the past due to various problems. Some situations had even created a freeze on financial transactions. Other important news about SOLANA is as follows. The real estate company Homebase is testing the project of selling real estate fractional through the blockchain. The slogan that can be read on Homebase's homepage is precisely "Invest in real estate with only $100." Source: https://cryptonomist.ch/2023/03/02/super-news-crypto-solana-sol/
Chart analysis Chart screenshots taken from: https://coinmarketcap.com/ On 01-08-2022 SOL was worth $41.93, today 19-03-2023 instead it is worth $21.55. Below is the old forecast compared to the current situation. The old forecast turns out to be wrong The price did not break the dynamic resistance trend line, but the support of the bearish triangle and continued the descent.

Let's take a look at the chart set at 1 year (also included in the cover graphic):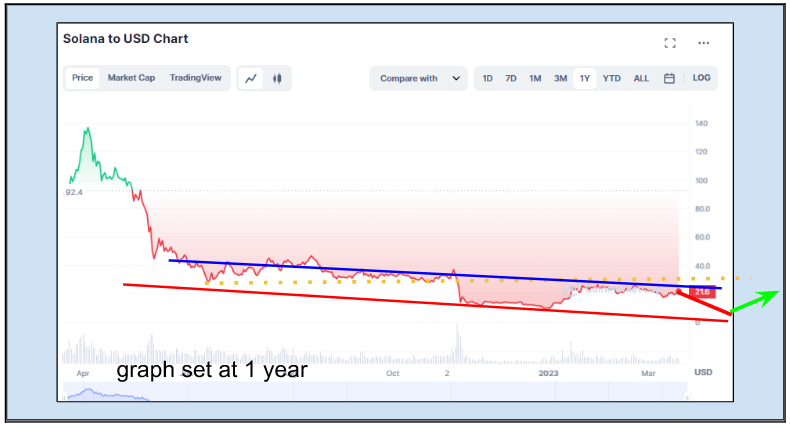 This 1-year set chart shows that SOL is inside a slightly bearish channel. There is a 75% probability that the price will continue to travel in this channel and that toward the end of April or beginning of May the price will be toward the lower end of the channel, i.e., toward $10
Conclusions Since August 2022 SOLANA has had a definite drop in capitalization, a 42% drop. In 2022 SOLANA had several disruptions and some rather worrying ones where transactions had become very slow. The founder stated that the 2023 goal for SOLANA developers, will be to create stability to the entire network.
Question Do you think that in 2023 we will see the SOLANA blockchain more stable as promised by its founder?
Previous Posts
Disclaimer I am not a financial advisor, so what is written in this post is a personal opinion, not financial advice. If you want to invest, you have to do it consciously and on your own responsibility.
Referral My HIVE referral link: https://hiveonboard.com?ref=stefano.massari

ITALIAN Dati della criptovaluta Caratteristiche di Solana: Nome del Token: SOL Settore di applicazione: blockchain con smart contracts Posizione in classifica: 10 Algoritmi di consenso: POH (Proof of History) Capitalizzazione di mercato: 8,3 miliardi di dollari Circulating Supply: 0,3383 miliardi di token Max Supply: Non c'è una tetto massimo Total Supply: 0,539 miliardi
Considerazioni L'ultima volta che avevo dato un'occhiata ai dati di SOLANA (SOL) era il 01-08-2023, andiamo a vedere cosa è cambiato da quella data. La posizione nella classifica di Coinmarketcap è cambiata, SOL si trovava al 5to posto mentre oggi è al 10ecimo posto. La capitalizzazione è diminuita, è passata da 14,5 miliardi di dollari di dollari a 8,3 miliardi di dollari.
Ultime notizie Anatoly Yakovenko, fondatore di Solana, ha dichiarato che dopo le varie interruzioni della blockchain avute nel 2022, la priorità di questo 2023 è creare stabilità su tutto il network di Solana. In passato la blockchain è stata riavviata diverse volte a causa di vari problemi. Alcune situazioni avevano anche creato un blocco delle transazioni finanziarie. Altra notizia importante su SOLANA è la seguente. La società immobiliare Homebase sta testando il progetto di vendere immobili in maniera frazionata tramite la blockchain. Lo slogan che si può leggere nella homepage di Homebase è proprio "Investire in immobili con soli 100 dollari" Sorgente: https://cryptonomist.ch/2023/03/02/super-news-crypto-solana-sol/
Analisi del grafico Screenshot dei grafici presi da: https://coinmarketcap.com/ Il 01-08-2022 SOL valeva 41,93 $, oggi 19-03-2023 invece vale 21,55 $. Qui di seguito la vecchia previsione in confronto all'attuale situazione. La vecchia previsione risulta sbagliata Il prezzo non ha rotto la trend line di resistenza dinamica, ma il supporto del triangolo ribassista ed ha continuato la discesa.

Andiamo a dare un'occhiata al grafico impostato ad 1 anno (inserito anche nella grafica di copertina):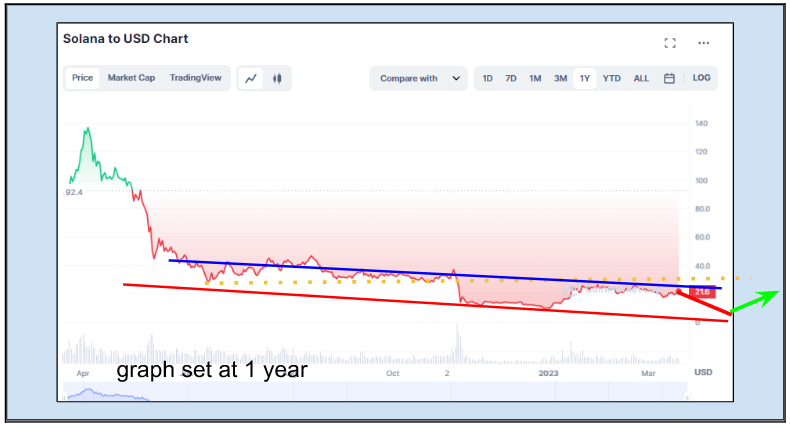 Questo grafico impostato ad 1 anno mostra che SOL è all'interno di un canale leggermente ribassista. C'è una probabilità del 75% che il prezzo continui a viaggiare in questo canale e che verso fine aprile o inizio maggio il prezzo si trovi verso la parte bassa del canale, cioè verso i 10$
Conclusioni Da Agosto 2022 SOLANA ha avuto un deciso calo della capitalizzazione, un calo del 42%. Nel 2022 SOLANA ha avuto diverse interruzioni ed alcune piuttosto preoccupanti dove le transazioni erano diventate molto lente. Il fondatore ha dichiarato che l'obiettivo 2023 per gli sviluppatori di SOLANA, sarà quello di creare stabilità a tutto il network.
Domanda Voi pensate che nel 2023 vedremo la blockchain di SOLANA più stabile come promesso dal suo fondatore?
Post precedenti
Disclaimer Non sono un consulente finanziario, quindi ciò che è scritto in questo post è un'opinione personale, non un consiglio finanziario. Se volete investire dovete farlo consapevolmente e sotto la vostra responsabilità.
Referral Il mio referral link di HIVE: https://hiveonboard.com?ref=stefano.massari