21-02-2023 - Short Crypto News [EN]-[IT]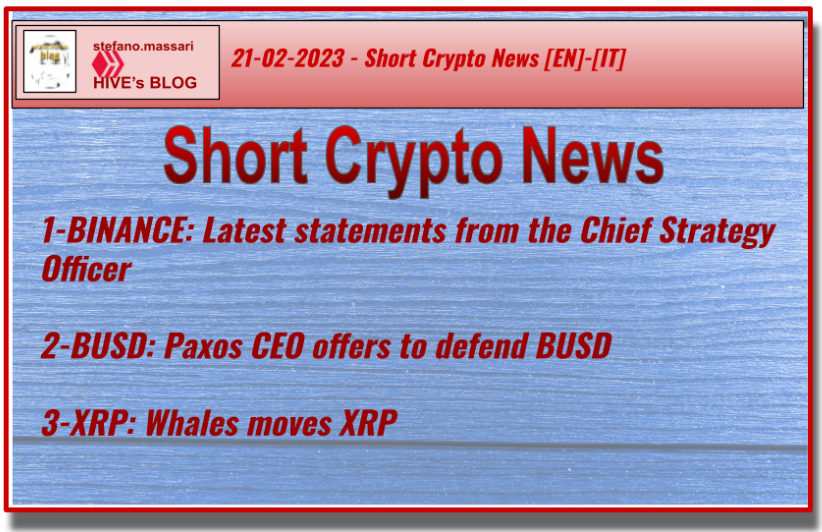 ---
~~~ La versione in italiano inizia subito dopo la versione in inglese ~~~
---
ENGLISH Short news from the world of cryptocurrencies 1-BINANCE: Latest statement from Chief Strategy Officer Tightening US regulations on cryptocurrencies could make it more difficult for the market to recover, according to a Binance official. Patrick Hillmann, Chief Strategy Officer at Binance, says the restrictions risk stifling cryptocurrency growth. Any market can recover from an exchange crash or theft, but it is difficult to grow if ever greater restrictions are imposed.
2-BUSD: Paxos CEO offers to defend Binance Charles Cascarilla is the CEO of Paxos and Paxos is the issuer of the stablecoin BUSD. In the opinion of the SEC, the stablecoin BUSD is not a security under federal law and has labelled BUSD as an unregistered security. Cascarilla stated that it disagreed with the SEC's judgement and intends to defend BUSD in court.
3-XRP: Whales are buying Whale Alert uncovers large financial shifts towards XRP. Whale Alert is an on-chain data provider and found that XRP tokens worth $45 million were moved on 20 February. The transaction occurred from an unknown wallet to Bitstamp. _
My opinion 1It has been a few days since the production of BUSD, Binance's dollar-linked stablecoin, was halted. BNB, the currency of the Binance Chain, has not declined, in fact it is back above the $300 mark, but nevertheless the news has left everyone rather surprised. The statement by Binance's Head of Strategy is an expected response after all this. In short, an obvious official response, but one that the cryptocurrency world has been waiting for. 2It is complicated to have a clear opinion on the matter, one would need legal and economic expertise to understand who is right. But one question comes to mind, are all the other stablecoins in order? Is it possible that only BUSD has these problems? 3-I find the movement of all these millions of dollars into the XRP blockchain really strange. Probably XRP is a project I don't really understand. In that blockchain capital is flowing and there is a lot of it. Today XRP, in the ranking of the most capitalised blockchains, is in sixth place.
Question What do you think of these three pieces of news? What is your opinion on them?
Previous Posts
Referral My HIVE referral link: https://hiveonboard.com?ref=stefano.massari

ITALIAN Notizie brevi dal mondo delle criptovalute 1-BINANCE: Ultime dichiarazione del Chief Strategy Officer Secondo un funzionario di Binance inasprire ulteriormente i regolamenti USA nei confronti delle criptovalute potrebbe rendere più difficile la ripresa del mercato. Patrick Hillmann, Chief Strategy Officer di Binance, afferma che le restrizioni rischiano di soffocare la crescita delle criptovalute. Da un crollo di un exchange o da un furto ogni mercato si può riprendere, ma è difficile crescere se vengono imposte restrizioni sempre più consistenti.
2-BUSD: Il CEO di Paxos si offre di difendere Binance Charles Cascarilla è il CEO di Paxos e Paxos è l'emittente della stablecoin BUSD. A giudizio della SEC la stablecoin BUSD non è un titolo ai sensi della legge federale ed ha etichettato BUSD come security non registrata. Cascarilla ha dichiarato di essere in disaccordo con il giudizio della SEC ed ha intenzione di difendere il BUSD in tribunale.
3-XRP: Le balene comprano Whale Alert scopre dei grossi spostamenti finanziari nei confronti di XRP. Whale Alert è un fornitore di dati on-chain ed ha rilevato che il 20 febbraio sono stati spostati token XRP per un valore di 45 milioni dollari. La transazione è avvenuta da un portafoglio sconosciuto verso Bitstamp. _
La mia opinione 1-E' da qualche giorno che è stato imposto lo stop della produzione di BUSD, stablecoin di Binance legata al dollaro. BNB, la moneta della Binance Chain, non ha subito flessioni, anzi è tornata sopra al valore di 300$, ma comunque la notizia ha lasciato tutti piuttosto sorpresi. La dichiarazione del Responsabile della strategia di Binance è una risposta che ci si aspettava dopo tutta questa vicenda. Insomma, una risposta ufficiale scontata, ma che il mondo delle criptovalute stava aspettando. 2-E' complicato avere un'opinione chiara della questione, bisognerebbe avere competenze legali ed economiche per capire chi ha ragione. Però una domanda mi viene spontanea, tutte le altre stablecoin sono in regola? E' possibile che solo BUSD abbia questi problemi? 3-Trovo veramente strano lo spostamento di tutti questi milioni di dollari nella blockchain di XRP. Probabilmente XRP è un progetto che non ho ben compreso. In quella blockchain i capitali girano e ce ne sono parecchi. Oggi XRP, nel ranking delle blockchain più capitalizzate, si trova al sesto posto.
Domanda Voi cosa ne pensate di queste tre notizie? Qual'è la vostra opinione a riguardo?
Post precedente
Referral Il mio referral link di HIVE: https://hiveonboard.com?ref=stefano.massari
---
source news 1: https://coingape.com/binance-official-fears-crypto-wipeout-us-crypto-regulations/?utm_source=24hrsupdateall
source news 2: https://coingape.com/paxos-ceo-offers-to-defend-binance-usd-busd-in-court/?utm_source=24hrsupdateall
source news 3: https://coingape.com/xrp-news-whales-perform-multiple-transactions-involving-xrp-tokens-10117/?utm_source=24hrsupdateall
THE END