24-02-2022 - Let's have a look at Stellar [EN]-[IT]

3 months ago
Feb 24 2023 6:01 pm
-
4 minutes read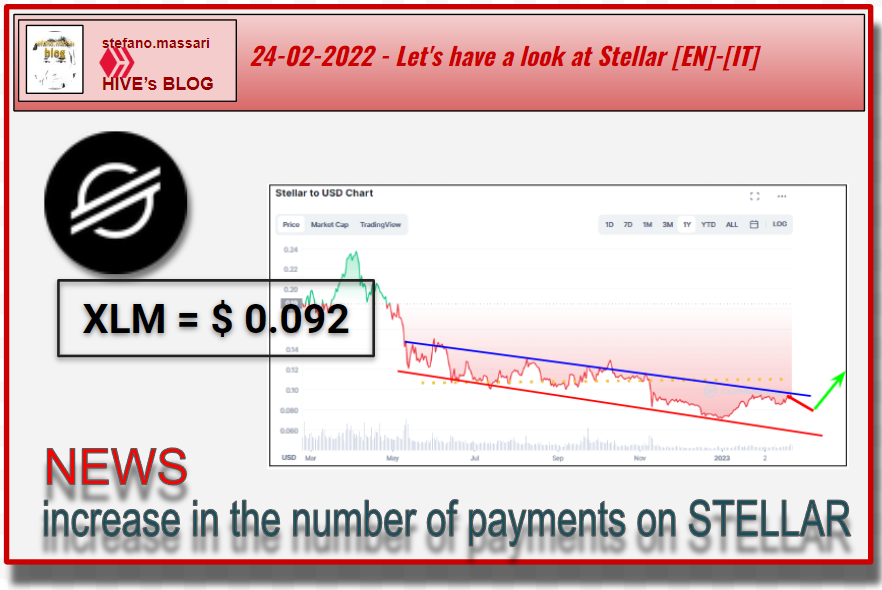 Chart screenshot from: https://coinmarketcap.com/currencies/stellar/ Logo source: https://www.stellar.org/
---
~~~ La versione in italiano inizia subito dopo la versione in inglese ~~~
---
ENGLISH Cryptocurrency data. STELLAR Features: Token name: XLM Application area: payments on the global network Ranking Position: 30 Consensus algorithm: SCP (Stellar Consensum Protocol) Market Capitalization: $2.333 billion Circulating Supply: 26.402 billion tokens (53%) Max Supply: 50 billion tokens Total Supply*: 50 billion tokens *The amount of coins that have already been created, minus the coins that have been burned.
Considerations The last time I had taken a look at XLM was on 13-12-2023, let's now go to see what has changed up to today, 24-02-2023. In December XLM was in 28th position, while today it is in 30th position. Capitalization has increased from $2.145 billion to $2.335 billion. As for Circulating Supply, it has increased slightly and is now 26.402 billion tokens (53%)
News In 2022, compared to 2021, there was an increase in the number of payments on the STELLAR blockchain. The figure says that payments increased by 145%. source: https://cryptonomist.ch/2022/12/30/stellar-crescita-pagamenti/
Chart analysis Chart screenshots taken from: https://coinmarketcap.com/ On 13-12-2022 XLM was worth $0.082, today 22-02-2023 instead it is worth $0.092. Below is the old forecast compared to the current situation. The old forecast turns out to be correct

Let's take a look at the chart set at 1 year (also included in the cover graphic):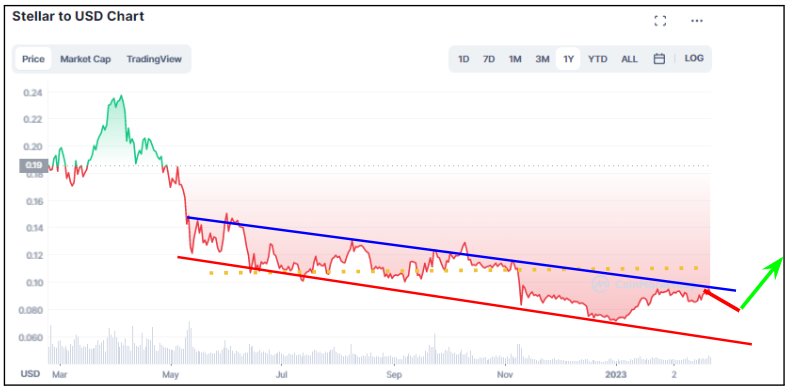 This chart shows that XLM is still inside the bearish channel that was created in May 2022 and is now traveling at the top of the channel. In my opinion there is a 65 percent probability that the price will drop slightly toward $0.085 and then attempt to break the dynamic resistance trend line and try to reach the static $0.1 level. The line on the chart seems to say that the selling phase has unloaded enough on this token and that it may have a period where the price may try to reach old static resistance.
Conclusions In the last two months STELLAR has lost two positions in Coinmarketcap's ranking and is now in 30th position, however, it should be noted that its capitalization has increased and is now worth $2.335 billion. Interesting is the figure showing that payments on this blockchain, compared to 2021, have increased by 145%.
Question Have you ever heard of Stellar? What do you think about it?
Previous Posts
Disclaimer I am not a financial advisor, so what is written in this post is a personal opinion, not financial advice. If you want to invest, you have to do it consciously and on your own responsibility.
Referral My HIVE referral link: https://hiveonboard.com?ref=stefano.massari

ITALIAN Dati della criptovaluta Caratteristiche di STELLAR: Nome del Token: XLM Settore di applicazione: pagamenti su rete mondiale Posizione in classifica: 30 Algoritmo di consenso: SCP (Stellar Consensum Protocol) Capitalizzazione di mercato: 2,333 miliardi di dollari Circulating Supply: 26,402 miliardi di token (53%) Max Supply: 50 miliardi di token Total Supply*: 50 miliardi di token *La quantità di monete che sono state già create, meno le monete che sono state bruciate.
Considerazioni L'ultima volta che avevo dato un'occhiata a XLM era il 13-12-2023, andiamo ora a vedere cosa è cambiato fino ad oggi, 24-02-2023. A dicembre XLM era in 28esima posizione, mentre oggi si trova in 30esima. La capitalizzazione è aumentata passando da 2,145 miliardi di dollari a 2,335 miliardi di dollari. Per quanto riguarda la Circulating Supply è aumentata leggermente ed ora è di 26,402 miliardi di token (53%)
Notizie Nel 2022, rispetto al 2021, si è registrato un aumento del numero di pagamenti sulla blockchain di STELLAR. Il dato dice che i pagamenti sono aumentati del 145%. sorgente: https://cryptonomist.ch/2022/12/30/stellar-crescita-pagamenti/
Analisi del grafico Screenshot dei grafici presi da: https://coinmarketcap.com/ Il 13-12-2022 XLM valeva 0,082 $, oggi 22-02-2023 invece vale 0,092 $. Qui di seguito la vecchia previsione in confronto all'attuale situazione. La vecchia previsione risulta corretta

Andiamo a dare un'occhiata al grafico impostato ad 1 anno (inserito anche nella grafica di copertina):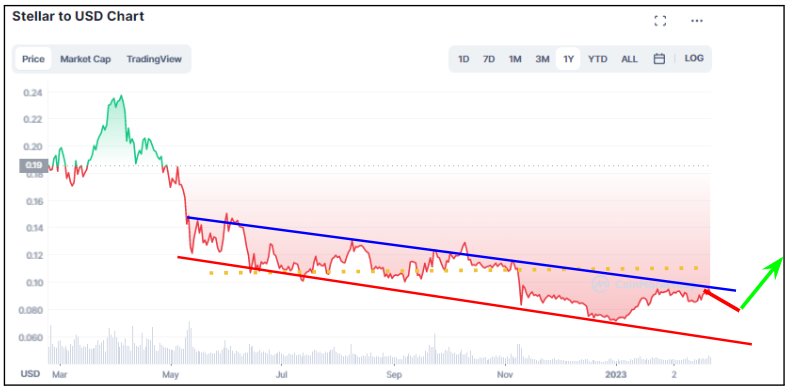 Questo grafico mostra che XLM è ancora dentro al canale ribassista che si era creato a Maggio del 2022 ed ora viaggia nella parte alta del canale. Secondo me c'è una probabilità del 65% che il prezzo scenda leggermente verso i 0,085$ per poi tentare di rompere la trend line di resistenza dinamica e cercare di raggiungere il livello statico di 0,1$. La linea del grafico sembra dire che la fase di vendita si sia scaricata abbastanza su questo token e che potrebbe avere un periodo in cui il prezzo possa provare a raggiungere vecchie resistenze statiche.
Conclusioni Negli ultimi due mesi STELLAR ha perso due posizioni nella classifica di Coinmarketcap ed ora si trova in 30esima posizione, però c'è da notare che la sua capitalizzazione è aumentata ed ora vale 2,335 miliardi di dollari. Interessante il dato che mostra che i pagamenti su questa blockchain, rispetto al 2021, sono aumentati del 145%.
Domanda Avete mai sentito parlare di Stellar? Cosa ne pensate?
Post precedenti
Disclaimer Non sono un consulente finanziario, quindi ciò che è scritto in questo post è un'opinione personale, non un consiglio finanziario. Se volete investire dovete farlo consapevolmente e sotto la vostra responsabilità.
Referral Il mio referral link di HIVE: https://hiveonboard.com?ref=stefano.massari
---
THE END