Goal for 2023: Get "What is Hive" Ranked On Google

This post is published via LeoFinance.
5 months ago
Dec 31 2022 1:51 pm
-
4 minutes read
We encountered this on a couple of different occasions.
What is Hive?
This is something that provides a great deal of confusion especially within cryptocurrency. To start, if many search for Hive and blockchain, they come up with Hive Blockchain Ltd, the Bitcoin mining company. This is something we confronted from the earliest days.
Of late, we had Hive social take off, especially on Twitter. This was a short lived network that doesn't appear to have much traction.
Nevertheless, it does provide for a great deal of confusion.
Hence, we have to take steps to ensure we emerge as the go to location for Hive. This is going to be difficult since we have a lot of competition from the search engines.
As we all know, organic traffic is vital. However, even if that is not completely possible, we can get enough links going to help push people in our direction.
This is my goal for 2023.
What is Hive
What is Hive is going to be a living, breathing page. At present, it is almost 2,700 words. This will be updated on a weekly basis, with more information added. This will not only help to keep things current but also refresh the content in the eyes of Google. It also helps with the goal of serving as a repository for Hive information.
When people ask what Hive is, here is the answer.
Since it will be constantly updated, we can see it expanding over time. The key will be to distribute in as many places as possible. Most of us are aware how important it is to get webpages spread around.
Of course, as stated, the goal is to get this ranked within Google. Even if we do not like that company, it still dominates search. Therefore, it has the ability to drive a lot of traffic to this ecosystem.
When we do a search for "What is Hive", this is what we come up with.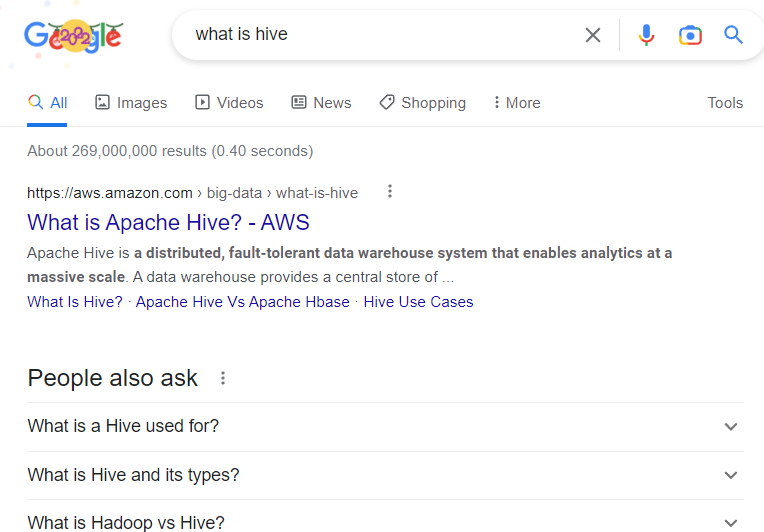 Here is where our major challenge comes in. Apache hive is a data warehouse system. As we scroll lower, we find more aligned with this.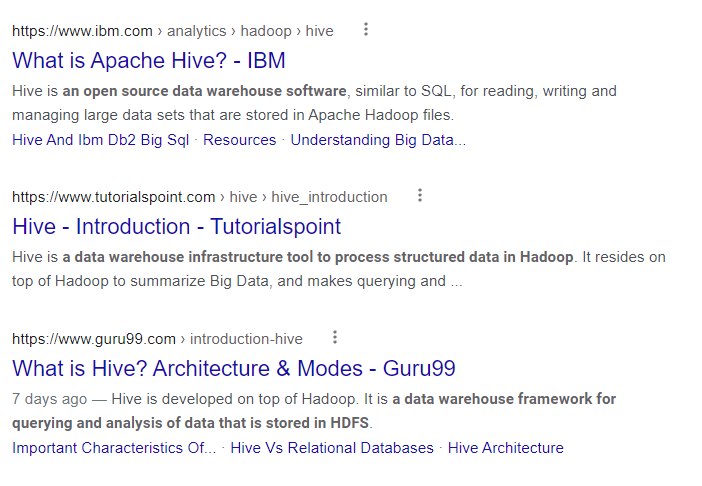 What this means is that it is ranking within all the tech sites along with having some mainstream entities writing about it. As we cansee, IBM is one of the first results.
As they say, nothing like a challenge.
How Many Times A Day Do We Write "Hive"?
These other sites might have clout but we have numbers.
Here is an interesting thought exercise: how many times a day do we write the term "Hive"? Consider all the posts and comments that are made, how many of them have that word in it?
If we take things from that perspective, we can see how it gets into the thousands daily. Over time, that adds up into a much larger number.
We also have another advantage: there are reams of evergreen content tied to this blockchain. Our data goes back more than 6 years. We have posts from 2016 that are still open to comments. For those who were around, it is something that can even be edited.
This is where the power of numbers enter the picture.
Personally, each article I write is now going to have the What is Hive link at the bottom. That means everyday, we are adding to the pile. Since much of what is written pertains to Hive, cryptocurrency, or blockchain, it is relevant content.
From this perspective, we can see how we can accumulate tens of thousands of backlinks to this page. That is good since it is going to require that for us to get noticed.
Then we also have traditional social media. For those who also write on Substack, this is an ideal place to add in the links. External links obviously carry a great deal more weight. All of this feeds into the same system.
Hive Has A Lot Going On
As we close out the year, we can see how there is a lot going on with Hive. This is something that is too our advantage.
By highlighting this in a central repository along with focusing upon driving traffic, perhaps we can get people to take notice. The applications will certainly have to aid in this endeavor by promoting what they are doing. Nevertheless, there are still a lot of questions pertaining to this entire industry, let alone Hive.
What is Hive is something we should be willing to post anywhere. The more people see it, the better. Ultimately, we want the ecosystem to go viral since we are dealing with the Internet. The key to Hive's future is kicking off the network effect that takes things to a much higher level.
To get to that point, unfortunately, it takes a lot of grunt work. This is made easier with numbers spreading the news. As more people engage in this, it can snowball.
Imagine what things will be like a year from now if we open up Google, enter what is Hive, and the first search result is from a Hive related application.
That is the place we want to be and is the goal for 2023.
To achieve this, it will take the effort of many. However, anyone with stake in their wallet has incentive to make this a reality.
After all, we write the term "Hive" many thousands of times each day on the blockchain. It is time to use that to our advantage.
---
If you found this article informative, please give an upvote and rehive.

gif by @doze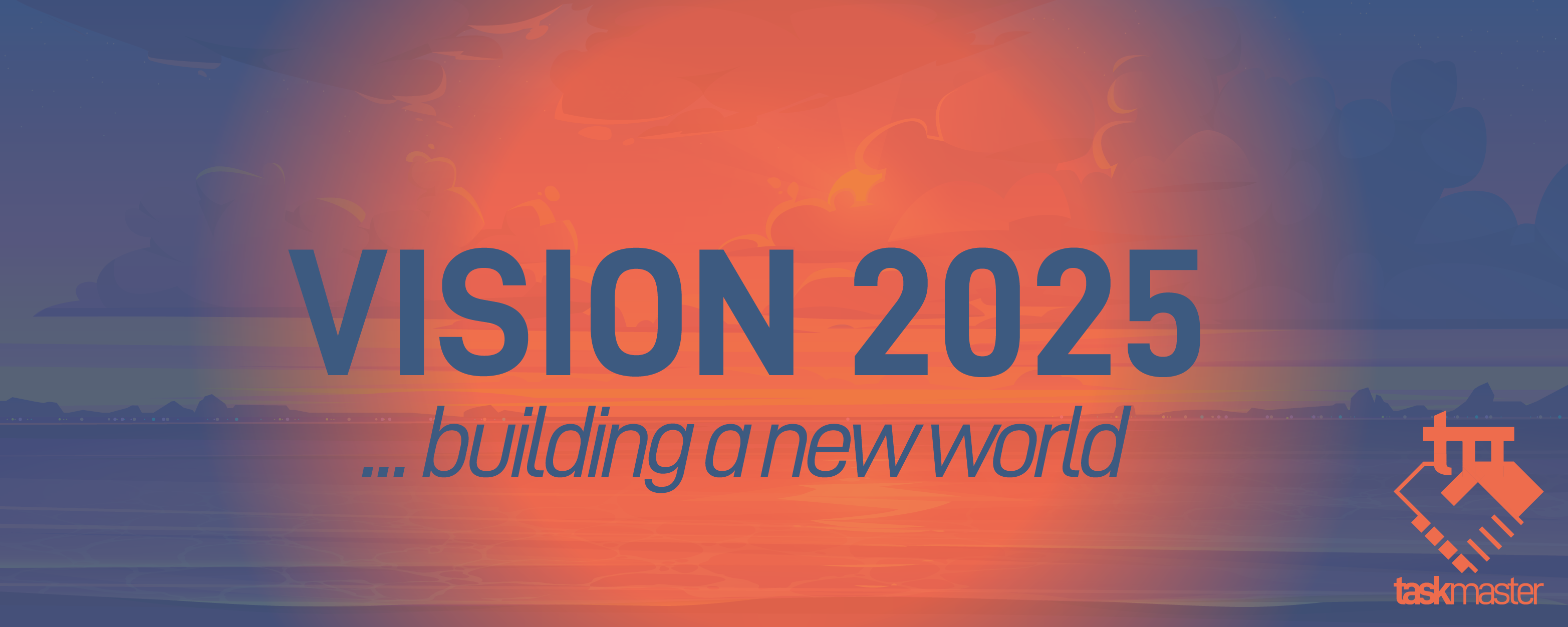 logo by @st8z
Posted Using LeoFinance Beta