Not-a-Lottery #5 and some announcements

This post is published via LeoFinance.
2 years ago
Feb 17 2021 11:04 am
-
1 minutes read
Hello and Mahlzeit to all players and sponsors,
I am very happy with my Not-a-Lottery being a medium success. From the looks I will be able to continue the Not-a-Lottery from week 2 as a self-sustaining lottery with the price money varying between 0.5 LEO and 4 LEO for now. I have done some thinking and I would like to split the rewards as follows: 60% goes into the price money of the Not-a-Lottery in 8 days, 20% will go into a fund to enhance the Not-a-Lottery, 20% will go to me. Would be nice to get a feedback if you agree this split is fair.
One thing that really bugs me are the visuals of the Not-a-Lottery. I want to use the fund primarily to enhance the artwork. I am thinking about hiring @eirik or @friendlymoose again. This time I have rather concrete ideas for what I want. I would like to have a cartoon lion with my German glasses as a mascot for the lottery. But we can talk details once I have the funds I am thinking 10-20 Leo.
The price of Leo today 12:00 am Berlin time is:
0.599 USD
Todays Winner of Not-a-Lottery is @friendlymoose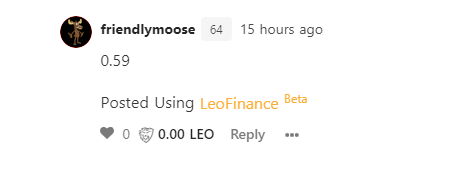 Congratulations on winning 1 Leo!
---
Tomorrows price money is 1 Leo
---
What do you think will be the price of Leo tomorrow?
read the rules here
Posted Using LeoFinance Beta