Cointelegraph Moves To Make Articles Mintable into NFTs: Details

Cointelegraph, one of the oldest and most reputable online outlets for cryptocurrency, finance, technology, and blockchain-related news and content is on the course of making iconic articles on its platform mintable into non-fungible tokens (NFTs).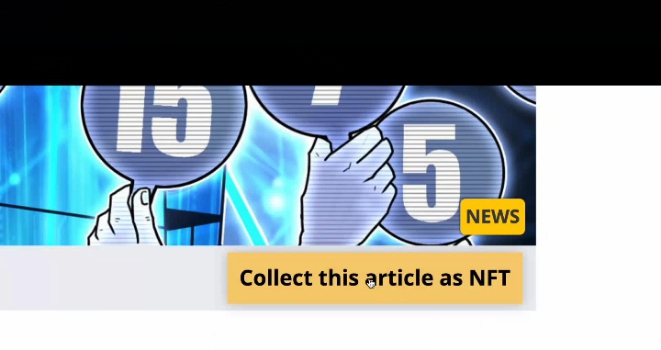 source
By doing so, readers would be able own a piece of the platform, and also contribute to the 'Cointelegraph Web3 Museum' where it is said that only the most influential articles will be exhibited. Cointelegraph added that this Web3 Museum will be open for digital visitors in 2023.
This intended development is one-of-a-kind because before now, NFTs have only been majorly attributed to arts, and music among others. Cointelegraph aims to showcase how extensive the non-fungible token concept can be applied. As disclosed by the popular platform for crypto and blockchain-related publications, the ability to collect and mint articles posted on the platform will be fully enabled soon.
While waiting, readers can join the waitlist to get early access to mint articles as well as the chance to win an NFT. Interestingly, all you need to join the Cointelegraph NFT waitlist is your email address.
"Each article published on Cointelegraph is a future artifact that can become valuable tomorrow," Cointelegraph wrote
What is a Non-Fungible Token (NFT)
A non-fungible token simply referred to as NFT is a unique digital/ cryptographic representation of an item such as art, music, images, etc that exists on the blockchain and cannot be duplicated. The concept of non-fungible tokens (NFTs) recently surfaced and has swept the crypto and blockchain industry like a storm.
While NFT innovation has become a popular avenue for many to make profits, it primarily helps in the certification of authenticity and ownership of digital items. Digital creators no longer have to worry about their content being copied or imitated, thanks to the emergence of NFT.
---
Cointelegraph Historical NFT Collection
To mark the platform's tenth-anniversary (founded in 2013), Cointelegraph has told readers to anticipate the Cointelegraph Historical NFT Collection, rolling out a waitlist for interested cryptocurrency and NFT enthusiasts to hop in.
It is worth noting that the CT historical NFT collection is to be curated by the readers. That is, readers will have to search for outstanding news or trending stories that have been published on the largest crypto news outlet. Whoever discovers, collects, and mints any article into 1/1 NFT becomes the owner of the publication.
A "COLLECT" button will be attached to every article on Cointelegraph, placed precisely under the featured image. To convert any article into an NFT, a reader only has to first click on "collect".
A new interface then pops up, redirecting you to the Checkout page to review the token details and subsequently approve the transaction in your wallet. At this point, the article becomes yours and you can decide to trade it on the NFT marketplace or create a collection of articles.
It bears mentioning that you can mint as many articles as possible to build your unique historical collection.
---
Why You Should be Interested?
Here are some reasons you should be interested in joining the waitlist and also minting iconic articles published on the popular blockchain news site. Per the update;
new Web3-native features will be introduced to holders of Cointelegraph NFT articles
partners of Cointelegraph will launch drops and campaigns tailored for article owners
you will stand a chance to "win prizes for collecting articles by traits or dates or by simply being the #1 collector of all time."
Lastly, articles may have sentimental value for you, people, or any person spoken of in them.
---
Read Also: Ethereum (ETH) Foundation Launches First Post-Merge Testnet, Shandong: Details
Posted Using LeoFinance Beta