Ethereum (ETH) Foundation Launches First Post-Merge Testnet, Shandong: Details

The Ethereum (ETH) merge upgrade which transitioned the largest smart contract blockchain platform from proof-of-work (PoW) to proof-of-stake (PoS) in September came to set the stage for more developments to be deployed on the Ethereum blockchain. Among such developments are the Shanghai-considered Ethereum Improvement Proposals otherwise known as EIPs.
---
Shandong Testnet Launched by Ethereum Foundation
The Ethereum Foundation Javascript Team in conjunction with the Ethereum Foundation DevOps has successfully launched an experimental Pre-Shanghai testnet codenamed "Shandong", per a Friday tweet.
In consequence, it is reported that the early Shandong Testnet launched on October 14 has activated a set of selected Shanghai-considered Ethereum Improvement Proposals (EIPs). Therefore, enabling node clients to carry out testing on these EIPs.
The EF JavaScript Team wrote
"We are happy to announce the launch of an early Pre-Shanghai testnet we are calling "Shandong". https://shandong.ethdevops.io. This is an experimental testnet run in cooperation with EF DevOps which activates a set of selected Shanghai-considered EIPs for early client testing."
Part of the announcement added
We have an EL block explorer up and running, a faucet to fund your transaction experiments as well as an open RPC endpoint if you do not want to run an own node."
Read Also: Elon Musk Adds Extra Utility For DogeCoin (DOGE) and Shiba Inu (SHIB)
It is worth noting that the activated Ethereum Improvement Proposals (EIPs) were earlier published on September 19 by Marius van der Wijden, a top developer in the Ethereum blockchain ecosystem in a Shanghai tracking issue on Github.
Out of the six (6) EIPs posted by Marius Wijden, the Ethereum Foundation JavaScript Team disclosed that the testnet only activated the first five EIPs listed by the developer. Whereas the launched Shandong Testnet failed to activate EIP-4895, which represents the 'Beacon chain push withdrawals as operations', it activated the following EIPs listed by developer Marius;
EIP-3540: EVM Object Format (EOF) v1
EIP-3651: Warm COINBASE
EIP-3670: EOF - Code Validation
EIP-3855: PUSH0 Instruction
EIP-3860: Limit and meter init ode
---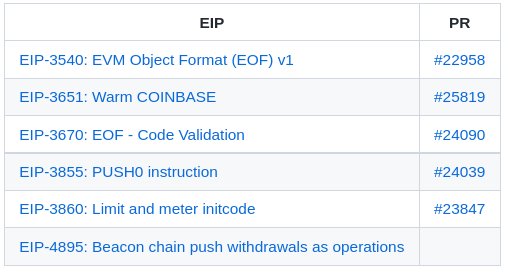 source
---
To make the Pre-Shanghai testnet accessible for decentralized applications and frontend developers, the Ethereum Foundation team designed it to be a pure JavaScript-based testnet, running on a set of Lodestar/ EthereumJS client bootnodes, per the update
It bears mentioning that the design of the testnet goes beyond the "usage perspective" for frontend devs but also permits them to dig into the code base that enables the network to run properly and also drives the various protocol changes.
---
Pre-Shanghai Testnet Impact
The successful early Pre-Shanghai testnet launch (Shandong) is said to be the first post-Merge-only testnet. Shandong's major merit is that it enabled Parithosh, a lead Ethereum Foundation DevOps, and the entire DevOps team to configure optimizations for similar future Merge-only testnets.
On the whole, this is a hugely beneficial event for the Ethereum ecosystem. However, the native token of the second-largest cryptocurrency project by market capitalization has been performing poorly post-Merge event. At the time of writing, ETH is trading for $1,320, according to data from Coinmarketcap.
Read Also: Konami Set to Incorporate Blockchain Technology in Games, Plans To Launch an NFT Marketplace
Posted Using LeoFinance Beta