Tinkering with Stablecoin Channels

This post is published via LeoFinance.
6 months ago
Nov 20 2022 6:52 am
-
4 minutes read
Since receiving a Ledger Nano X earlier this week, I have been rearranging my crypto setup. I got my Unstoppable Domains moved out of MetaMask onto the Ledger. And, I have explored what coins to keep on the Ledger. Having too many coins makes life complicated, particularly at tax time. I want, mostly, to keep coins that have stablecoin tokens. Thanks to @leofinance, Hive has BSC and Polygon options for moving HBD on and off of the Hive blockchain. We have plenty of options for moving HIVE. But, cashing out HIVE has an additional computational burden that a stablecoin like HBD does not. So, I have been exploring what is out there.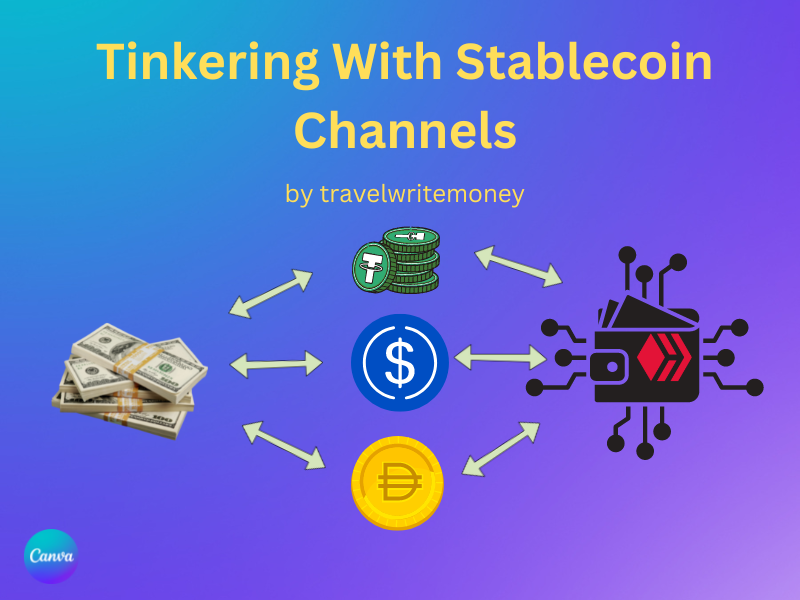 Stellar and Moneygram
One blockchain that is interesting is Stellar (XLM), which has a USDC token through their partnership with Circle. Stellar has also partnered with Moneygram so that you can go to any Moneygram location to convert fiat to USDC, or the reverse, for a flat fee. This is only available in a few countries, with more rolling out in time.
This is particularly exciting because it removes exchanges as intermediaries. At the very least, it removes hold times on your deposits. Just as cash has instant settlement, XLM also has near instant settlement. You don't have to wait a couple days to be able to spend it.
Unfortunately, I have not found a way to bridge Stellar USDC to Polygon USDC or BSC USDC. How awesome would it be to be able to convert pHBD to USDC and pull out fiat at Walmart? No exchanges needed. It seems that Stellar is delivering on their vision for retail cash transmission, unlike XRP's focus on institutional cash transfers.
In the course of writing this post, I discovered that SimpleSwap and StealthEx will convert from Polygon USDC to other forms of USDC, including Stellar. So, that's one way to go from HBD to fiat without going through a bank.
The Lobstr mobile wallet has the Moneygram conversion option built-in.
UPDATE: Well, it turns out there is a way to convert between Stellar USDC and ETH USDC.
No BUSD
The pHBD conversion to stablecoins includes BUSD. I don't use BUSD, normally. But, I thought I would explore if BUSD is an option for me move value on and off of Hive. It turns out that Coinbase does not offer BUSD as an option. In addition, Crypto.com does not allow me to withdraw it, even if I am able to go through contortions to buy it. I suspect there are regulatory reasons why BUSD is not a stablecoin option for me. But, it was worth exploring, at the very least.
Of course, there is the SimpleSwap/StealthEx option. But, if that's the solution to everything, I could just as easily convert to GUSD to cash out at Gemini.
Adding Stablecoins to Ledger
The Ledger wallet accounts had the Layer 1 coins, which I have pre-seeded to allow me to pay transaction fees. But, there were no stablecoin tokens. So, I took some time to add a little bit of USDC to each wallet (Polygon, BSC, ETH) just to have something display.
I have not decided if I'll be using the Ledger wallet for transfers. I think I can continue to use MetaMask to move stablecoins back and forth. I'll use the Ledger for long term storage. I don't think it's necessary to use the Ledger for transient balances. But, I may change my mind if one day we are talking about large amounts of value.
You Can't Get There From Here
Moving HBD out of Hive is not the most straightforward proposition. Coinbase accepts certain stablecoins only in ETH ERC-20. That I can see, only USDC is an option for Polygon USDC. My other exchange, Crypto.com has more options for stablecoin deposits, often Ethereum, Polygon, and BSC. Hopefully they survive.
But, as I have discovered, SimpleSwap and StealthEx may be the missing link for me to switch between different kinds of USDC, USDT, or DAI.
The common theme is that all roads lead to ETH stablecoin tokens. So long as I can eventually get to ERC-20, I can cash out universally. I'm only causing myself headaches by trying to cash out via Polygon, BSC, or Stellar.
The Big Picture
Given that HBD Savings is paying out 20% interest, the goal is to make regular deposits every paycheck, in addition to posting rewards, to create fixed income. As my savings grow larger, my income grows with it. So, I need a channel that will eventually lead to my business checking account. This is why I need an exchange to receive the USDC to convert to fiat. In time, perhaps I can afford to be a full-time blogger on Hive. Once I become a big time influencer, I'll keep building up my HP to obnoxious heights. In the meantime, I just need to show a modest profit to keep the tax man happy when I take business deductions.
I don't know quite how Moneygram will fit into all of this. But, I'll keep tinkering.
Posted Using LeoFinance Beta