Adoption Campaign ($10k Rewards) & LPUD ($8k LEO Delegation) is Coming - How Ready are You?

This post is published via LeoFinance.
3 months ago
Mar 12 2023 2:24 pm
-
3 minutes read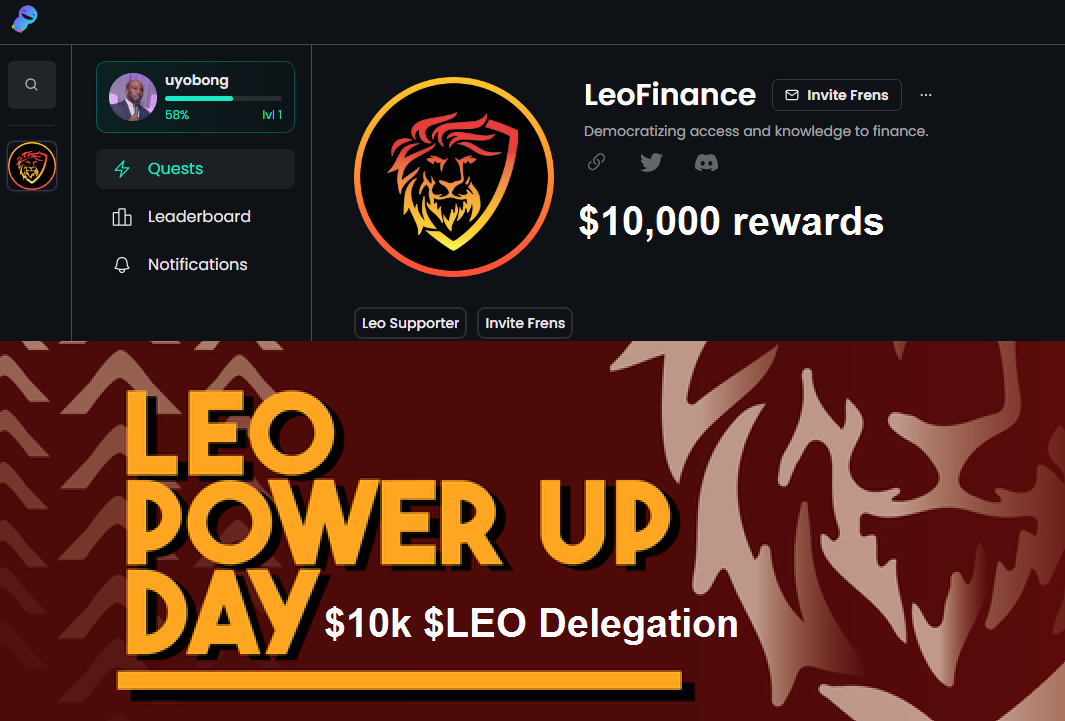 LeoFinance enhances Engagement and Wealth Creation
A lot has been happening in the LeoFinance environment and a lot more are coming i the near future. We are welcomed each new week with updates bothering improvements in Project Blank and it's exciting to see the number of thread and users growing everyday. Thanks to the communities that are joining on daily basis.
We are into a new week and will be welcomed by yet another massive event - The March edition of Leo power Up Day (LPUD). It's going to happen in a matter of days, precisely, March 15, 2023. This coming edition of LPUD comes again with massive prizes to be won by 12 participant as shown in the screenshot below.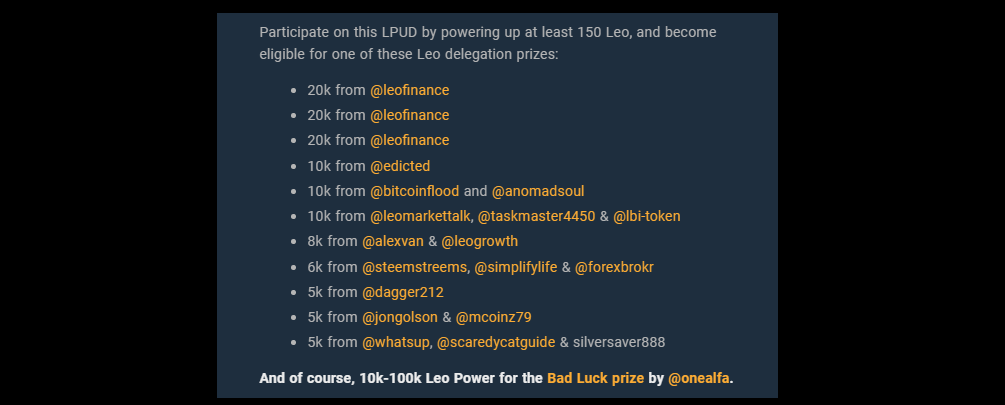 It would amaze you that the above prizes are worth around $8k in $LEO$0.061 delegation even in this ear market. This coming LPUD is one strategic LPUD that would usher us into another phase of project Blank on April 5. The big thing that would happen on April 5 may change the $LEO$0.061 landscape and make it more difficult to acquire 150 LEO for the next LPUD.
Just few days ago, @alexvan and @thetimetravelerz, @merit.ahama, @underlock and @simplifylife won 9,500 liquid $LEO$0.061 and others won about 60k Leo power delegation for participating in the Crew3 Feedback Campaign, a prototype of the Adoption Campaign. just amazing how micrpoblogging can become a pot of wealth on the Hive blockchain.
It'll get bigger in April and that means there would be more demand for Hive Power to supplement resource credits, as well as the high demand for the $Leo token to maximize curation of the massive threads that would be hosted from all people from all races and with different interests. Don't you think that a higher demand for $LEO$0.061 could place some pressure on the price upwards?
How Prepared are You?
Sometimes, knowing something ahead may never be an advantage especially when the knowledge is not backed by the willingness and ability to do the right thing in line with the commitment demands of the knowledge. Just like many people know that those who buy crypto during the bear will make some good profits in the next bull, but will never risk buying a single coin due to FUD.
15,000 Leo Power on mind!
I am not just preparing my fingers to participate in the Adoption challange, I am also upping my game with my $LEO$0.061 holdings because at this point, anything can happen positively as Project continues to gain attraction within and outside of Hive blockchain.

Unlocking the Lion's Badge has been on my mind and it's getting more real as I am about 85% ready to power up the needed $LEO$0.061 to unlock that social status. More 400 $LEO$0.061 needed.
Blogging and curating blogs on Leofinance is not going to be business as usual. The returns are going higher especially as we anticipate LeoAds implementation in the next phases of Project Blank updates.
Are you excited about the next two events to unfold in LeoFinance in days/weeks time?

If you found the article interesting or helpful, please hit the upvote button, share for visibility to other hive friends to see. More importantly, drop a comment beneath. Thank you!
What is LeoFinance?
LeoFinance is a blockchain-based Web3 community that builds innovative applications on the Hive, BSC, ETH and Polygon blockchains. Our flagship application: LeoFinance.io allows users and creators to engage and share content on the blockchain while earning cryptocurrency rewards.
Let's Connect
Hive: https://leofinance.io/@uyobong Twitter: https://twitter.com/Uyobong3 Discord: uyobong#5966
Posted Using LeoFinance Beta