The Daily Leo #236: GameStop Shares gains, USDT now Transferrable in Telegram Chats, LeoFinance unveils Mobile View for Project Blank

3 months ago
Mar 22 2023 7:58 pm
-
3 minutes read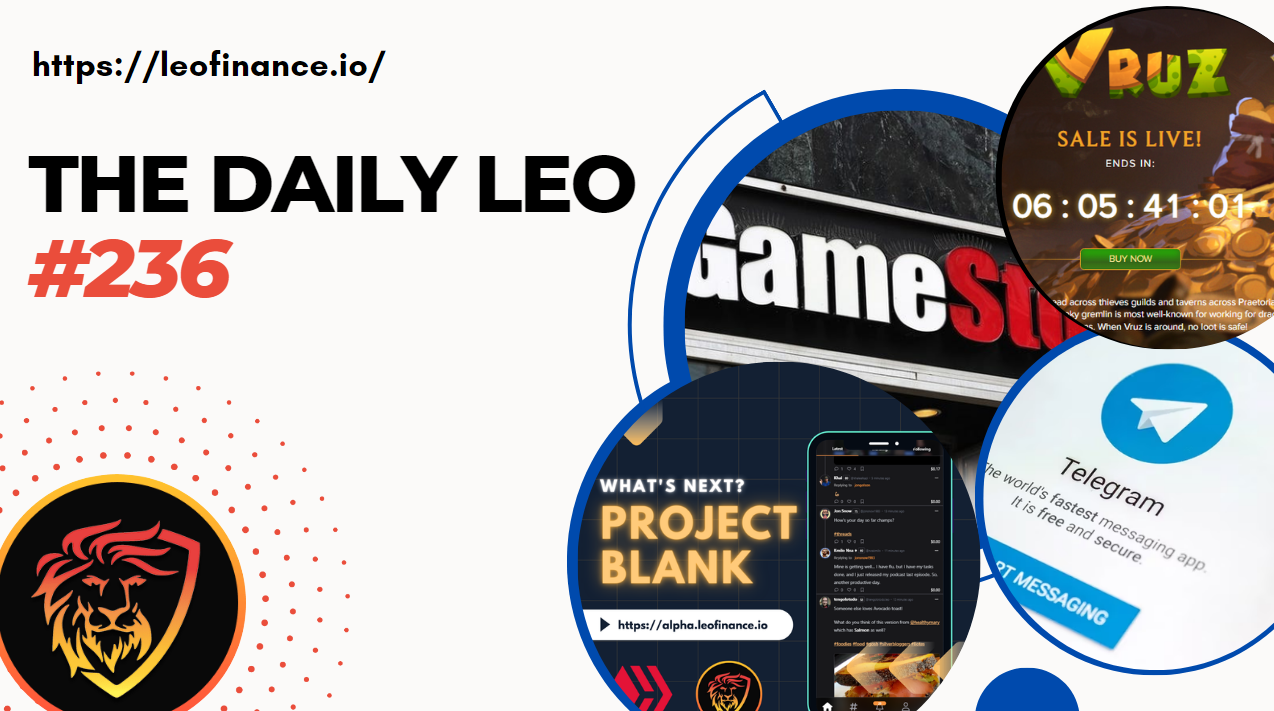 Welcome to the 236th edition of fresh revamped Daily Leo!
The newest, hottest news will be delivered to you every day, so that you will always be up-to-date with the whatabouts on the Finance and Crypto world!
Don't forget to subscribe to The Daily Leo Newsletter & follow @leofinance for the latest information from the finance world and the cryptoverse.
---
---
GameStop Shares is Up More than 35%
GameStop shares rose by more than 35% Wednesday after the video game retailer reported its first quarterly profit in two years, as shares for other meme stocks popularized during the pandemic, including AMC Entertainment and Bed Bath & Beyond, also increased as a result. GameStop now leads the Meme Stock Rally. GameStop shares closed at $17.65 Tuesday and rose by 36% to $24.16 Wednesday as of 10:15 a.m. Eastern time. The rise in GameStop shares has ...
---
eNaira Transactions surges 63% to 22 Billion Naira
The value of transactions of Nigeria's Digital Currency, eNaira, has surged 63% to 22 billion naira ($47.7 million) this year. This is happening as the Central Bank of Nigeria reduces bank notes in circulating to about 1 trillion naira from 3.2 trillion naira in September. This was contained in a statement by Godwin Emefiele, the Central Bank of Nigeria's governor in Abuja, the capital, on Tuesday. Nigerians have increasingly turned to a once-spurned digital currency to ...
---
---
USDT now Transferrable in Telegram Chats
USDT has been added to Telegram's @wallet bot, expanding the messaging app's facility for buying and selling crypto, according to an emailed announcement shared with CoinDesk on Wednesday. With this, Telegram users can now send each other tether (USDT), the world's largest stablecoin by market cap, within chats in the messaging app. Integrating crypto payments into messaging apps like Telegram...
---
Arbitrum to launch and airdrop native token, ARB
Arbitrum, a leading Layer-2 scaling solution for Ethereum has unveiled the launch and airdrop of its native governance token, ARB. This is aimed at empowering its community. Since its launch in 2021, the Arbitrum network has become one of the largest projects without a token, fueling excitement and anticipation for its impending launch. ARB launch will...
---
Coinbase defends right to arbitration before U.S. Supreme Court
The U.S. Supreme Court presided over its first crypto case this morning as Justices heard an appeal from Coinbase (COIN) to pause class action lawsuits. Coinbase defended its right to arbitration in two cases, one of which was Coinbase v. Bielski case. The crypto exchange seeks to take the dispute to arbitration. Justices, including conservative Chief Justice John Roberts, were...
---
First Fully Functional Metaverse for Fashion and Lifestyle Launched
Trace Network Labs has launched, PARIZ, the world's first fully functional & next-generation fashion and lifestyle metaverse that connects the real and virtual worlds in Mumbai at Techsparks, on 22nd March 2023. Pariz said to be India's most Influential startup-tech event organized by YourStory, is a leading media platform dedicated to the startup ecosystem. This will...
---
---
LeoFinance unveils Mobile View for Project Blank
Project Blank - AKA, LeoThreads - has been improving at a rapid pace. If you've been using the new Alpha UI, then you'll see regular improvements, feature adds and updates. The LeoFinance team has been working hard toward the ultimate goal of moving from Alpha to Production. In today's update, LeoFinance announces Mobile View, Show Parent Thread, GIFs and Image Stacking, among other features. The full production of...
---
Splinterlands mints First NFT powered by a community-driven Proposal
Splinterlands has started the sale of the first ever limited edition Promo card NFT powered by a community-driven DAO proposal. The card NFT - VRUZ - minted by the DAO proposal is described as a new exclusive asset by the Players and for the Players!. The card is now being introduced into the game. Each card purchased will also have a cost of 1 VOUCHER token, which will be burned and the sales would last for only 7 days. There are only 161,093 ...
---
LeoFinance is a blockchain-based social media platform for Crypto & Finance content creators. Our tokenized app allows users and creators to engage and share content on the blockchain while earning cryptocurrency rewards.
Subscribe to The Daily Leo and start being up to date with the crypto & finance world!
This edition of The Daily Leo was published by Creativevoice on Leo Finance, read the original article here.
Posted Using LeoFinance Alpha