How to Deposit $GLX (Genesis League Sports Wallet) to Hive-engine Wallet for Trading

This post is published via LeoFinance.
7 months ago
Nov 09 2022 5:08 am
-
4 minutes read
The comments on my post titled Trade your $GLX on Hive-Engine, TribalDex and LeoDex now! has prompted the creation of this follow up series to show hive users how to link their Hive accounts to Genesis league Sports account and transfer their received GLX tokens for trade on Hive-engine and back to Genesis League Sports wallet.
No doubt that the biggest supporters of splinterlands projects are hive users. The running $GLX airdrop is only receivable by accounts staking their SPS on the splinterlands game and that by extension means users staking their SPS on hive. Hive blockchain is a place to learn first and then invest, this makes it very unique.
Here are a few questions received under my post:
Can we send our airdrop tokens to exchanges?
So this is claimable every month? What happens when one doesn't? Does it eventually accumulate?
I thought I heard owning staked SPS qualifies one for GLX token?
Genesis League Sports (GLS) is still a new creation on Hive and will take many some time to acquaint with it, besides, full gaming operations have not yet begun on the platform, hence, many not be very interested yet. I hope this post will answer such questions clearly and other to help them maximize the lots of profits that Genesis League Sports come with.
$GLX

is by Default in your GLS Wallet

Before we go into the guide post, it is important to know that there is only one way to earn $GLX token as at the time of writing this post and that is as an airdrop for staking SPS. Read this post titled "Splinterlands to Start another Year long Airdrop to SPS Stakholders" for clarity. If you want to earn GLX, simply buy SPS and stake it. Just do nothing more.

The $GLX received as an airdrop is by Default in your Genesis league Sports Wallet. You have to create your GLS account first and then link it to your Hive wallet where your SPS is being staked and you can now see the amount of $GLX you are receiving each day in the GLS account linked to your Hive wallet. Follow the steps below.
Pre-Step 1: Stake SPS in your Hive (splinterlands) account so you can start receiving free

$GLX

tokens daily.
Pre-Step 2: Create a new Genesis League Sports account. Follow this link for guide.
Pre-Step 3: Link your Genesis League Sports Account to your Hive account where SPS is staked. To do this, go-to the wallets tab on the GLS website, type in your hive username as marked below and click "Link with Keychain".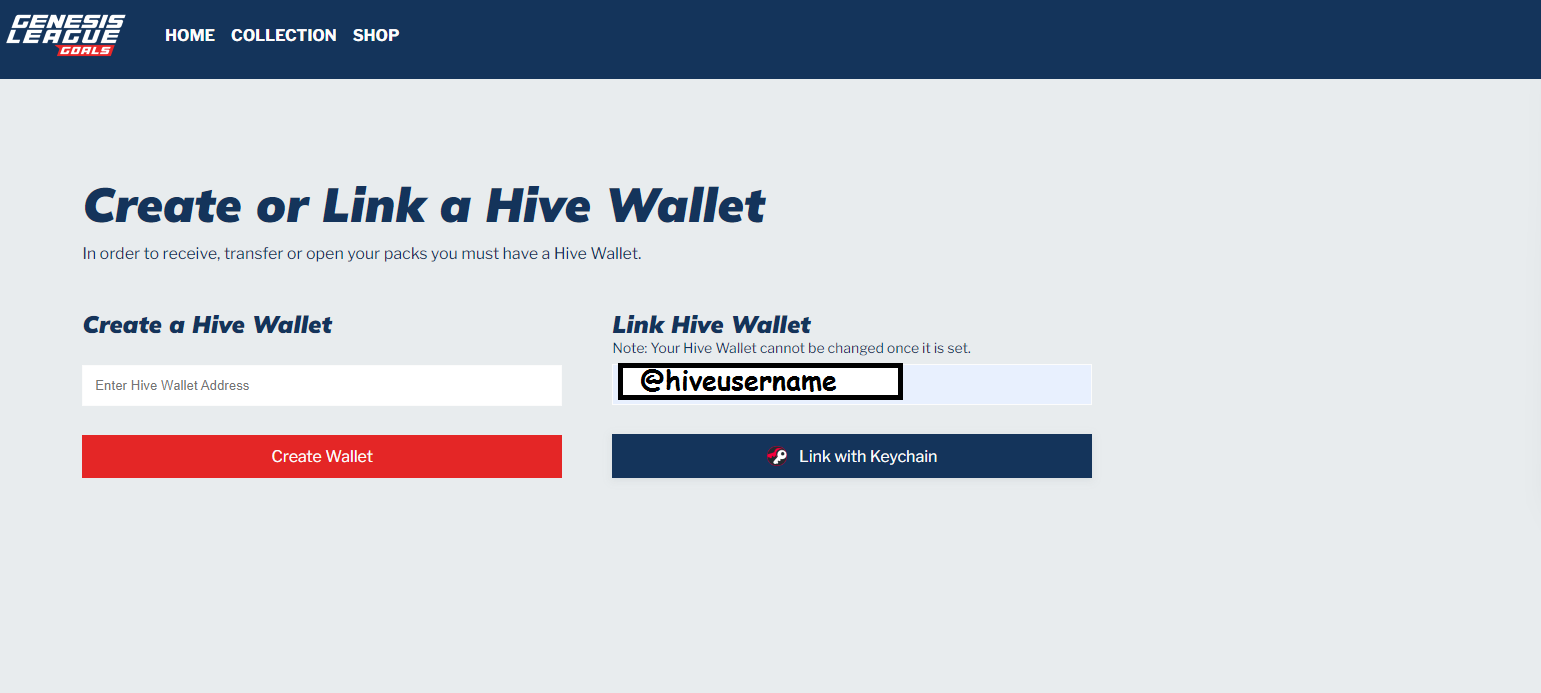 Pre-Step 4: Refresh your page and you see your

$GLX

balance appear just beside your username as shown below. If your SPS stake is not up to 24 hours, you would have to wait.

With the above understood, we can now proceed to learn how to Deposit/Withdraw $GLX (GLS Wallet) to/from Hive-engine Wallet.
How to Deposit
$GLX

(GLS Wallet) to Hive-engine Wallet

The following 7 steps when followed will help you to successfully deposit your $GLX which is originally in your GLS wallet into hive-engine, Tribaldex or Leodex wallet for trading.
Step 1: Login your Genesis league Sports account
Step 2: Click on your GLX balance at the top right corner of the page.

A "Transfer GLX" dialogue box will pop up as shown below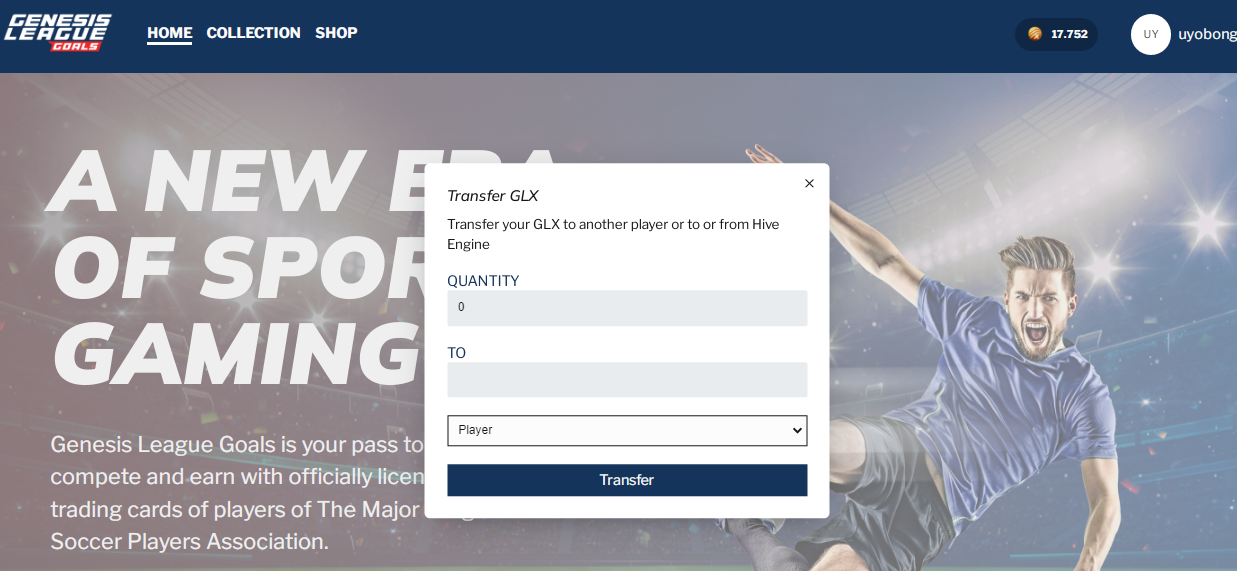 Step 3: Fill in the Quantity of GLX you want to deposit. Then click the little down arrow and select Hive-Engine. In my case, I want to deposit 5 GLX to hive-engine.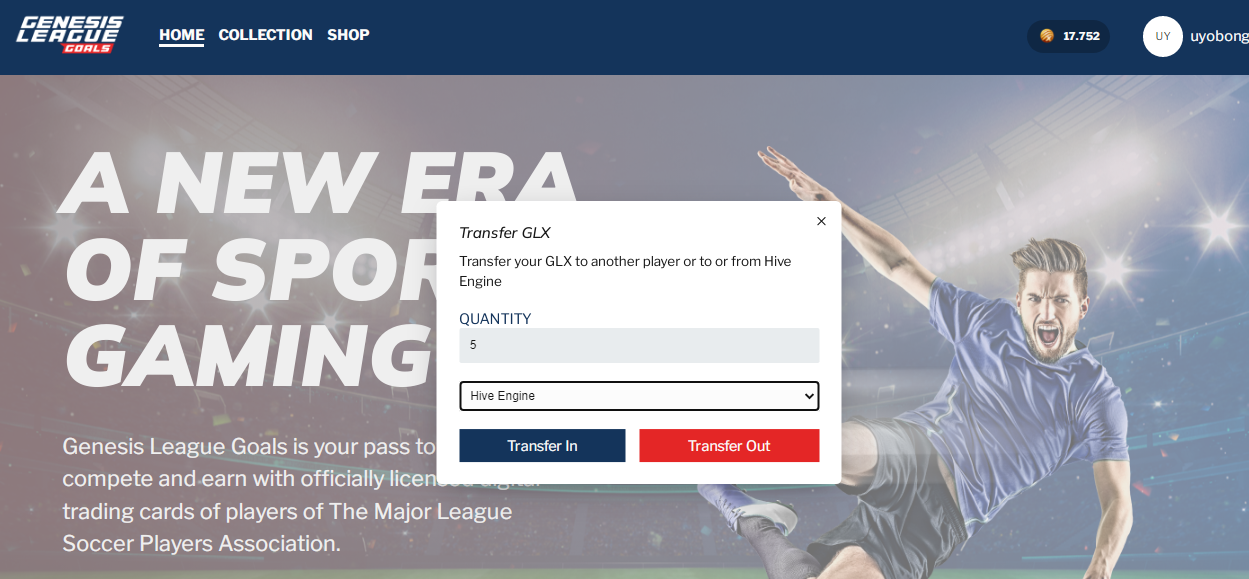 Step 4: Be sure it is the quantity you want to deposit to Hive-Engine then click Transfer Out.
Step 5: When the Hive-Keychain dialog pops up to authenticate and approve your transaction. Click the confirm button.
Step 6: Next a banner will appear to let you know the transfer has been initiated.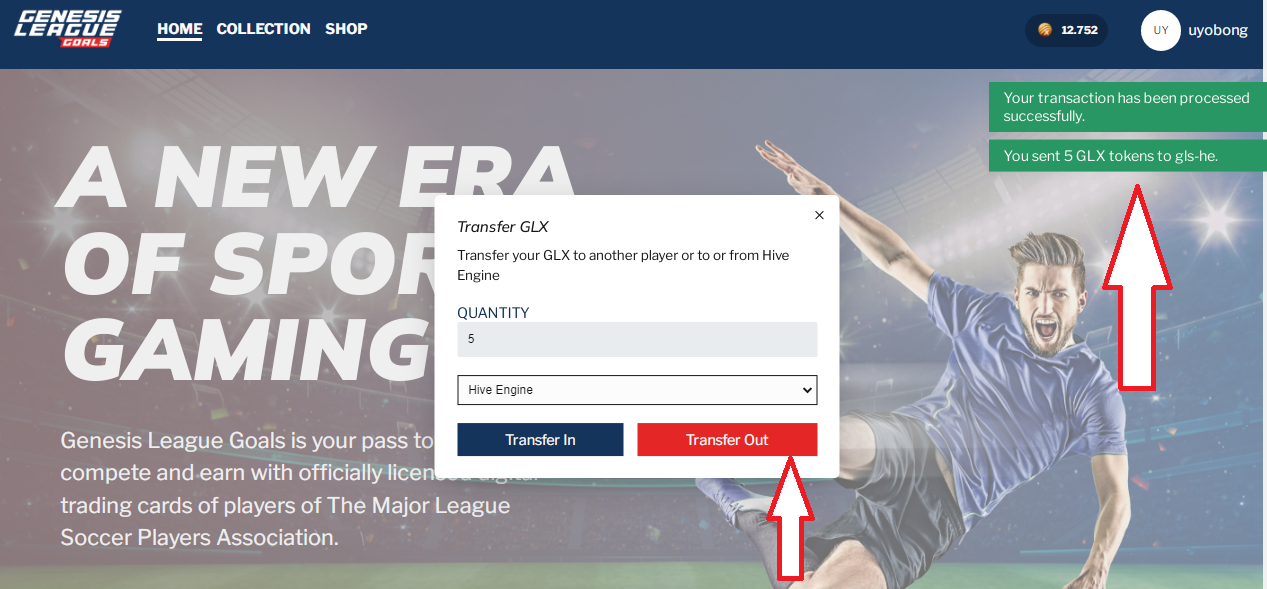 After your transfer has been successfully completed you will receive a notification that your transaction has been processed successfully and that you sent 5 GLX token to @gls-he account which serves as the escrow account. You will also notice that your GLX balance will deduct the amount of GLX you sent.

Step 7: Verify your

$GLX

balance on hive-engine/tribaldex/LeoDex or go-to https://hive-engine.com/@hiveusername/wallet. Replace "hiveusername" with your hive username and you can find the changes in your

$GLX

token in your hive-engine wallet.
You can now start trading your GLX for SWAP.HIVE.

Splinterlands game is termed the "next generation of collectible card games" in which allows players to collect, trade, and battle with provably scarce digital collectibles with real-world value. Battles on Splinterlands Unlike most trading card games, are fast and furious, and are usually completed within few minutes. The Splinterlands gameplay is simple and easy to learn viz: reviewing combat rules, making and submitting of the team and watching the battle unfold.

If you found the article helpful, please hit the upvote button, share for visibility to other hive friends to see. More importantly, drop a comment beneath. Thank you!
Let's Connect
Hive: https://leofinance.io/@uyobong Twitter: https://twitter.com/Uyobong3 Discord: uyobong#5966
Posted Using LeoFinance Beta