Mind-blowing Enhancements on LeoThreads... Justifies entrants of new Users

3 months ago
Feb 20 2023 8:28 pm
-
4 minutes read
LeoThreads is just Six days old in open alpha, but it is marveling how the novel web3 based microblogging decentralized application has metamorphosed. At launch, we were anticipating a weekly update and roll out of new features but @Khaleelkazi and his team won't be easy until they help onboard 10k new users to Hive through LeoThreads.
Brian Tracy in his book, The Psychology of Selling says that one of the most significant parts of selling is the ability of the salesperson to accurately identify the needs of the the prospective buyer. The onus of the statement above is that despite our marketing prowess, only a product that meets the need of the prospective buyers would earn patronage. We understand that buyers' needs differ one from another, however, we'll know the creators of a good product by their ability to satisfy an array of prospective buyers' needs through one or a set of products.
Without a feeling of doubt, the features of LeoThreads so far revealed as well as those in the labs has shown that it'll be an all-go-for microblogging app that will satisfy all and sundry who understands the need for microblogging.
In this post, I highlight Four major mind-blowing enhancements on LeoThreads that is pitching Leothreads to clearly disrupt web2 microblogging. I have lined Four posts talking about these enhancements/features some of which are in the soon-list.
Proof of Sharing (POSH) is on LeoThreads
The creation of @poshthread to me is one of the biggest feature of this microblogging dapp. This is This already has listed LeoThreads among the leading socialmedia where hive post links can be shared for a reward. Thanks to @Acidy for this very early adoption of threads. His involvement to LeoThreads at this point is a big booster for LeoTHreads especially within the Hive blockchain.
The fact that Leothreads accepts all niches and forms of contents, PoshThreads will facilitate the collaboration of more Hive communities to the Leothreads project which has become a unifying dapp on Hive.
LeoThreads to boost Leo Ads
@taskmaster4450le is one of the leading patrons of leothreads and an ardent believer in the Leo project. He's an example in healthy and consistent engagement in leofinance and on Hive generally. In this post, he carefully outlines how the engagement of LeoThreads would create new horizons for Leo ads revenue and what that means to the avearage Leo power holder.
The project team is aiming for 5,000 MAUs by the end of the year. Personally, I feel this is a target that is too low. At a minimum, we should be aiming for 25K, if not 50K. The last week showed me this is the case with the new UI. Granted it is still in alpha and is not very feature rich. However, we can see the potential based upon what we have so far.
My point is what do these numbers do to the ad revenue? We know a lot of that is based upon traffic. We can expect it to escalate at least in proportion to the users. We might find that it actually outpaces that.
The usage of threads is also to generate passive income for all Leo token holders with the LeoAds revenue model in place. We had seen the model singularly move $LEO$0.050 from 5 Cents to 30 Cents in 2020 and beyond. Such 6x in price action can happen again.
LeoThreads recording 3,000 Daily Threads Daily
We win by numbers. Yes! Every business person would understand the value of compounding numbers and consistent increase in sales. LeoFinance has over the past two years prided itself in creating modules that ease onboarding to the Hive blockchain. It is obvious that LeoThreads would give a more seamless experience and with a more terrific result. The team has committed that in 2023 the community Monthly Active Users (MAUs) would move from the current ~500 to 5,000.
Besides the umber to be onboarded, Threads engagement would sporadically increase with MAUs. In the last few days, we have seen daily number of threads average around 3,000. That is a terrific number for about 500 users. What then happens when the userbase reaches to 5,000?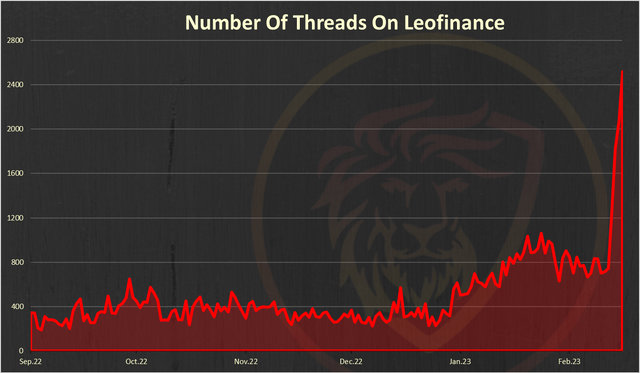 I am hopefully that before production, i would be possible to record over 5,000 threads daily. now we are beginning to see community curation initiatives on LeoThreads. #flowers and #hivegarden are leading the way and we're having many others join us. This keeps adding to the number and every added impression means a lot in exposure of the app as well as adding to LeoAds revenue.
Polls to rollout in LeoThreads
A surprising update from @leofinance hours ago has revealed another killer feature we are about to see roll out in LeoThreads - #polls. We all know how Twitter polls work and how it has ben utilized by many in the last couple of weeks and months as a tool in governance and decision making in organizations. Polls have been also used by creators/producers to retrieve feedbacks for products and services from patrons. The usecase is just massive.
Having to see polls get added to LeoThreads would be a big booster for Hive as a whole and we know it would drive onboarding of non-crypto persons to LeoThreads and Hive by default.
Final Words
These features shared above are a good bait for the use of LeoThreads by all and sundry. An array of microblogging and socialmedia needs have been identified and met and I believe will drive sales for LeoThreads as Brian Tracy postulated. Let's see as things roll out in the coming days.
It can only get better!

If you found the article interesting or helpful, please hit the upvote button, share for visibility to other hive friends to see. More importantly, drop a comment beneath. Thank you!
What is LeoFinance?
LeoFinance is a blockchain-based Web3 community that builds innovative applications on the Hive, BSC, ETH and Polygon blockchains. Our flagship application: LeoFinance.io allows users and creators to engage and share content on the blockchain while earning cryptocurrency rewards.
Let's Connect
Hive: https://leofinance.io/@uyobong Twitter: https://twitter.com/Uyobong3 Discord: uyobong#5966
Posted Using LeoFinance Alpha