Trade your $GLX on Hive-Engine, TribalDex and LeoDex now!

This post is published via LeoFinance.
7 months ago
Nov 08 2022 1:30 pm
-
3 minutes read
Two weeks after the commencement of a year-long $GLX airdrop to SPS stakeholders, the Splinterlands team has successfully listed $GLX on hive-engine which means that beyond staking SPS (Splintershards), any Hive user can now buy $GLX with SWAP.HIVE on hive's second layer token market.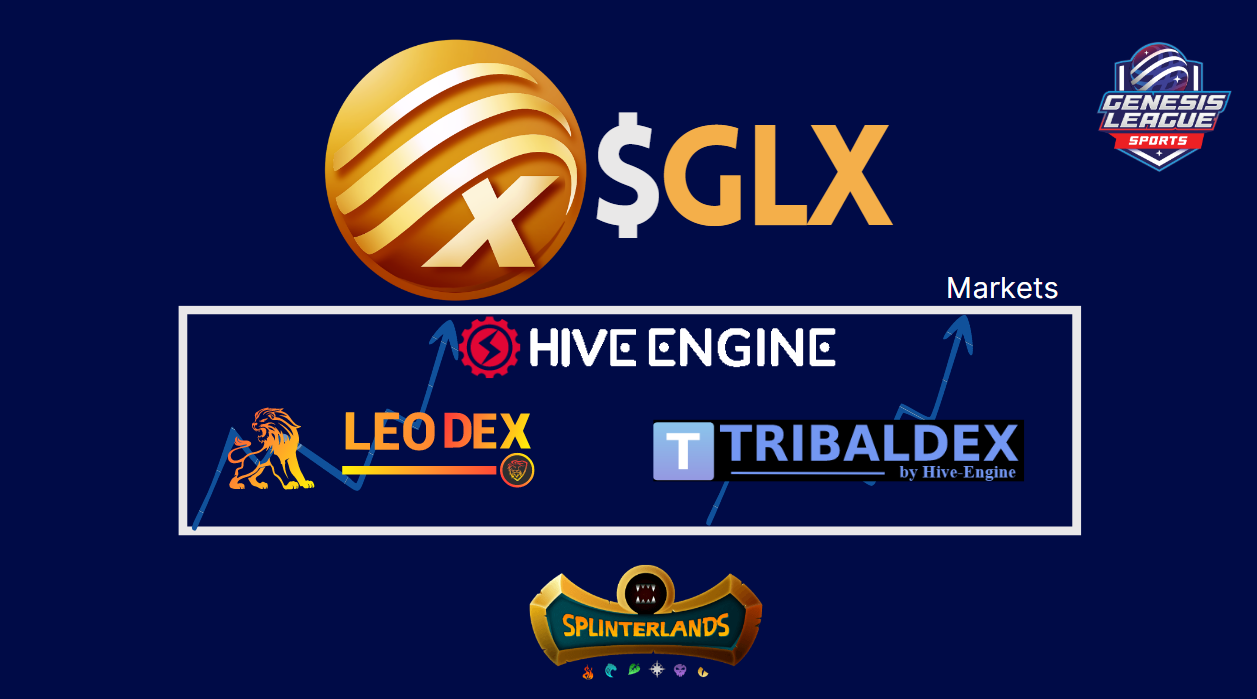 $GLX, short for Genesis League Governance Token is a governance token of the Genesis league sports (GLS) platform. GLS was created by the creators of the leading Play to earn game - Splinterlands to provide for a web 3 experience and cryptocurrency earning opportunity for sports and sports games lovers. You can read all you need to know about Genesis League Sports, to get acquainted with this novel and innovative blockchain-based platform in the play to earn category of blockchain technology.
Already, GLS has introduced its flagship sports game- Genesis League Goals (GLG) in partnership with Major League Soccer Players Association (MLSPA) for soccer /football lovers. Free GLG accounts can be created on genesisleaguesports after which the user can purchase GLG NFT card packs at $5 each.
Owning $GLX will enable users to participate in the decision making in GLS ecosystem. Such decisions would bother around rewards distribution and proposal systems on the plethora of sports games that would be listed. Users will be able to stake GLX to create a proposal and vote same to add/subtract anything within the GLS platform.
Before today, $GLX was only earnable daily as an airdrop for staking SPS. The airdrop is designed to last for one year with a daily snapshot of SPS stake balances in the Splinterlands game. With this latest development by the team as announced in the Splinterlands Discord, hive users who are not staking SPS in Splinterlands can buy/sell $GLX on hive-engine/tribaldex/leodex for profit or HODL same ahead of the governance operations in GLS.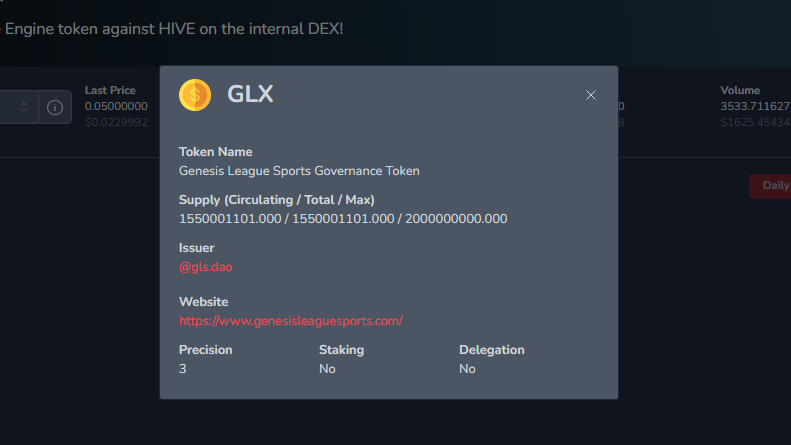 Below are the details of the $GLX token on hive-engine:
Token Name: Genesis League Sports Governance Token
Token Circulating Supply: 1,550,001,101.000 (1.55 Billion)
Token Total Supply: 1,550,001,101.000 (1.55 Billion)
Token Max Supply: 2,000,000,000.000 (2 Billion)
Token Issuer: @gls.dao
Website: https://www.genesisleaguesports.com/
Token Precision: 3
Token Staking: No
Token Delegation: No
Within the last 24 hours, the $GLX market has gained a lot of traction with trading volume as high as 3545.41 tokens worth $1630.44 as at the time of making this post. Great times are unveiling for sports lovers who can now build their wealth with the $GLX token.
Any hive user that had missed the opportunity of buying $SPS at the start may level up with GLX. With the design to serve as governance token for an un-numbered sports games that would be built on GLS, I can say that $GLX has a great prospect.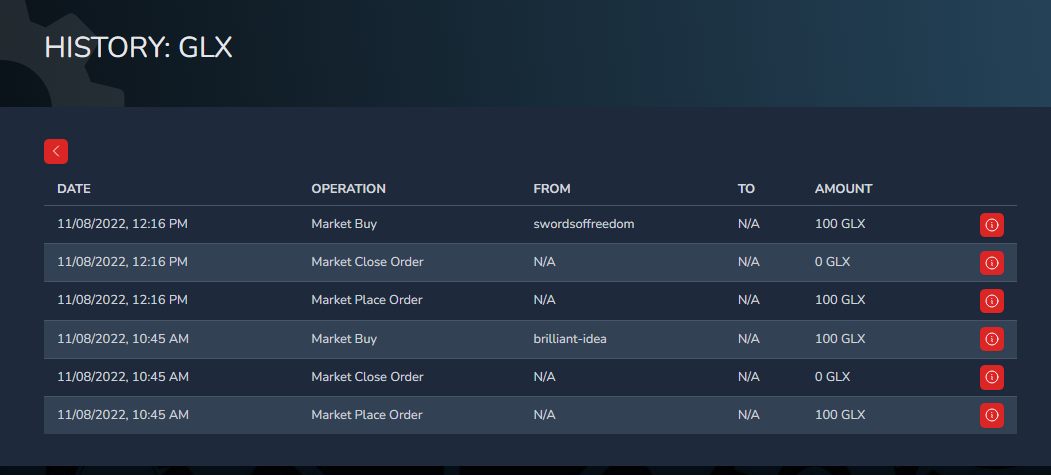 SO far, I have made my purchase of 200 GLX. I cannot tell the direction of the market after now. We expect there will be a dump since whale SPS stakeholders can easily dump theirs for SWAP.HIVE, however, that cannot be ascertained.
While I keep observing the GLX market, I will share my buyigng goals in the near future. Stay in touch!

Splinterlands game is termed the "next generation of collectible card games" in which allows players to collect, trade, and battle with provably scarce digital collectibles with real-world value. Battles on Splinterlands Unlike most trading card games, are fast and furious, and are usually completed within few minutes. The Splinterlands gameplay is simple and easy to learn viz: reviewing combat rules, making and submitting of the team and watching the battle unfold.

Let's Connect
Hive: https://leofinance.io/@uyobong Twitter: https://twitter.com/Uyobong3 Discord: uyobong#5966
Posted Using LeoFinance Beta