VRUZ NFT - An exclusive Splinterlands Asset by the Players and for the Player

3 months ago
Mar 22 2023 2:27 pm
-
3 minutes read
Splinterlands is getting more Decentralized!
Web3 projects built on the Hive blockchain continue to strengthen its decentralized characteristics with DAO proposals. Splinterlands, a leading play to earn game had approved a historic community-driven proposal for a new limited edition Promo card which was voted upon, passed, and is now being introduced into the game. The card NFT - VRUZ - minted by the DAO proposal is described as a new exclusive asset by the Players and for the Players!.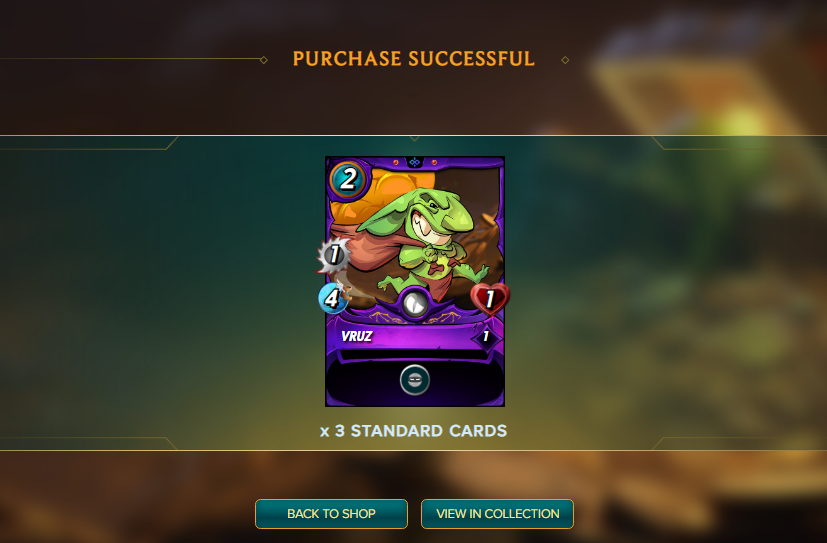 Days ago, I wrote how SPS Promo Card becomes an added usecase & reward for staking SPS. I't no more a promise, the sales of the Promo Card - VRUZ - is already live in the Splinterlands in-game promo card shop. Every splinterlands player/user who has staked at lease 1,000 SPS can purchase this special card which is already valued at $0.5 for level 1.
How many VRUZ NFTs have you Purchased?
I had leveled up my SPS stake to 3,000 before the snapshot that took place few days ago, and this qualifies me to buy just 3 VRUZ NFT cards. Each of the promo card is purchase-able for just 1 VOUCHER. Hence, I successfully puchased 3 VRUZ cards with 3 VOUCHERs.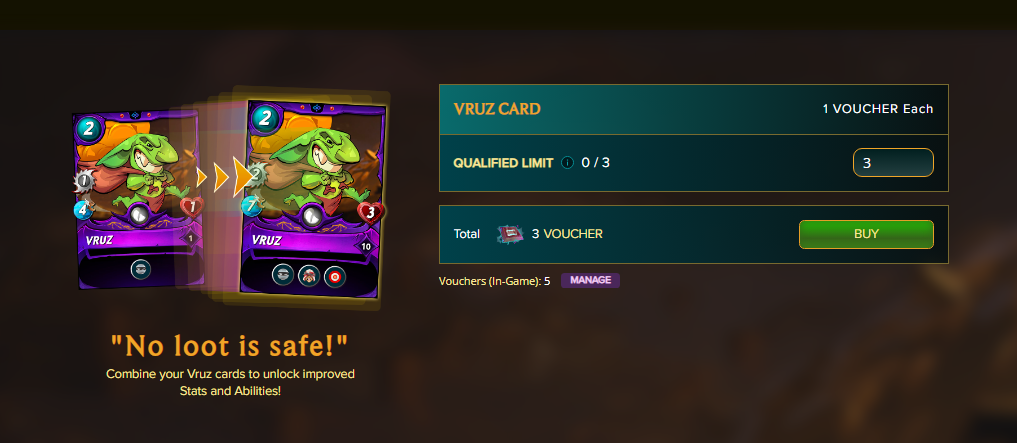 Interesting to know that all of the VOUCHERs generate from the sale of CRUZ NFTs would be burned. Really a powerful use case for the VOUCHER token within the Splinterlands game.
Each card purchased will also have a cost of 1 VOUCHER token, which will be burned.
There are only 161,093 VRUZ NFTs in circulation which mean that if all of it is purchased, 161,093 VOUCHER would have been burned out of circulation and that means a lot to the VOUCHER tokenomics.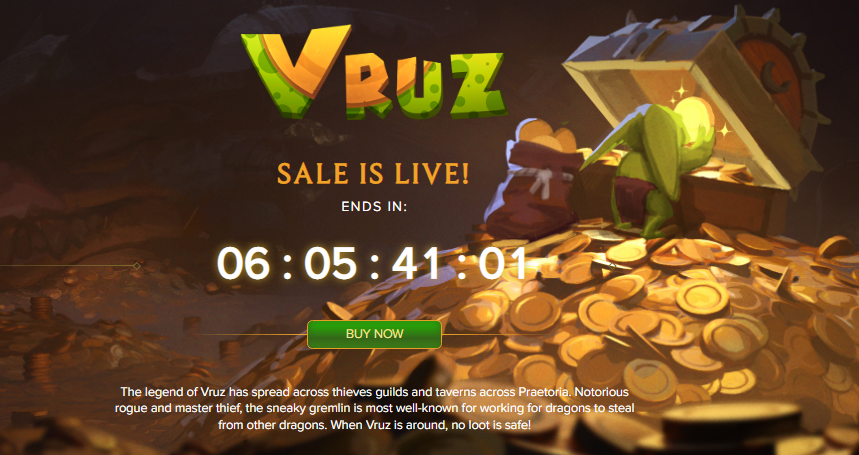 VRUZ NFT is only a day into the 7-day sales window. It would be an extremely scarce NFT. With a starting price of $0.5, I am very hopeful that it would be a worthy asset in one's Splinterlands collection. In the next 6 days when the sales would end, the price of the card should have some gains.
VRUZ is Card Extraordinaire in Battle
Trying out VRUZ in a Splinterlands battle was just superb. The Card NFT with 2 manna is a powerful diamond type melee attack monster with Sneak ability at the Level 1. The abilities add up to 2 at level 5 and 3 at level 10. It's massive speed ranging from4 at level 1 to 7 at level 10 makes it a great attacking monster.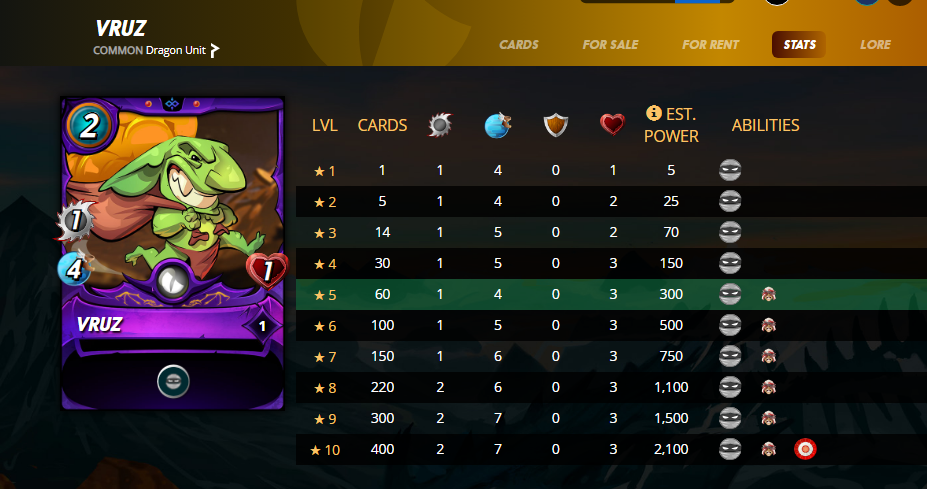 When used in this battle, VRUZ was strong enough to be alive till the end of the battle despite having 1health. It strikes brilliantly from the second line and targets the enemy monster with the least health.
We cannot agree less that Vruz represents a fun, powerful and exciting addition to any Battle Mage's collection.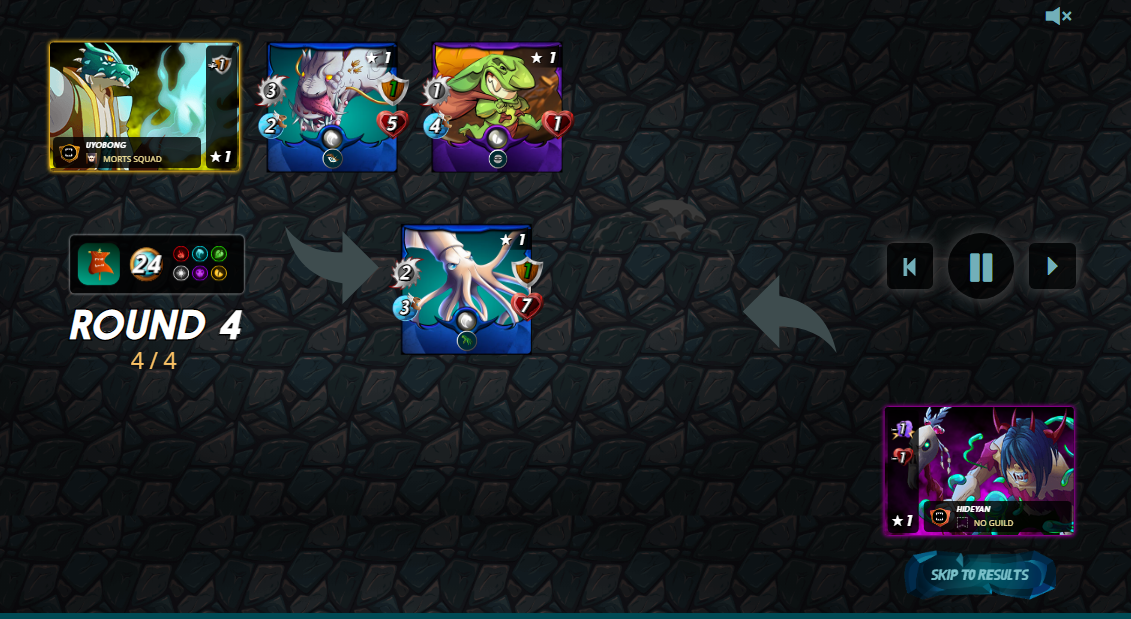 I'll be purchasing more Vruz card in the Splinterlands market so I can combine them ti unlock improved stats and abilities foe my battles.
Interesting to see how Splinterlands game is evolving and this can only lead to an increased patronage both in game play and investment. I hope this first staked SPS promo card would motivate the demand for SPS for an upward price spiral.
Hurry to the Splinterlands in-game promo card shop and purchase your VRUZ NFTs while stock lasts. Staking SPS in the game have become more interesting than ever as well as more profitable.
You want to learn more about Splinterlands, SplinterGlossary is a hot reference center for you.

Splinterlands game is termed the "next generation of collectible card games" in which allows players to collect, trade, and battle with provably scarce digital collectibles with real-world value. Battles on Splinterlands Unlike most trading card games, are fast and furious, and are usually completed within few minutes. The Splinterlands gameplay is simple and easy to learn viz: reviewing combat rules, making and submitting of the team and watching the battle unfold.

If you found the article interesting or helpful, please hit the upvote button, share for visibility to other hive friends to see. More importantly, drop a comment beneath. Thank you!
Let's Connect
Hive: https://leofinance.io/@uyobong Twitter: https://twitter.com/Uyobong3 Discord: uyobong#5966
Posted Using LeoFinance Alpha