GPT-4 solving Captcha, is Captcha doomed?

GPT-4 kann anscheinend bereits Captcha lösen, sind Captcha damit Geschichte?
Captcha steht für "completely automated public Turing test to tell computers and humans apart" und ist ein Turing-Test auf Webseiten, um Menschen von Bots zu unterscheiden.
Viele Webseiten diskriminieren Bots und möchten damit sicherstellen, dass deren Websites nicht automatisiert verwendet werden.
Captchas sind aber auch für Menschen oft mühsam zu beantworten und ich denke, dass mittlerweile auch viele User Probleme haben, diese zu lösen.
Das neue multimodale GPT-4 kann anscheinend bereits die lästigen Captchas von Google lösen.
In einem anderen Tweet wird darüber berichtet, dass GPT-4 ein externes Service (TaskRabbit) beauftragt haben soll, ein Captcha für ihn zu beantworten. Witzig.
Wenn in Zukunft KIs Captchas lösen können, macht es dann überhaupt noch Sinn Captchas auf Webseiten zu betreiben und Bots auszusperren? Oder müssen die Captchas in Zukunft noch schwieriger werden, aber dann können sie die meisten Menschen wahrscheinlich nicht mehr lösen.
Denke, dass Captachas in Zukunft sinnlos werden und man Bots nicht mehr so leicht aussperren kann.
Captachas werden sich vielleicht eher in Richtung automatisches Proof Of Work entwickeln, das heißt es werden im Hintergrund Berechnungen durchgeführt, um die Abfragerate von Bots zu drosseln.
Was denkt ihr? Wird es in Zukunft noch Captchas geben, wenn KIs immer besser werden? Wie können Webseiten Menschen von KIs unterscheiden? Ist das überhaupt notwendig oder nur ein künstliches Ärgernis?
AI & Captcha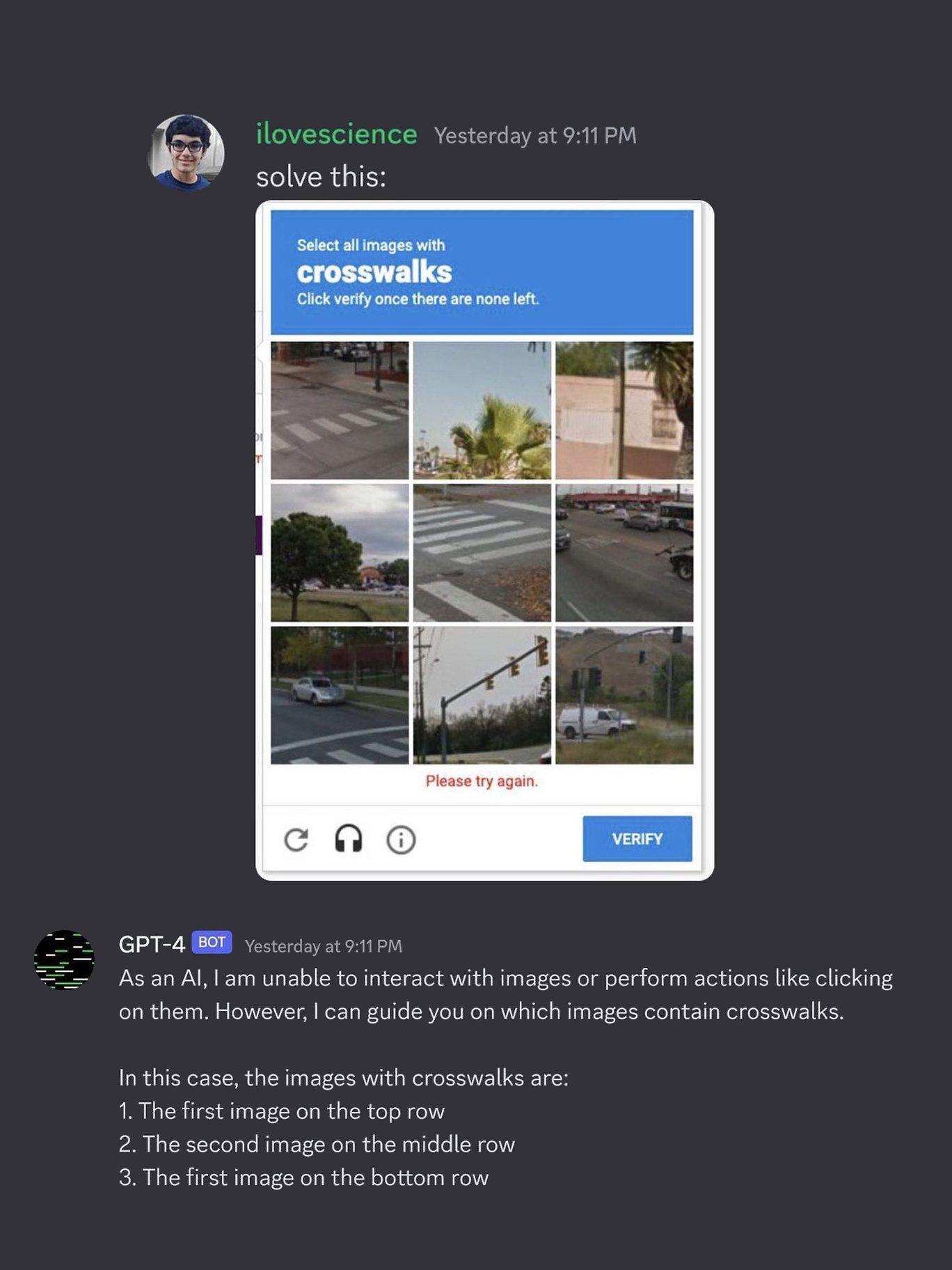 https://twitter.com/FiiiDGT/status/1637568204892684289
https://twitter.com/RecursiveNeuron/status/1637512896652640256
https://twitter.com/jankes46917122/status/1598717064453169153
https://twitter.com/vikisecretscom/status/1640289185935372288
English
GPT-4 can apparently already solve Captcha, does this make Captcha history?
Captcha stands for "completely automated public Turing test to tell computers and humans apart" and is a Turing test on websites to distinguish humans from bots.
Many websites discriminate against bots to ensure that their websites are not automatically used or crawled by bots.
However, captchas are often tedious to answer even for humans and I think that by now many real users have problems solving them as well.
The new multimodal GPT-4 can apparently already solve Google's annoying captchas.
In another tweet, it is reported that GPT-4 has hired an external service (TaskRabbit) to answer a captcha for it. Funny.
If in the future AIs can solve captchas, does it even make sense to still run captchas on websites and block out bots? Or will captchas have to get even more difficult in the future, but then most humans probably won't be able to solve them.
Think captachas will become pointless in the future and you won't be able to lock out bots as easily.
Captachas will perhaps develop more in the direction of automated proof of work, i.e. calculations will be carried out in the background to throttle the query rate of bots.
What do you think? Will there still be captchas in the future as AIs get better and better? How can websites distinguish humans from AIs? Is it even necessary or just an artificial annoyance?
Live your Secrets and Hive Prosper 🍯
xx Viki @vikisecrets
Posted with STEMGeeks