Silicon Valley Bank collapsed, new banking crisis looming, or just corrupt woke bank gone bankrupt?

Der offizielle Grund für den zweit größten Banken-Crash der US-Geschichte ist ein klassischer "Bank Run". Zumindest ist das die offizielle Version.
WaMo und Lehman Brothers waren größer, aber letztere waren eine Investment-Firma, keine Kommerzbank.
Weitere Ursachen könnten das steigende Zinsumfeld nach der jahrelangen, umstrittenen und manipulativen Nullzins-Phase sein.
Auch das Ende der Lockdowns wird als Auslöser angegeben, da IT-Dienstleistungen jetzt wieder etwas weniger gefragt sind als während Corona.
Andere Gründe könnten Korruption, Misswirtschaft, Fokussierung auf Woke-Agenden (go woke, go broke) und ein Versagen der Bankenaufsicht sein. Bernie Sanders sieht wiederum Deregulierung als Ursache.
Heute Montag ist der befürchtete Total-Crash jedenfalls ausgeblieben. Vielleicht ist die Ansteckungsgefahr bei der SVB doch nicht so groß oder vielleicht haben sich die Märkte mittlerweile an die Banken-Crashes gewöhnt.
Finde es jedenfalls besser, wenn eine korrupte Bank crasht, anstatt sie mit Steuergeld zu retten. (Steuergeld wird sowieso auch in diesem Fall verbrannt.)
Was denkt ihr? Stehen wir wieder vor eine großen Finanzkrise wie 2008 oder ist die Ansteckungsgefahr diesmal geringer als bei Lehman Brothers?
SVB Crash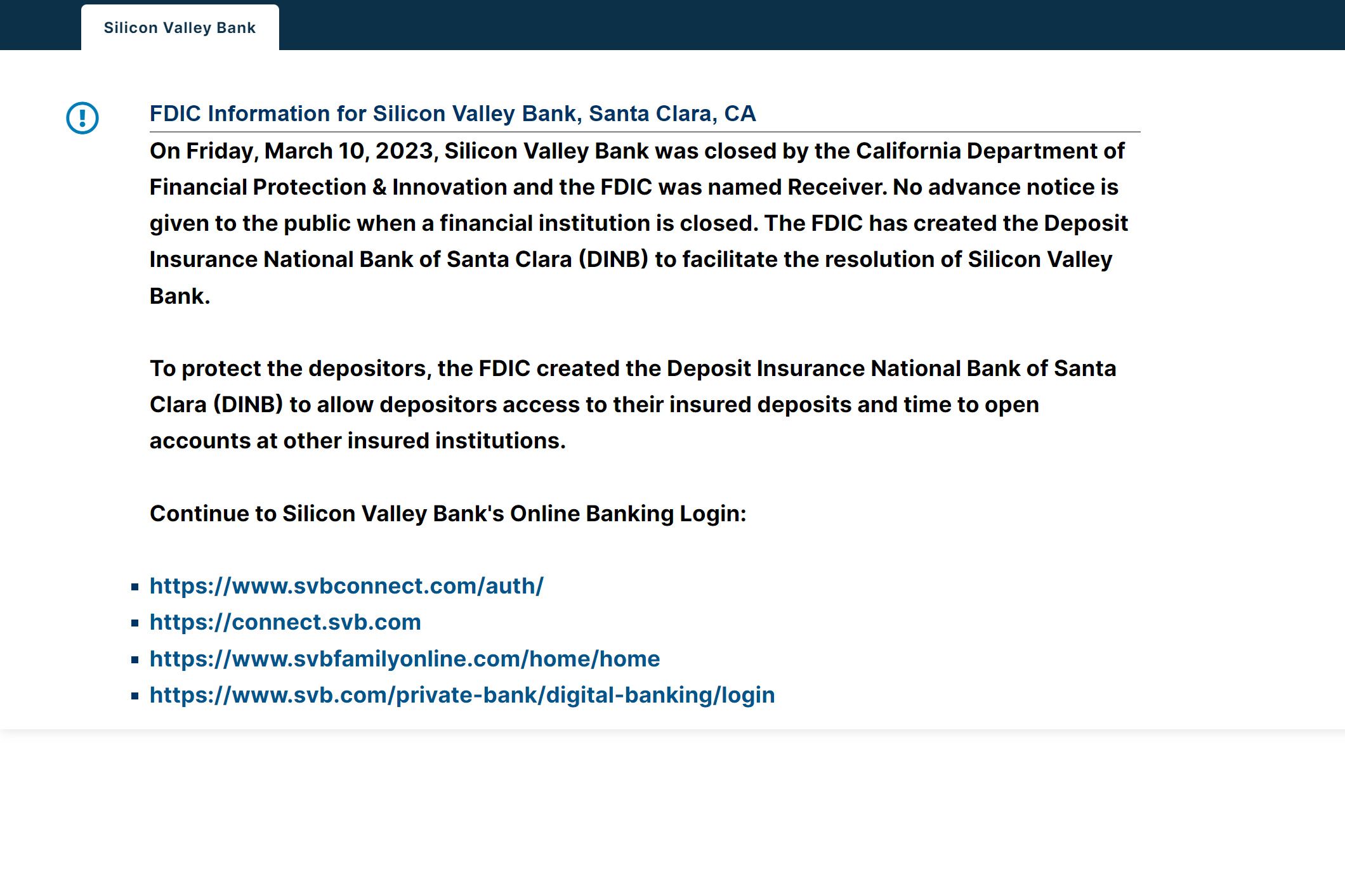 svb.com accessed 2023-03-13
https://twitter.com/CollinRugg/status/1634328020113825792
https://twitter.com/ColinTCrypto/status/1634922973059579910
https://twitter.com/davidkurten/status/1634727442836336640
https://twitter.com/MarinaMedvin/status/1634764789925683203
https://twitter.com/Reuters/status/1635178987935657984
https://twitter.com/SenSanders/status/1635043418761224192
English
The official reason for the second largest bank crash in U.S. history is a classic "bank run." At least that is the official version.
WaMo and Lehman Brothers were bigger, but the latter was an investment firm, not a commercial bank.
Other causes could be the rising interest rate environment after years of controversial and manipulative zero interest rates policy.
The end of the lockdowns is also cited as a trigger, as IT services are now somewhat less in demand again than during Corona.
Other reasons could be corruption, mismanagement, focus on woke agendas (go woke, go broke) and a failure of banking supervision. Bernie Sanders again sees deregulation as the cause.
Today, Monday, the feared total crash did not materialize. Maybe the SVB is not so contagious or maybe the markets have become accustomed to big bank crashes.
In any case, I think it's better for a corrupt bank to crash than to bail it out with taxpayers' money. (Taxpayer's money is burned anyway.)
What do you think? Are we facing another big financial crisis like in 2008 or is the risk of contagion less than with Lehman Brothers?
Live your Secrets and Hive Prosper 🍯
xx Viki @vikisecrets