Hey people, I just had a small talk with a scammer and I wanted to share it with you all.
Basically, on Twitter, someone pretended to be Jason Lowery and sent me a DM (if you don't know who Jason Lowery is, you probably will soon, and I strongly recommend taking your time to learn about his astonishing viewpoint on proof of work).
---
Disclaimer This guy is not the real Lowery, I'm sure it's redundant, but repetita iuvant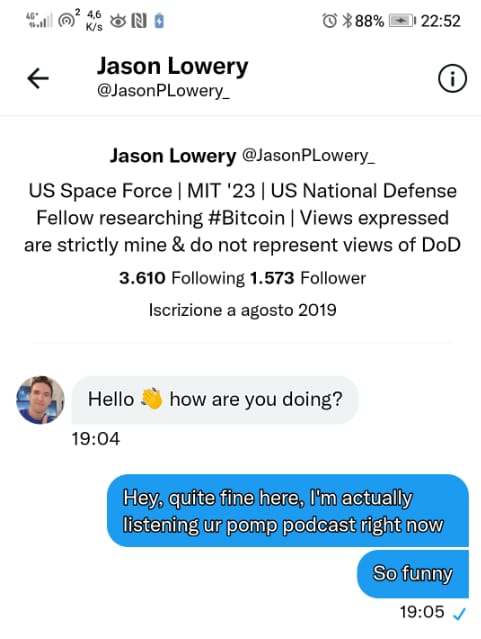 I had a very brief DM exchange with Lowery a few weeks ago, but still, he messaging me was a very improbable event, in any case, I was literally listening to his last interview and lost in thought I just behaved friendly.

So, if I had suspected before, now I'm sure he's not the guy.
I had a small laugh and tried to end this quickly.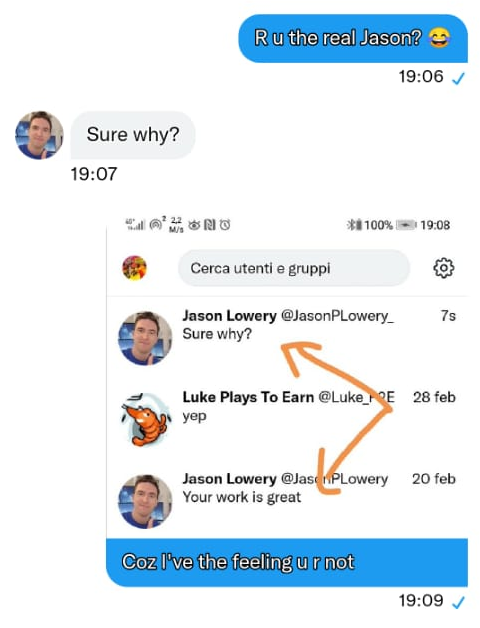 But he doubled down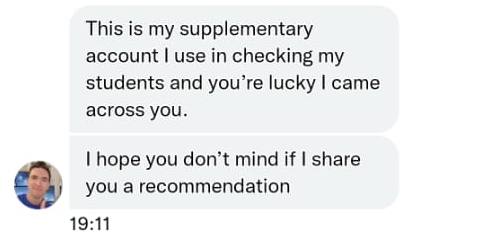 and that reminded me about James Veitch (if you don't know who James Veitch is, click here and thank me later), so i saw an opportunity.

I was lucky yes, now i had to take the bait

Count me in 🤣
Now I have only one task: to waste his time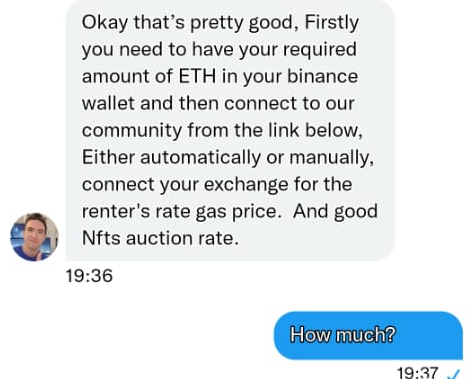 i'm in i'm in 🤑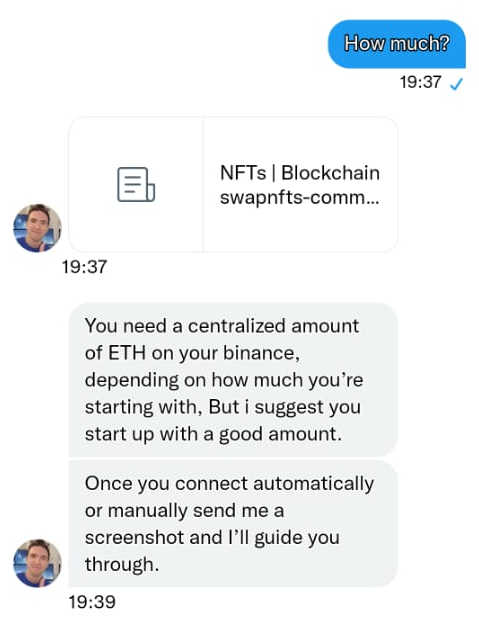 Uhm.. 🤔 How can i look stupid enough to need help with this task?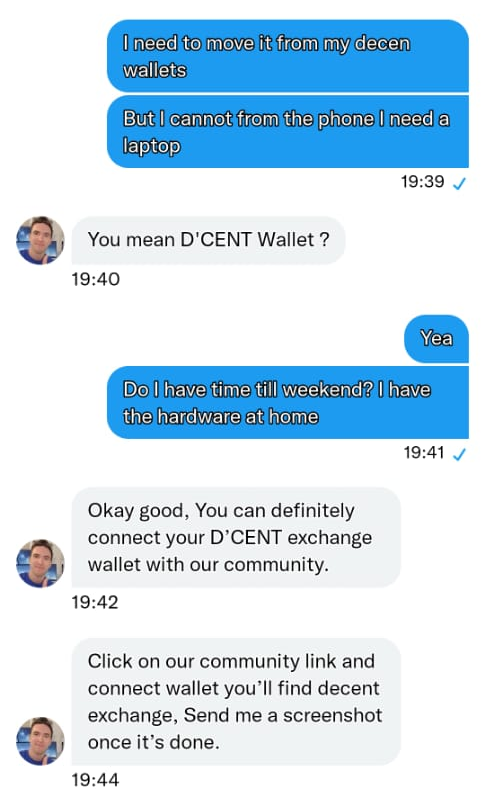 i'm a natural 🤣 .. 😧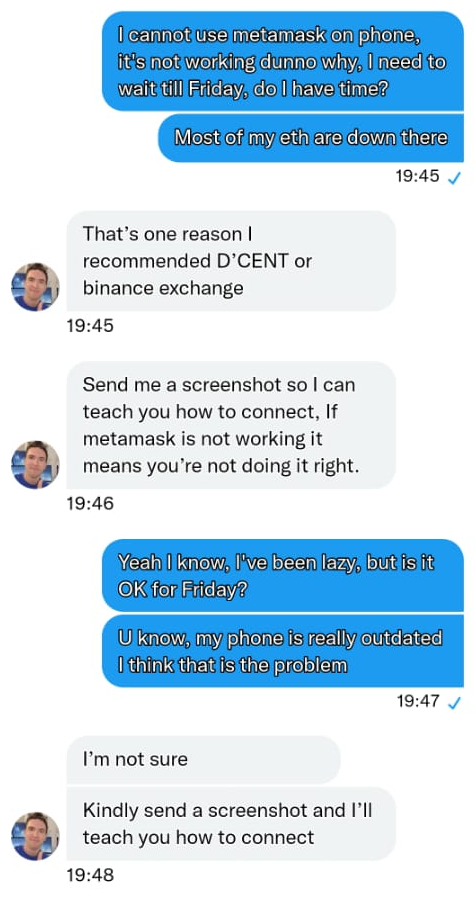 D'CENT, you are right, or was it binance that u needed? I can't recall, or was it metamask? Yea it was metamask i'm sure

that, which is totally relevant, should let you know that i'm stupid enough to give a not trivial sum to you my friend. Now it's time for my bait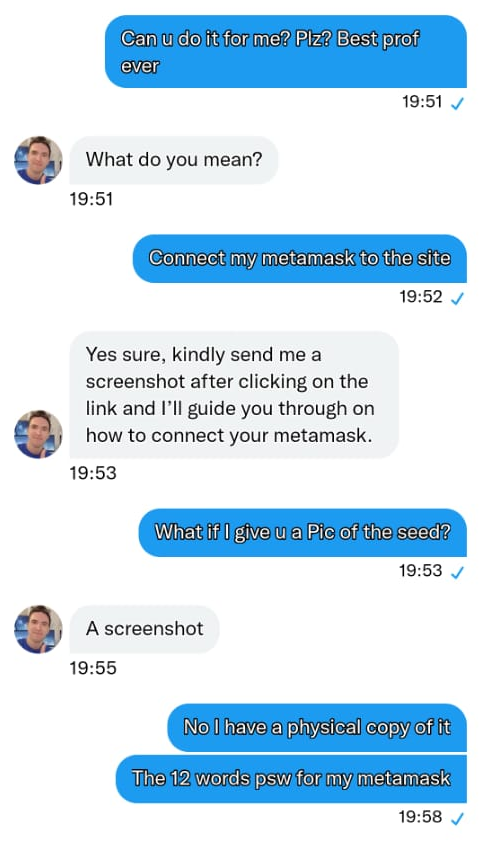 Yep, i just said that, c'mon it's right there, take it 🤤

WHAT?! Come on what the fuck bro! Why not?? I just want you to eagerly open a picture😭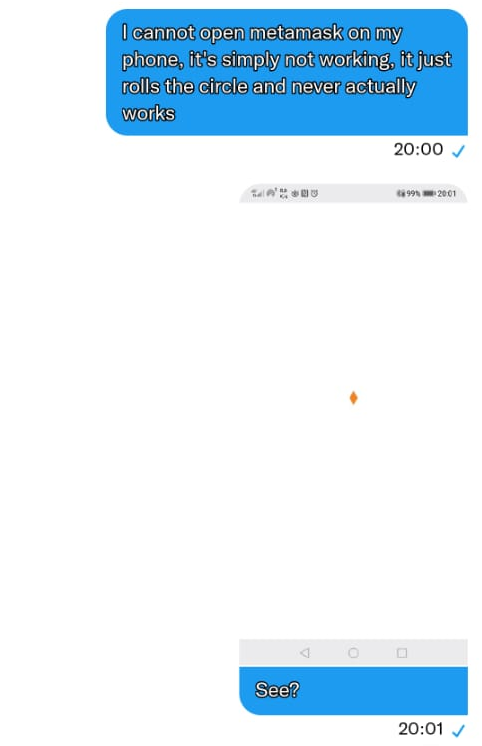 Come on bro, be kind!

The fuck bro! You are ruining my performance here! I cannot make a screenshot, that would be recognizable, and you would immediately realize that is a joke.. come on I need you to realize it slowly, I want to wonder your face at THAT moment!
I'm short of ideas now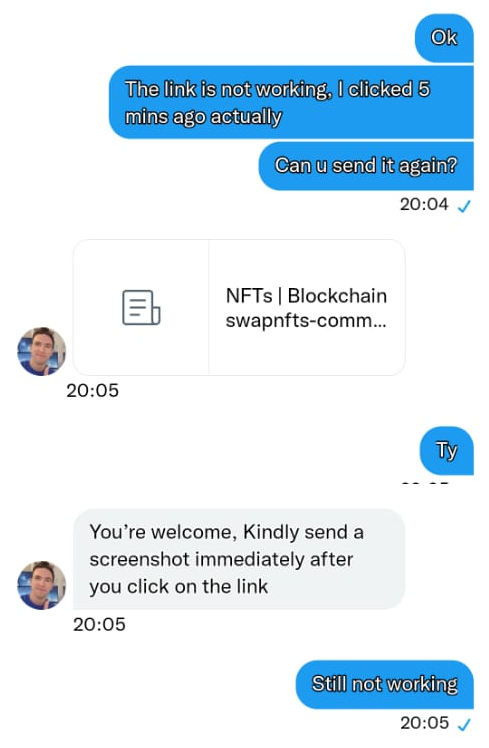 What can I say? it doesn't work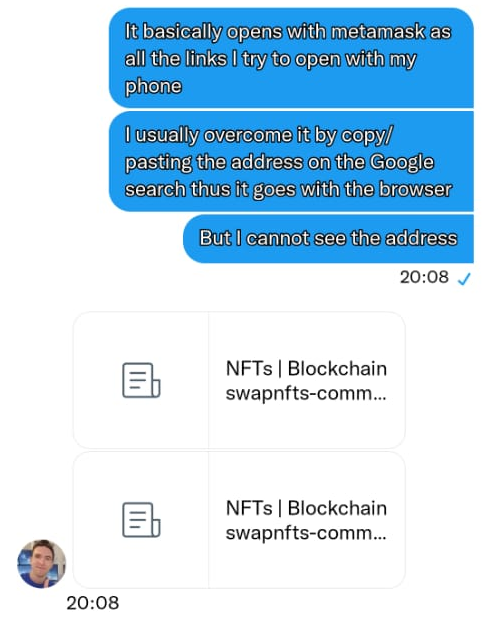 i bet he's frustrated right now 🤣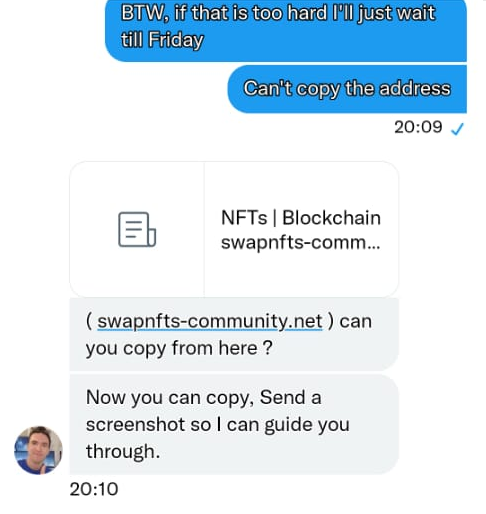 He's totally frustrated! 🤣🤣🤣 But damn it, he got me, i don't want to click on the link, You know.. you never know.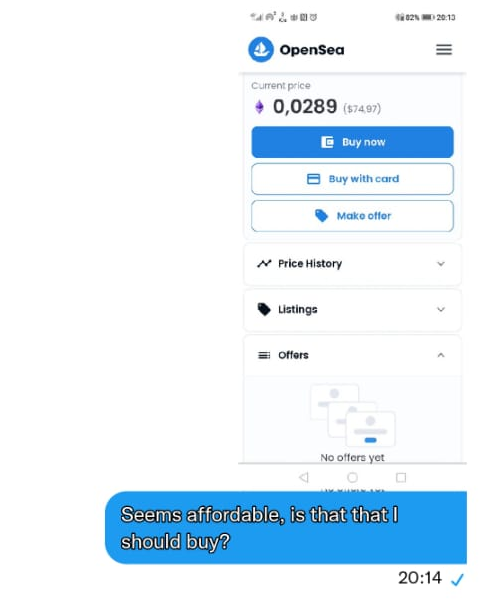 So i just sent him a screen randomly taken on the opensea platform
Now he should be really confused

Reaaally confused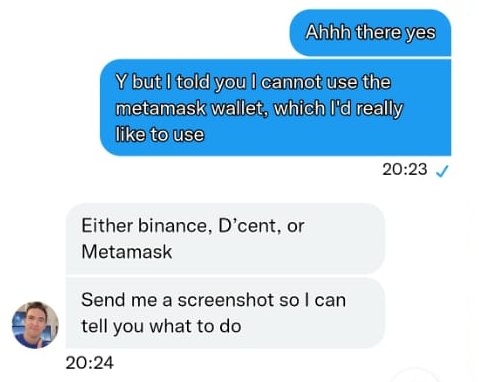 Pfff the screenshot again..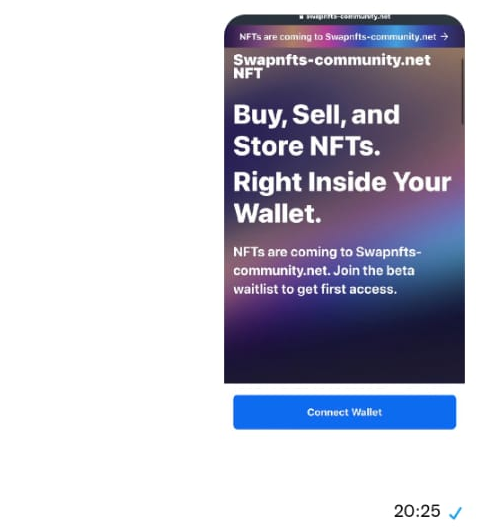 Don't you mind if i use exactly the same image you sent me right?

Come on, the screenshot again? U know.. a link it's a link and metamask wont work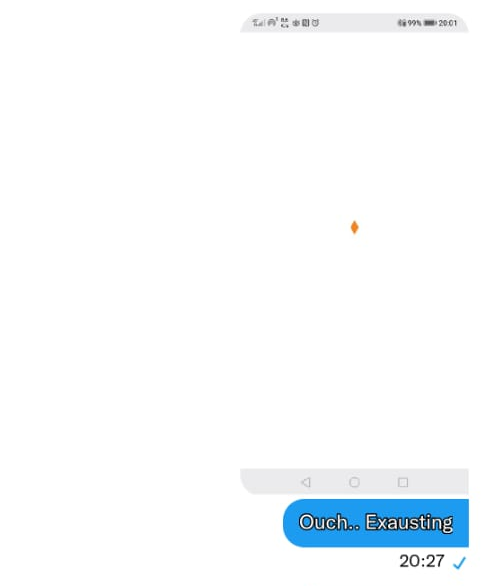 Maybe i went too wild this time.. he ain't answered for a while, perhaps he smelt the rat, let's check

Sooo

He quitted 😞
---
---
---
But i didn't!!

Let's pass one hour, let him to cool down

Did he really quitted?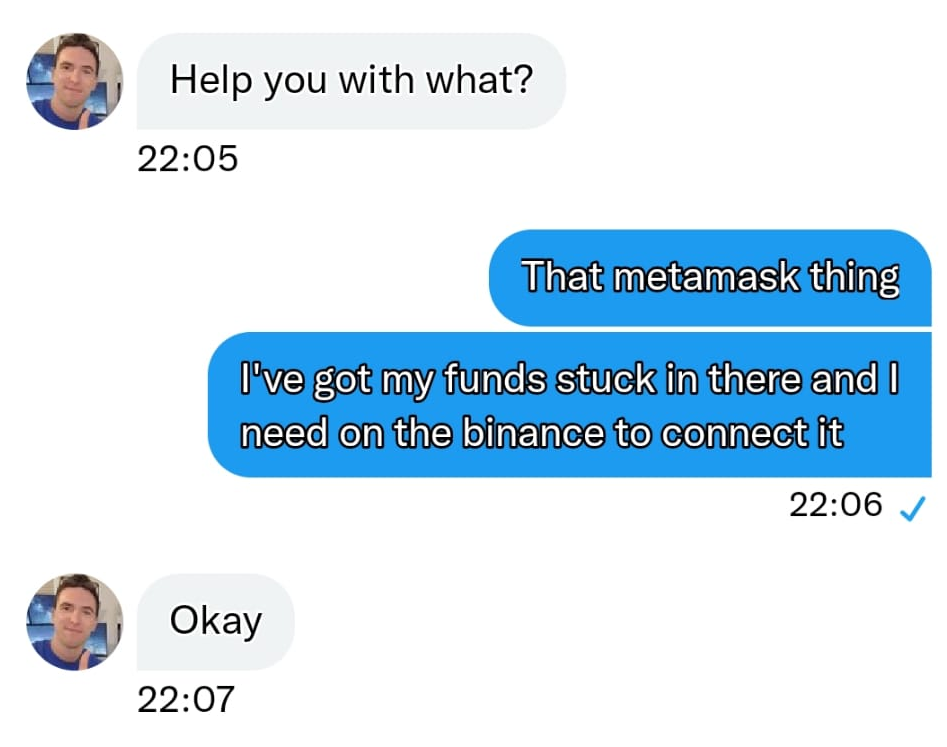 YES!! YES YES YEEESSS!!!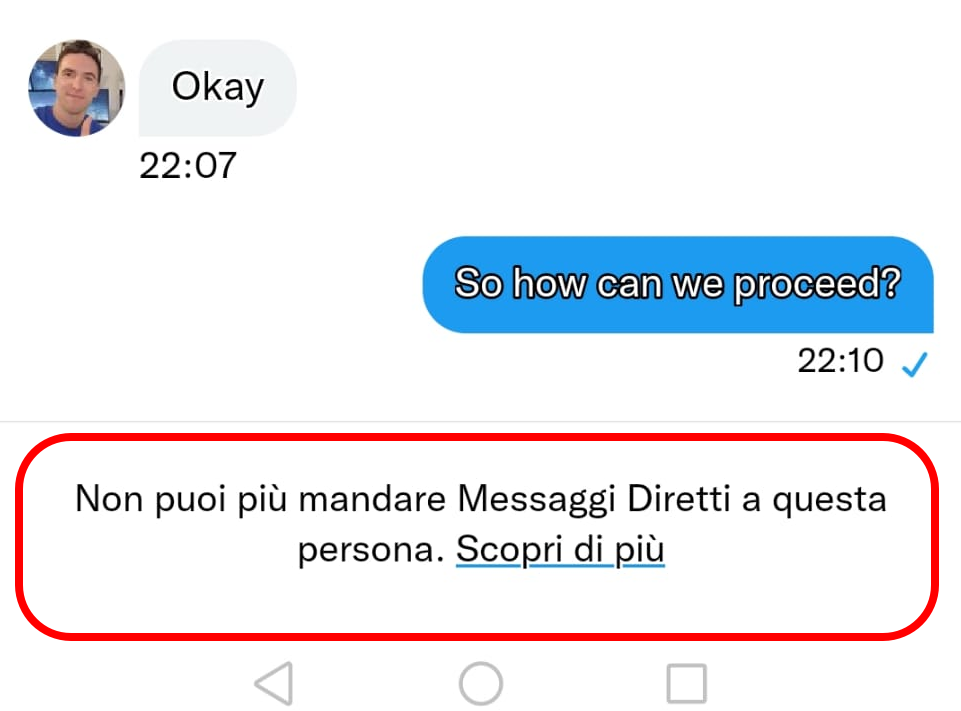 NOOOOOO!!😭😭 He's banned (or he banned me i don't know)
---
This is the end of the story, but i want to show you the seed phrase i had for him!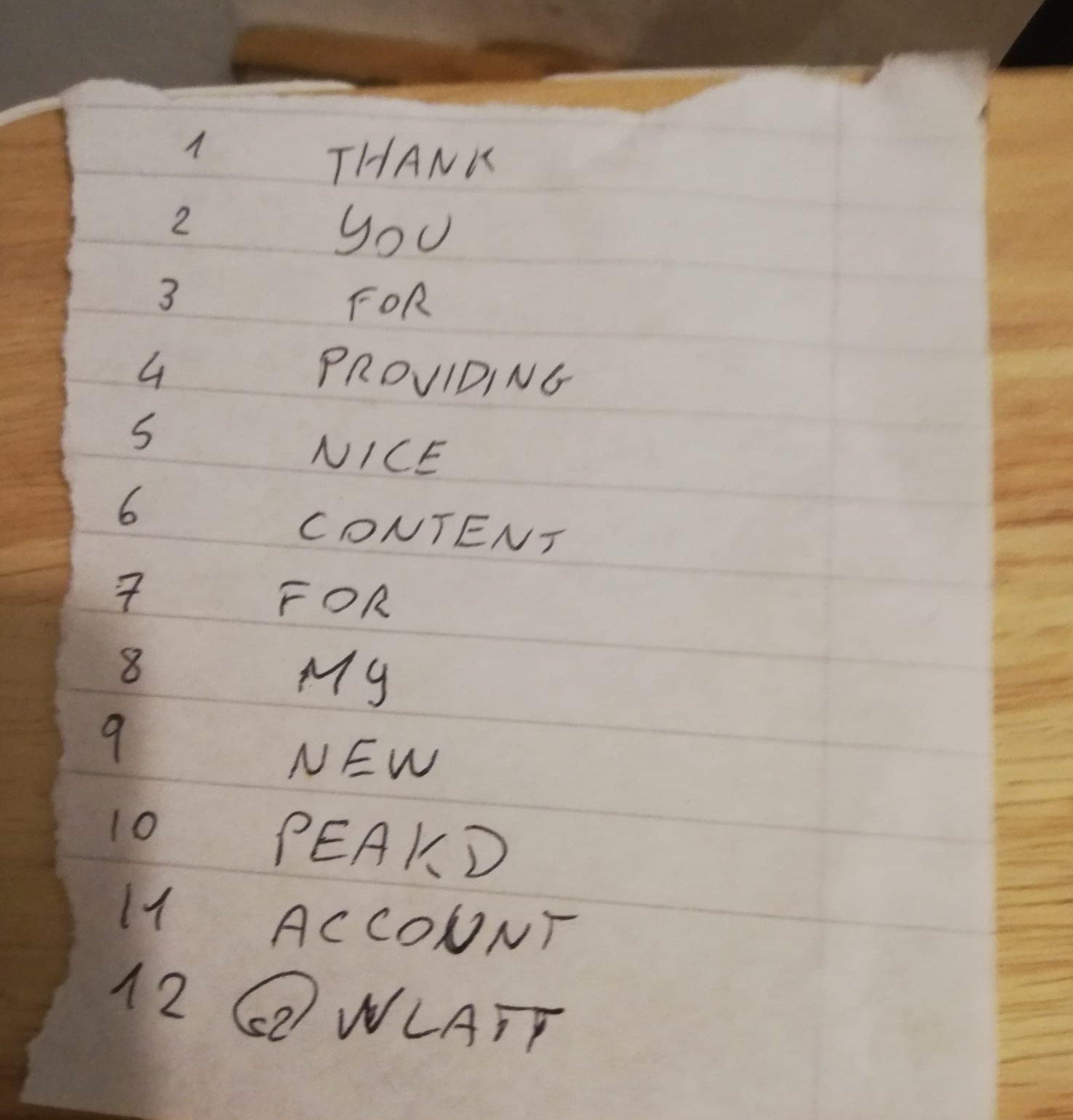 ---
Finally i failed on getting him to slowly realize that he had been fooled, but at least i wasted some of a scammer time. Time that he would have used to hurt someone else, and that is still a small victory.
Lastly i want encourage you all to waste scammer time when you can, and to have a look at the Jason Lowery series into the What is money podcast by Robert Breedlove. His viewpoint on bitcoin as national security problem it's incredibly informative and inspiring.