Bill Murray hacked for 110 ETH after NFT Auction

Just as I was praising the Cryptocurrency community, hackers had to go and screw it all up!
The day after Bill Murray auctioned of a special 1/1 NFT Collection for charity, a hacker stole a total of 109.76 Wrapped Ethereum (WETH) from the legendary actor's Ethereum wallet.
The hack occurred via two unauthorized transactions; the first was for 108.03 Wrapped Ethereum, and the second transaction stole 1.73 Wrapped Ethereum.
The charity auction on Wednesday, August 31st, was a collaboration between Bill Murray and The Chive.
After 61 bids, between 6 collectors, the winning bid came to a whopping 119.2 ETH! The winner of the auction was a collector named Brant Boersma.
The proceeds of the Charity Auction were going to be donated to the care of a three-year-old girl, named Evelyn, with a rare CLDN5 gene mutation, and intractable epilepsy (which means that the epileptic seizures are almost impossible to control, even with medication).
In response to this disheartening news, Chive Charities has launched a GoFundMe to restore some of the hacked funds and get Evelyn the medical care she desperately needs and deserves.
Bill's wallet was hacked in a coordinated effort by hackers that stole the funds raised in the auction. We will not stand for that. We're raising funds to support Evelyn and all the other recipients whose lives we intended to change. - Chive Charities
Here is the GoFundMe for Evelyn! I encourage all to donate whatever you can.
The GoFundMe's goal is set for only $25k, and we have already hit $37k! I hope we can get this fund to over $200k!
I put my money where my mouth is and donated a small amount of $5.00 to the cause.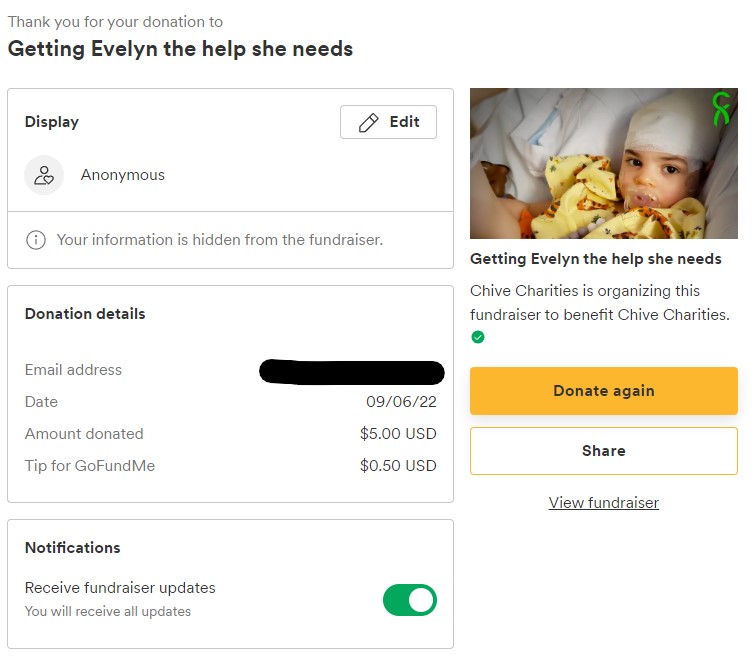 In a shocking move of pure generosity, the Auction runner-up, who goes by the pseudonym mishap72, donated 120 ETH to replace the funds intended for the child's medical care.
This blew me away to see this type of kindness in the face of such detestable actions of the hackers. It restores my faith that despite the negatives in the world, the kindness and generosity of others can always outshine it.
Also, if the hacked funds are ever recovered, they will also be donated to the Chive Charities initiative. Fingers crossed!
I want to CHALLENGE everyone who sees this post to Donate and then write your own Post about the Hack/GoFundMe story!
Let's see if we can do some good!
See ya!
Resources:
https://decrypt.co/108882/bill-murray-ethereum-wallet-hacked-174k-nft-charity-auction https://www.gofundme.com/f/getting-evelyns-van-back https://gofund.me/136ea52e