Leo Magazine #12 - Books, Growth, El Salvador, Blockchain, NFTs, DeFi, Music, and More.
This post is published via LeoFinance.
3 months ago
Feb 27 2023 4:51 am
-
7 minutes read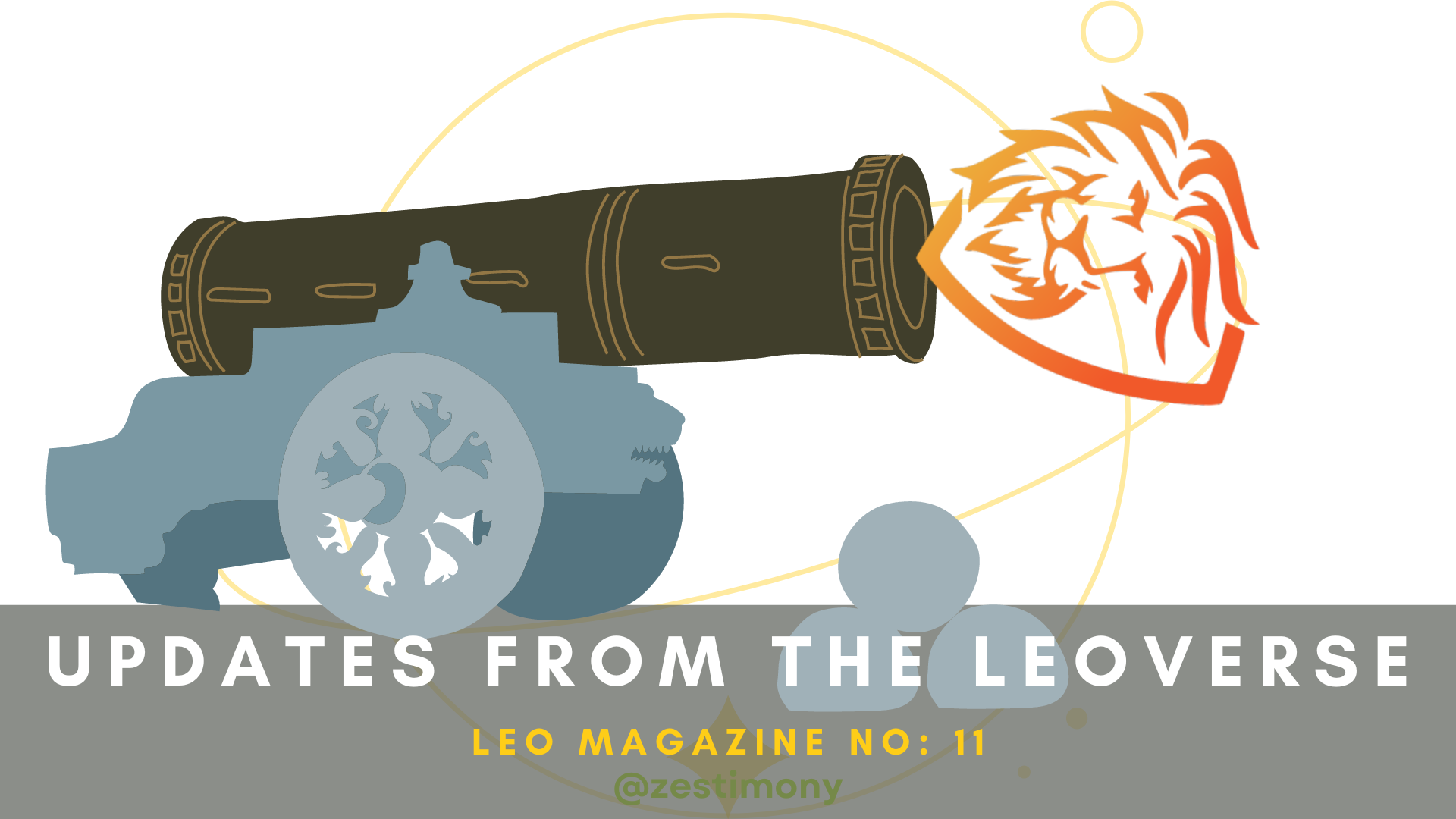 Welcome to this week's edition of the Leofinance finance and crypto round-up! I've scoured Leofinance.io to bring you the most exciting and informative articles from the world of finance and cryptocurrencies. In this week's edition, we'll be covering highlights from the best authors, and there is a lot in store for you this week. So sit back, relax, and get ready to dive into the exciting world of finance and crypto! Leofinance & Chill!
🅽🅾🆃 🅾🅻🅳🅴🆁 🆃🅷🅰🅽 24 🅷🅾🆄🆁🆂
Title | Summary --- | --- The Best Books for Personal Growth and Development: A must read by @lefa | Are you looking to make positive changes in your life? It's easier said than done, right? But what if we told you that the solution is as simple as reading a book? We've got you covered with a list of the best books for personal growth and development. From Stephen Covey's "The 7 Habits of Highly Effective People" to Viktor E. Frankl's "Man's Search for Meaning," these books will inspire and guide you towards a happier, more fulfilling life. With prices for audiobooks, eBooks, and paperbacks included, there's no excuse not to get started on your personal growth journey today. The Maxi slippery slope by @lordbutterfly | Get ready for a thought-provoking read that will challenge your perspectives on the relationship between governments, human rights, and the crypto community. In "The Maxi slippery slope," lordbutterfly discusses the recent video shared by El Salvador's President Nayib Bukele and the surprising response from BTC maxis. With insightful commentary on the potential dangers of the crypto community showing favoritism towards certain regimes and the use of BTC adoption for political purposes, this post will make you rethink the role of BTC in global affairs. Don't miss out on this eye-opening read!
🅼🅾🆁🅴 🆃🅷🅰🅽 24 🅷🅾🆄🆁🆂 🅰🅶🅾
Title | Summary --- | --- Nigeria Decides: Blockchain Technology Is The Answer To Election Rigging, Manipulation Violence And Human Errors: A must read by @teesart | Nigeria is witnessing a very important election. Can they say goodbye to election fraud and violence? Teesart believes that blockchain technology could be the Answer to Nigeria's Democracy Crisis! In this post, learn how blockchain technology can revolutionize the election process in Nigeria and prevent election fraud, violence, and human errors. Discover how this innovative technology can provide a transparent, fast, and dependable electoral process that saves money and ensures all eligible citizens can vote without fear. Don't miss out on the potential for a free and fair democracy in Nigeria. Read on to learn more! Defi Security: The Noncustodial Bridges Trustless A Better Option When You Talk About Security Of Defi Users by @hironakamura | Are you tired of worrying about the security of your Defi assets and transfers? Look no further than trustless bridges! In this exciting post, learn how trustless bridges can provide a safer and more decentralized option for cross-chain transfers, without the need for a centralized custodian. Discover the benefits of this innovative solution and how it can improve your Defi security. Plus, don't miss out on the chance to connect with the LeoFinance community and participate in their power up challenge. Become a lion and take control of your Defi security today! Read on to learn more.
2 🅳🅰🆈🆂 🅰🅶🅾
Title | Summary --- | --- NFT Music Tokens And Incentives by @readthisplease | Are you tired of music streaming companies making all the profits? It's time for a change with Web 3.0! This post explores the possibility of incentivizing music listeners through NFT tokens. Imagine buying an NFT, connecting it to your Web 3.0 wallet, and earning tokens while you listen to your favorite songs. This could create a fairer and more inclusive system for both artists and listeners. Let's call it "listen to earn" and join the movement towards a more equitable music industry. Read on to learn more about NFT music tokens and incentives. Common Mistakes To Avoid As A New Investors by @twicejoy | Attention new investors! Are you making these common mistakes? Investing can be tricky, but it doesn't have to be. Learn how to avoid costly pitfalls and create sustainable wealth with these essential tips. Don't let impatience, market timing, or over diversification derail your investment journey. Stay on track and achieve your financial goals by investing wisely. Read more to get started on the right path to success. Your future self will thank you!
3 🅳🅰🆈🆂 🅰🅶🅾
Title | Summary --- | --- 3 Rules I Follow to Win as a Retail Investor by @v10r8 | Are you tired of being told what to invest in? Do you want to be a successful retail investor? Look no further! This post has the 3 rules you need to follow to win. Be skeptical, play the long-game, and research, research, research. Learn from the best, like Warren Buffett, and invest in valuable companies that generate cash and have long-term potential. Don't fall for hype or speculation, and always question everything. With these rules, you'll be on your way to achieving your financial goals and maybe even owning that V10 Audi R8 you've always dreamed of. Don't miss out, read now! The year of AI (Coins) by @rehan12 | Are you ready for the next big thing in the world of cryptocurrency? Get ready for the year of AI coins! As AI bots like ChatGPT take the world by storm, it's no surprise that the trend is now moving towards Artificial Intelligence in the realm of crypto. With a market cap of over $5 billion, the potential for these AI coins is massive, and this year could be the year for them to shine. But don't just go with the hype - learn from the past and invest wisely for the long-term. Get the inside scoop from investor Rehan and stay ahead of the game. Don't miss out on this global revolution - read on now!
4 🅳🅰🆈🆂 🅰🅶🅾
Title | Summary --- | --- Can a crypto project have a large community and still fail? by @onwugbenuvictor | Is a large crypto community enough to guarantee success? Not according to this investor's experience. Discover why even the biggest communities can crumble when developers and project teams fail to listen. Learn from their mistakes and avoid investing in a doomed project. Don't miss out on this eye-opening post! Choosing the Right Investment Strategy for Yourself.) by @machalavienici | Are you struggling to find the right investment strategy that works for you? Look no further! In this post, you'll learn about the two primary types of investors and their unique approaches to building and managing wealth. Whether you prefer a passive approach or want to take an active role in trading, this post will help you determine the best investment plan based on your specific circumstances and goals. Don't miss out on the opportunity to maximize your returns and minimize your risks. Read on to discover the perfect investment strategy for you!
5 🅳🅰🆈🆂 🅰🅶🅾
Title | Summary --- | --- Overcoming Hardship: How Can it Benefit Me? by @chloem | Are you facing hardship in your life right now? Financial problems, unexpected bills, or perhaps struggles with your health and wellness? It's easy to feel like the world is against you and to become a clouded thinker, but what if you could turn your mindset around and use your struggles as an opportunity for growth? In this post, "Overcoming Hardship: How Can it Benefit Me?", author chloem shares valuable insights on how to shift your focus and approach your problems with a positive attitude. Learn how to be a clear thinker, find motivation in your struggles, and live a happier life despite the obstacles you may face. Don't let hardship bring you down - read this post and discover how it can benefit you! Israel Proposes New Stablecoin Regulations by @cryptoandcoffee | Attention all crypto enthusiasts! Israel has just proposed new stablecoin regulations that could revolutionize the use of stablecoins for payment. The Bank of Israel has published their stable coin principles for regulating their use in Israel, paving the way for other countries to follow suit. But here's the catch: not all stablecoins will be allowed. Which is allowed and which is not? Read on to find out more about this game-changing development in the world of crypto!
6 🅳🅰🆈🆂 🅰🅶🅾
Title | Summary --- | --- Alignment and Attainment by @tarazkp | Are you tired of feeling like you're falling behind in your career? Want to take control of your professional life and achieve more success? Look no further than this inspiring post from tarazkp. Discover the power of organization and habit-building to propel your career forward. Don't let the fear of unfamiliar tasks hold you back - learn how to turn them into automatic processes. Plus, learn valuable lessons on finding satisfaction and meaning in your work. Unlock your potential and achieve your goals with Alignment and Attainment. Read now! Why does the SEC/Government hate crypto?) by @niallon11 | Are you curious about why the SEC and government seem to hate crypto? Do you want to understand why established nations like America and China are so against this innovative and rapidly growing industry? Look no further than this intriguing post (just a 4-minute read), which delves into the reasons behind the anti-crypto sentiment. From the desire for control to the potential for financial instability, lack of understanding, and concerns about illegal activities, this post explores the multiple factors that drive the negative view of crypto. Don't miss out on this thought-provoking analysis!
7 🅳🅰🆈🆂 🅰🅶🅾
Title | Summary --- | --- I am gonna be a millionaire! by @trumpman | Are you ready to become a millionaire? Well, maybe not quite, but with this hilarious story, you'll get a taste of what it's like to hold 500 million dollars in your hands! Trumpman, just finished yet another silver order and stumbled upon a red-colored Zimbabwe 500 million dollar bearer cheque on Facebook. Is he now the wealthiest person on Hive? richer than the blockchain itself? Or is this cheque practically a toilet paper? Come and read about Trumpman's hilarious purchase, and who knows, maybe one day you'll find your own 500 million dollar cheque! Safety measures to keep in mind while purchasing NFTs by @bala41288 | Are you interested in purchasing NFTs but worried about scams? Look no further! In this article, bala41288 covers essential safety measures to keep in mind while buying NFTs. Learn how to research the project before buying, use reputable marketplaces, verify the authenticity of NFTs, be cautious of phishing scams, use a secure wallet, and be mindful of transaction fees. Don't fall prey to fake NFTs or phishing attempts. Read this article to ensure a safe and enjoyable NFT purchasing experience!
---
🅴🆇🅴🅲🆄🆃🅸🆅🅴 🆂🆄🅼🅼🅰🆁🆈
This week in Leofinance has been hot as usual, I've highlighted some the articles featured in the last 7 days in this latest edition of the Leofinance finance and crypto round-up.
The authors have did an excellent job in providing readers with valuable information and perspectives on the exciting world of finance and cryptocurrencies.
---
Thanks for staying till this part. Upvote/reblog if you liked it, and leave a comment to share your thoughts!
Posted Using LeoFinance Beta
Posted Using LeoFinance Beta