Is it Week 10 Already? Thanks to Those Who Have Voted So Far!

3 days ago
May 26 2023 8:14 am
-
3 minutes read
Now that the warmer weather is here in the north, we've sure got plenty of great garden posts to choose from! We know that people sometimes struggle to vote for their favourite due to connection problems, but we really appreciate it when you do. It really means a lot and you contribute toward Hive marketing. Thankyou - you'll find this week's poll here!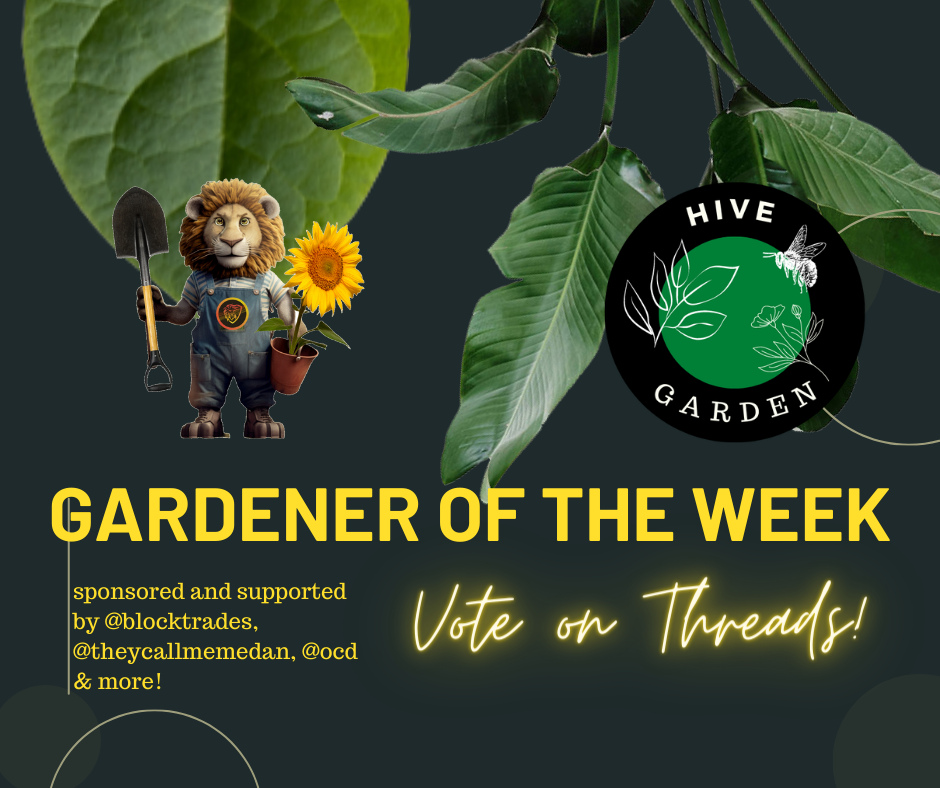 First of all, congratulations to last week's winner @owasco! You have been set a 60 percent beneficiary of this post which will be rewarded next week - well deserved!
Thanks to the awesome team at Leo Finance, we're really excited to be continue an author spotlight program here at Hive Garden! This initiative is not just about our community but the whole of HIVE - so go check out some of the other #topauthors polls on Leo Threads and vote there as well. The beneficiaries not only support the people blogging in the community and the community itself through reward.app and hefty votes via @blocktrades, but also goes toward Twitter marketing - a gold mine for getting YOUR blog out there as well as marketing Hive itself! So your vote MATTERS - by getting involved, YOU get involved with supporting great content on HIVE and marketing it too!
The Author of the Week will receive:
A share of the rewards of these announcement posts,awarded via Reward.app the following week (some of Hive's biggest accounts will be voting)
Inclusion in a digest that will be heavily marketed on Web2 (e.g. Twitter, Reddit)
The Hive community has the final say in who wins. Below are the four finalists for Week 6. Voting closes on Sunday evening. Winner will be announced in next week's poll post.
Finalists for Week 10
🌸@erikah | Always appreciate a well presented garden update! | Gardening Report 🌸@bengy| It's winter in Australia and they're planting bulbs! | Bulbs & Mulching 🌸@clareartista | We love seeing Clare's garden in Italy! | Cleearing Greenery and Giant Snails! 🌸@danyart | Gardeners Love Bees! | World Bees Day
How to Vote
🌿 Make sure you're signed in to Leo Threads. It uses Hive Keychain. 🌿 Go to the linked poll thread above and cast a vote 🌿 The poll will refresh and show you some results. Note: your vote may not be reflected immediately.
Hive Garden selects finalists who:
have well presented posts with clear photographs & formatting
are in English (you may follow the English content with your own language if you choose)
explore garden related themes. These might include permacullture techniques, planning your summer garden, a visit to a botanical garden, indoor plants, how to make compost, and much more.
We are selecting for quality so whilst we will try to include as many of you as possible over the week, you'll see some authors again and again simply because they're GOOD! See these as an example for what you can do in your own writing!
@plantstoplanks @jude9 @sofs-su @nikv @owasco @umirais @buckaroobaby @farm-mom @thebigsweed @polesinns @andrastia @multifacetas @amygoodrich @jenthoughts @fanyokami @isdarmady @anafae @tanjakolader @yolithy24 @andrastia @minismallholding @goldenoakfarm @sanjeevm @nainaztengra @rem-steem @almi @leoplaw @denmarkguy @akiponn @dodovietnam @fermentedphil @galenkp @ifarmgirl @ciadanmea @kennyroy @simplymike @dodovietnam @babeltrips @trangbaby @kaelci @shanibeer @proto26 @ifarmgirl @artemislives @edprivat @meesterboom @momogrow @antnn @luckylaica @blingit @traisto @fotostef @tydynrain @hindavi @steven-patrick @vibeof100monkeys @samstonehill @anttn @friendlymoose @jacksonizer @ciadanmea @tuocchu @gertu @artywink @dora381 @stortebeker @zakludick @maytom @juwell11 @chuch @maxdevalue @travoved @sunscape @alt3r @ninahaskin, @housecatharsia @promisedland @chidiadi65
The reward distribution for this post is as follows: 60 percent for the winner of last week's poll, 15 percent to the community, 5 percent to the author of this post for their time and effort, and 20 percent for @reward.app. The liquid rewards via @reward.app then go to @weeklytops to use for Hive marketing.