If you have not heard of @spinvest-leo before, what we do is accept delegations of LEO power, and pay a weekly passive return with SPI (spinvest) tokens. The return is calculated on 1 SPI per 1000 LEO delegated per week. Any amount over 10 LEO can be delegated, for a weekly payout. The main @spinvest account transfers it's LEO earnings to us for now to assist the growth of this account. The asset base we are building here from surplus earnings above the mining payouts are added to the Spinvest asset base, increasing the value of the tokens you earn.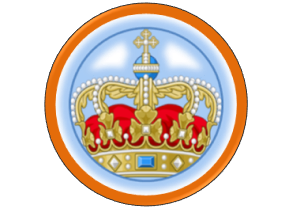 Important information.
Just wanted to quickly add in that when delegating, or increasing delegation, please make sure you DO NOT put the @ symbol in front of the spinvest-leo account name. The same goes for any Steem-Engine or LEODex delegation you make. The tokens will be unusable for both the target and the source account, and seem to just hang in limbo until the problem is spotted and an un-delegation is performed. This is a time wasting, costly exercise, and a common problem I have encountered from several different users.

Another week, another record Steem value increase.
Highlights:
Transfer of 186 LEO from @spinvest
Earnings of 246.76 LEO from curation and post payout.
Sold 260 LEO to buy SPI payouts and some NEOXAG
Increased delegation to @spinvest-neo to 1,500 NEOXAG
47.33 SPI payed out this week to 32 delegators
Crossed over 3,000 owned LEO tokens this week. Up to 93rd place on the LEO rich list
Account value increased by 155.295 STEEM.
We broke last weeks record, for value increase, percentage increase was nearly 22% for the week, enabled once again by a 14% increase in the LEO token value (priced in steem).

The Numbers: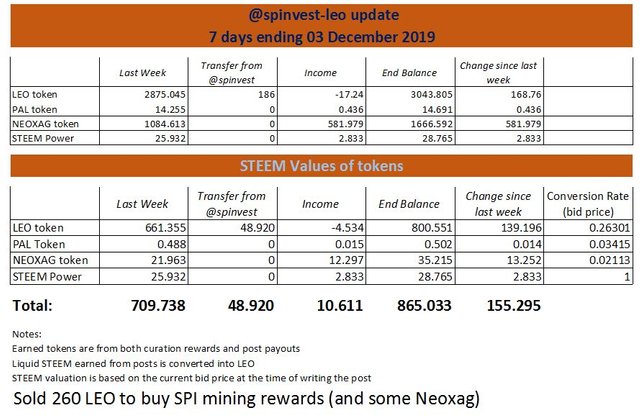 This weeks delegation reward table: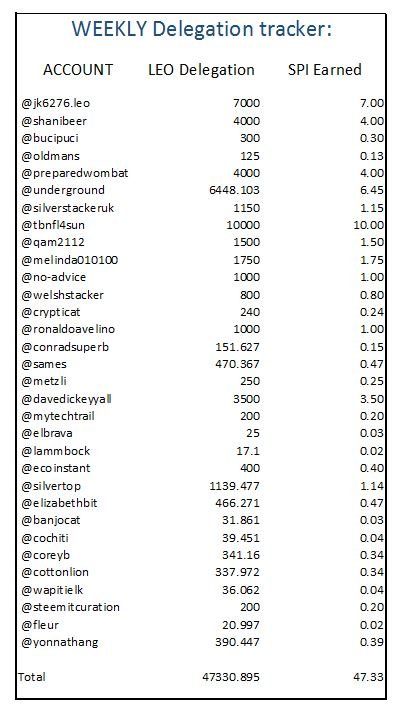 Fun Fact - Since it's inception, this account has payed out a total of 269.79 SPI units.
This week saw a few delegators increase their stake, and a new delegation (after a hiccup with the process thanks to the issue I mentioned above) from @yonnathang - welcome aboard.

Thanks to everyone supporting this program, especially the delegators: (please check your wallets to ensure the payouts have been made correctly, this is all processed manually and I am human :-)).
@jk6276.leo, @shanibeer, @bucipuci, @oldmans, @preparedwombat, @underground, @silverstackeruk, @tbnfl4sun, @qam2112, @melinda010100, @no-advice, @welshstacker, @crypticat, @ronaldoavelino, @conradsuperb, @sames, @metzli, @davedickeyyall, @mytechtrail, @elbrava, @lammbock, @ecoinstant, @silvertop, @elizabethbit, @banjocat, @cochiti, @coreyb, @cottonlion, @wapitielk, @steemitcuration, @fleur, @yonnathang.
New delegations, or increased delegations always welcomed. You can delegate any amount, however 10 LEO would be the minimum to receive a weekly payout. If these are you first SPI tokens, feel free to ask any questions and check out @spinvest for more information.
Supporting the following accounts will support the Spinvest tokens growth:
@spinvest - the main account.
@spinvest-leo - this account.
@spinvest-votes - separate account to coordinate club member votes on a regular basis.
@spinvest-neo - new account for NEOXAG delegations.
Cheers,
JK - aka @jk6276, @jk6276.leo and other similarly named accounts :)