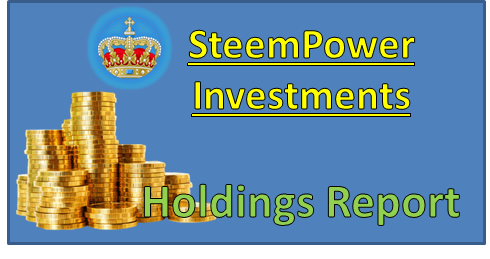 Steem powered investments @spinvest has been set up to offer an investment fund based on funding from STEEM POWER. Investments are funded through extracting value out of STEEM POWER and taking advantage of STEEM's high inflation rate. The aim is not to get rich quick; the aim is to build a safe portfolio of investments that will stand the test of time while ensuring all investor's starting capital is not at risk. Full details can be found here
Holdings and Investments report
Below is a complete list of everything that @spinvest owns. Everything is looking ok and we are growing nice and steady as planned. Our total holding why cross through the 75,000 STEEM mark this week and then we are on our way to 100,000! The saving's wallet is continuing to increase and we will soon be our next investment. Total Leo token holding have actually gone down which is strange, maybe im missing something but i dont so. It might have to do with the way mining rewards are set up and having to cash some out. Our silver holdings are up this week which is nice to see and really awesome to have a true off-blockchain investment that is not affected at all and is a great hedge against crazy crypto craziness. Our ENG token holdings have been taking a beating out he past month and i dont understand why. It could be a good time to increase our holding to 200 maybe.
Next weeks holding report will include @spinvest-neo :)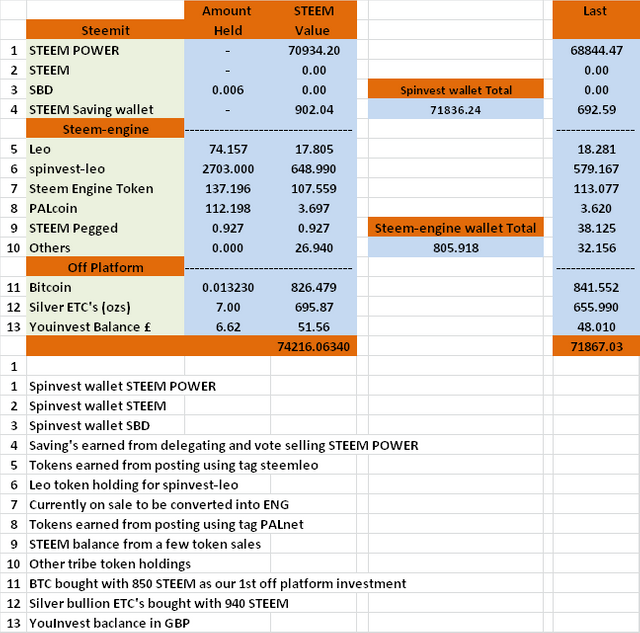 As token sales have slowed down, they are still somewhat consistent and we can see in the charting below the SPinvest total fund value has been growing at a rate of between 2000-3000 every week. If we are able to stay on the road we are on then by the time the investment club is 1 year old, we'll have holdings of over 130,000 STEEM.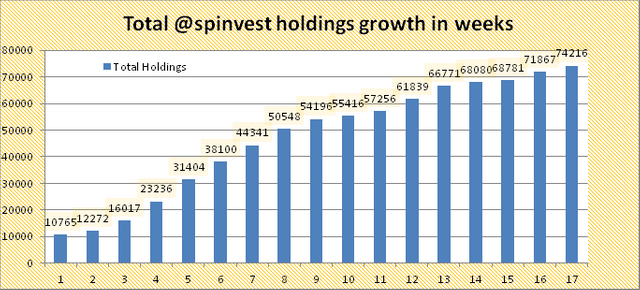 SPI token holders
A few people asked to see the SPI token holders list. It can be found on steem-engine's token explorer. I'm gonna assume that might be over some people's heads and i will baby feed a click here link to make it super easy. I will post the SPI token holder list every week in this post but if you looking to see it live, the link is up there and i add the URL below if you gonna bookmark it.


https://steem-engine.rocks/tokens/SPI/richlist?page=1
Lets have a look at the SPI token true value
Now that we know how many SPI tokens are issued and the total amount of STEEM that @spinvest is worth, we can work it pretty easy. I would guess that in around 6 weeks time the true token value will surpass the 1.20 STEEM mark it is being sold at now meaning each new token issued will hurt the true value as we'll be selling them for cheaper than they are really worth. This is something i wonna make you guys aware of so that when it comes up, you'll have an idea of what im talking about.



.
JOIN SPI CURATION TRAIL and help to grow your investment. Just try it, it will take you 2 minutes and you'll get a nice feeling for knowing your good deed for the day is done :)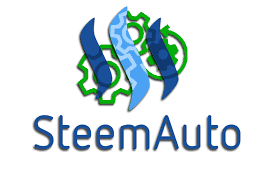 Below are steemconnect hotlinks that allow investors to buy SPI tokens directly from @spinvest. Each token is currently priced at 1.20 STEEM and beside each link is the true STEEM cost to reduce confusion. You can also send any amount directly to @spinvest and i will issue you SPI tokens to 2 decimal places for the value of STEEM to send. All tokens bought directly will be sent to investors SE wallets within 24 hours but most likely much sooner.
.
5 SPI tokens - 6 STEEM
.
10 SPI tokens - 12 STEEM
.
25 SPI tokens - 30 STEEM
.
50 SPI tokens - 60 STEEM
.
100 SPI tokens - 120 STEEM
.
250 SPI tokens - 300 STEEM
.
500 SPI tokens - 600 STEEM
.
1000 SPI tokens - 1200 STEEM
.
2500 SPI tokens - 3000 STEEM




| Information | URL Link |
| --- | --- |
| SteemPower Investments Introduction Post | Click HERE |
| SteemPower Investments Club Partnership Agreement | Click HERE |
| How to become a club member | Click HERE |
| How to convert SE tokens into SPI tokens | Click HERE |
| Join the SPI club Discord server | Click HERE |
| Join the SPI curation trail | Click HERE |
| What's best for the SPI Club? Centralized vs Decentralized | Click HERE |
| SPI tokens 95% buyback guarantee | Click HERE |
| SPI Club monthly Fiat to SPI token group buy | Click HERE |
| | |
| | |


All questions are welcome, please ask in the comments below