I thought about how I was going to invest into splinterlands to improve my chances at winning and pushing higher in rank. At first, I thought about just buying as many packs as I can. Then I realize why risk it when I can buy the cards I want first at peakmonsters then open packs.
Splinterlands Card Shopping Spree At Peakmonsters

I spent a little more than I was planning to spend but it was totally worth it. If you don't want to spend to much time reading through this post, you can check out my card collection at https://peakmonsters.com/@zukowick/collection
Fire Deck
Water Deck
Earth Deck
Pyre
Bortus
Wizard of Eastwood
Living Lava
Sea Monster
Unicourn Mustang
Magma Troll
Elevtric Eels
Minotaur Warrior
Naga Fire Wizard
Sea Genie
Mushroom Seer
Goblin Shaman
Crustacean King
Goblin Thief
Fire Elemental
Pirate Archer
Javelin Thrower
Cerberus
Water Elemental
Stone Golem
Beetle Queen
Ice Pixie
Child of the Forest
Fire Beetle
Spineback Turtle
Kobold Miner
Feasting Seaweed
Life Deck
Death Deck
Dragon/Neutral Deck
Mother Khala
Contessa L'ament
Daria Dragonscale
Shieldbearer
Haunted Spirit
Delwyn Dragonscale
Luminous Eagle
Spineback Wolf
Goblin Mech
Feral Spirit
Boogeyman
Creeping Ooze
Armorsmith
Skeleton Assassin
Furious Chicken
Divine Healer
Twisted Jester
Lone boatman
Dark Astronomer
Cave Slug
Giant Scorpion
Crystal Jaguar
Maggots
Silvershield Warrior
Vampire
The above list is all the gold foils I bought. I also bought 1 non-gold foil card and that was "Ruler of the Seas".
Splinterlands Pack Opening
I bought 6 packs to have my splinterlands account sit at an even 10 packs purchased. The packs gave me 2 gold foils; Orc Sergeant and Dark Astronomer. Here are the cards I received from the pack openings.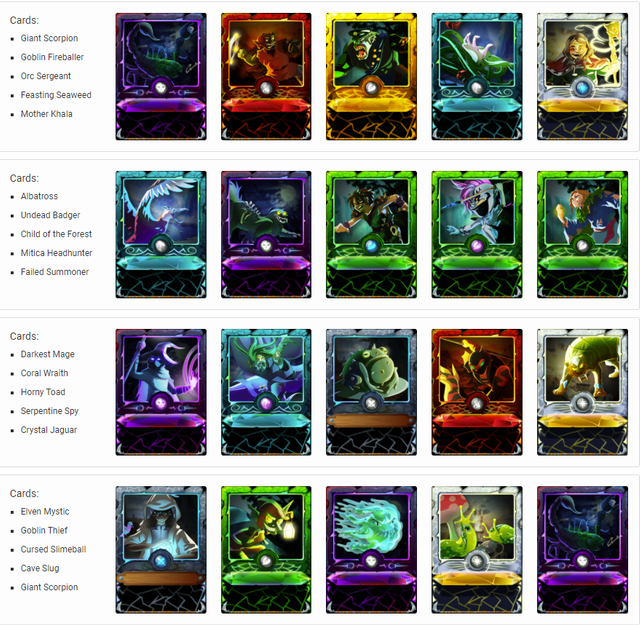 Investing Into Splinterlands Account
Why did I only buy gold foils? I believe gold foil cards will hold their value or go higher as time pass. The plan is to play with all gold foil decks every match. The non-gold foil cards will be either combined to max out the card and rent it out or sell it. I haven't decided just yet but I am leaning towards renting out the cards.
I think renting out my non-gold foil cards is better because its a simple passive income stream. The more income streams I can develop the better. Once the card levels are high enough I will start renting them out and see if it fits my style. I do love making spreadsheets.
What do you all think about my card collection?