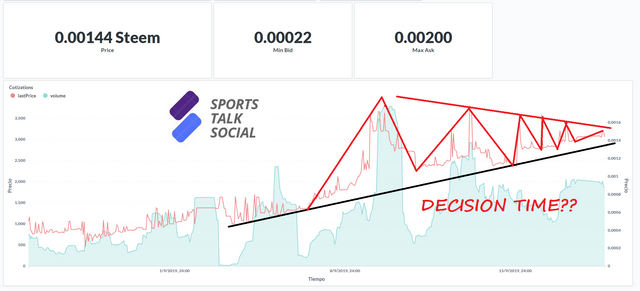 DECISION TIME FOR SPORTS?
Hello Sports investors, users, colaborators, as other days, I bring news about our dear token SPORTS. As you can see in this last chart its seems a ascending triangle pattern.
A few facts about the Ascending triangle pattern:
It is considered as a bullish continuation pattern.
It has a Horizontal and a slant line. The slant line rises as we move from left side of the screen to right side.
Both the lines must have minimum 2 touches of the price.(more touches better)
THE LOGIC BEHIND THE PATTERN
There is a logic behind the formation of each and every pattern. The logic of formation of the Ascending Triangle is that in an uptrend when the buyers meet the sellers and the sellers get an upper hand the high is formed. Since pair is in uptrend and bias is bullish, the buyers come in again before the previous low is taken out thinking that the price is cheaper as compared to recent high. They start buying and push the price back to a point where they meet sellers again and another high is formed. In case of Ascending triangle, the sellers are mostly sitting at the same approximate level. Another push down by the sellers push the price down and again buyers come before the previous low is taken out. In this manner approximately at same highs, the horizontal line may be drawn. And a rising trendline may be drawn joining the higher lows formed because of the recent price action. These two lines meet at a point in future if projected.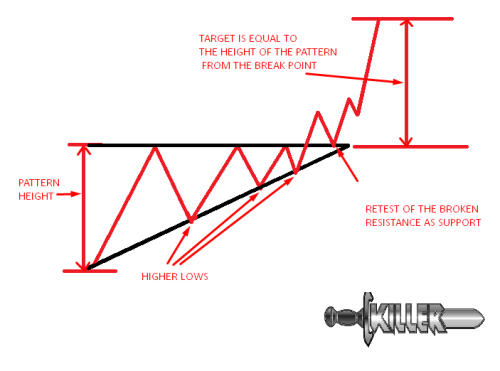 Source
As you can see there are some conditions that are not met in this case, such as the top horizontal line. Although to be quite clear, the quotes collected are not every minute, and the price could be equaled on some occasion that I am not collecting.
We see that the general pattern is very similar to the one in the photo, apart from the top horizontal line.
MORE DATA
If we examine the orders of purchase and sale we can also observe that a wall of purchases has been mounted at 0'00144 with an accumulation of almost 500 steems, which is a quarter of the daily volume.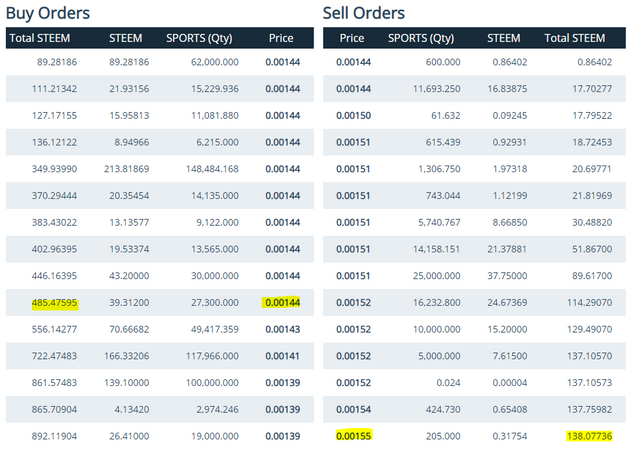 The sales on the other hand with only 150 steems could be the price at 0'00155 and from there the rise is meteoric, so it fits the pattern we are reflecting.
According to the logic above, there should be a rise until at least 0'0040 steems repeating the same rise of that formed in the triangle. Let's see if these days are fulfilled.