I know the topic is kinda random, but I like combining things and photos of Steem World or numbers are borning. Today I want to show off some of my aquarium pics while talking a little about what I was up to in January on Steem, as well as, the biggest issue which is the poll for changing the Power Down period from 13 to 4 weeks.
My Pond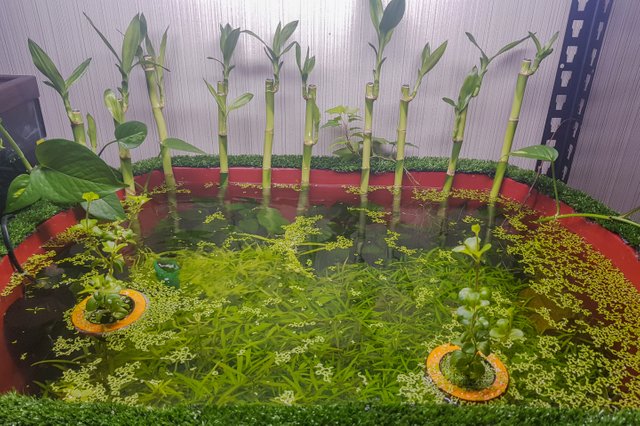 This is what my newest aquarium, the pond looks like now. I wrote about it originally here, well 7 weeks later and it's changed quite a lot, looks like a jungle. The plants on the floor are getting huge. There is a lot of duckweed on the surface which I've been removing because I don't want it to cover entirely. I can't even see the shrimp anymore, but they are having babies all the time which means they are doing well. I put some lucky bamboo along the back just today, let's see how that turns out.

SPUD-X
Today is #SPUD10 event or #spudX. I'll admit, SPUD-X sounds cool, but next month it will go back to being strange and confusing. So I'll call it #Feb2020SPUD.

Today, in celebration of SPUD-X, I powered up 40 Steem. During the past month (I don't include Jan 1st because that was a previous SPUD), I powered up a total of 236 Steem. I would say that is pretty good.
I haven't been buying any Steem, I haven't been powering Steem down. I've only really been powering up Steem as I haven't been using it for anything recently. I guess I could just switch to 100% power-up, but then I wouldn't get the pleasure of powering up myself which I do once a week usually.

My Steem Journal Jan2020
Sometimes I like to write about what I've been up to on Steem asides from powering up to analyze how things are going.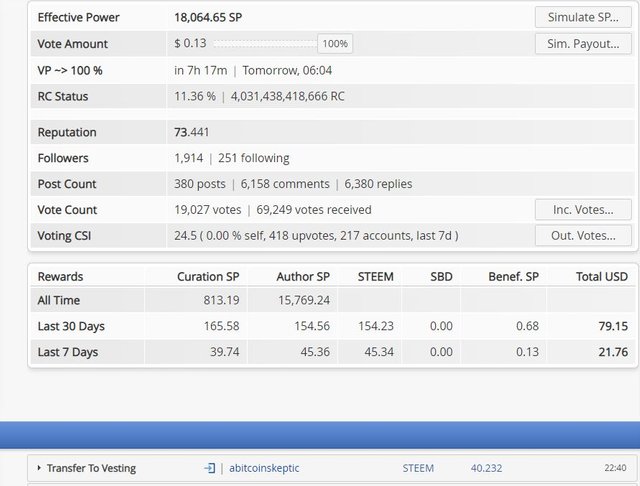 You can see my proof of spud at the bottom if the last image didn't prove it for you.

I've now got over 18000 SP!
Actually, for the past year or so, I really wanted to get 18000 SP. Why 18K? That's a strange number.
With the old system of 75% author rewards, 25% curation, a full vote of 18000 SP meant about 1 Steem of rewards for the author. However at 50-50, now I will need to get 24k. I'm not going to buy any (I bought over 12k Steem last year and I'm good). I need 6000 more.
So can I make it there before the end of 2020?
Well, as you can see, I made around 475 Steem last month, maybe 500 if you include the inflation that comes directly from holding SP (I get just over 1 a day). 500 X 11 = 5500. Hmm, it doesn't look like I will make it.
But it's just 500 short. Yeah, I guess I could challenge myself, but 11 months is a long time. If the value of Steem goes up a lot, it will be increasingly difficult to get there. I think it will go up.
I only wrote 10 posts in January. However, this one post may earn me over 55STU in rewards (it hasn't paid out yet, but the vests look great). I think it is my most successful ever. Thanks for the support everyone.
I mentioned I would slow down the posting, but my average rewards are higher. I guess I can focus on quality and have no filler posts.
To be honest, I don't want to challenge myself to make it to 24000 SP by the end of the year. It would be cool, but I don't really care.
The most interesting thing is all the curation I'm making now. 165 in a month is crazy! That's like 1/3 of my rewards. Also, if Steem gets really popular and post rewards are shared with 10X the number of people, it won't really affect curation rewards, as that is based on the ratio of liquid Steem to Steem Power which is different.
My Community Tank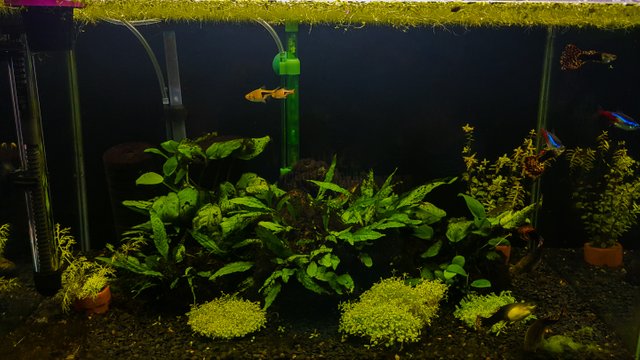 Here is my community fish tank. It's dark in this photo. The duckweed covers the entire surface and I kind of like that. This aquarium is high up so I can't see the surface anyway. Also, all the plants can do fine in the amount of light they get. I'm still not entirely happy with this aquarium, but I'm getting happier and happier. The plants are looking better. Maybe I'll add an airstone and put a powerhead on the double sponge filter. I always like over filtering my tanks even though they aren't stocked very much. Good habit.

Steem Proposal to Reduce Power Down to 4 Weeks
The most interesting thing on the #Steem blockchain right now is the proposal to change the power-down period from 13 to 4 weeks.
Steemit already confirmed that it would be a very simple procedure. Basically, they would just change a variable. No one would be affected currently on or not on power down. For example, if you are in the middle of old 13 power down it will remain so unless you cancel and change. If you aren't on a power down or have never powered down (gz) it won't make any difference either.
In my opinion the most interesting thing is that there are two proposals. There is a for 4 weeks PD and an against 4 weeks PD. The later would leave it unchanged at 13 weeks.
Right now, the proposal for the change has more votes (20,005,000.219 SP vs. 16,415,182.929 SP). However, it's fairly close and we have until the end of February. If we add them both up we have around 36 million SP voting on this which is more than the top proposal (#SteemKeychain by @yabapmatt - very important). I didn't see too many idiots voting for both which means there are 71 Megavests voting on proposals. That's about the same amount voting on the 24th most popular witness (91,872M is the top). It means @Steem.Dao is getting more and more popular which is amazing.

My Thoughts on the Proposal
Disclaimer: I voted against.
To be honest, I'm not strongly for or against this proposal. It will really only affect the Steem price (if that). If it affects something else, we can always just vote to cancel it.

Negatives Include:
Making it more painful if you get hacked (medium concern). if you don't notice for a week you will lose 1/4 instead of 1/13 your Steem Power. Personally, I think the solution is just responsible. If you get your password stolen don't notice your account is on powerdown for a week, well, that sucks for you. Change your password often. Only use keychain and steem connect. Check-in once a day or so, especially if you use Steem a lot to make sure you are not on power-down (most wallets and Steem World have a huge popup if you are for the first time).
People could power-up to abuse witnesses (mild concern). Although this would do serious damage if it was pulled off, Steem is pretty much immune to a 51% attack because of the way the witness systems work. Not only would you need to acquire enough Steem power to take over all 20, but you would also probably need to run all 20 yourself since they wouldn't necessarily cooperate otherwise. It would actually be cool to see someone try, but it's not like this is any less difficult at 13 weeks vs 4.
Power could abuse the SPS or @Steem.Dao (mild concern). It's similar to the above, except the damage is limited to Stealing 10% of all inflation which probably doesn't even add up economically to try. Again, the amount of Steem Power you would need to do this with is ridiculous. Also, it's not that much easier. The amount of liquid Steem is only 40% or so of total Steem, so even if you managed to buy 100% of it, you still wouldn't have a chance.
Exchanges could start using Steem Power (very mild concern). Exchanges cannot use Steem Power even if the lockdown is 1-week nevermind 4 weeks. Perhaps some index funds could hold Steem Power, but it is so complicated.
The social media aspect of Steem will change (very mild concern). People who love 4-week power-downs clearly don't have long term goals with their Steem power. I consider this a wildcard. I don't even know what to think of it honestly. There are already a ton of people on Steem who don't care about Steem and just want to make money. Will changing the power-down period encourage more? It's pretty easy to figure out who is doing what around here already.

Positives include:
13 weeks is too slow (high concern). 4 weeks is 3.25X faster to get your money the hell out of Steem if something happens(SHTF). However, it doesn't end here. 4 weeks is still a hell of a lot of time. Even 1 week is crazy in crypto when things are moving. Remember if you can do it in a week, everyone can do it including the biggest whales. Also, while on a 4 week power down 25% of your SP will be out of service, which is a bigger deal than 1/13th.
It will make inflation fairer (medium concern). There is a lot of inflation in Steem. The amount of Steem keeps growing and growing. The only way to mine it and not lose money is to power up and earn the small inflation from having Steem Power. Also, one can now vote on posts and earn curation rewards. Technically you can also self-vote and circle jerk with your steem power to earn even more inflation (Don't vote farm!).
Some Investors Complain there isn't enough liquid Steem (mild concern). There are millions of liquid Steem to buy. Steem is already on some of the biggest exchanges like Binance and Bittrex. If you cannot access either of those exchanges (for whatever reason), my guess is you aren't going to be buying millions of Steem anyway.
Other blockchains like Tron and Eos have a shorter power downtime (mild concern). Good for them, they will just find another reason to rip on Steem. I really won't count on this too much. Does this really stop people from buying Steem? It may actually be worth testing, but it's far from a known figure.
My Frog Tank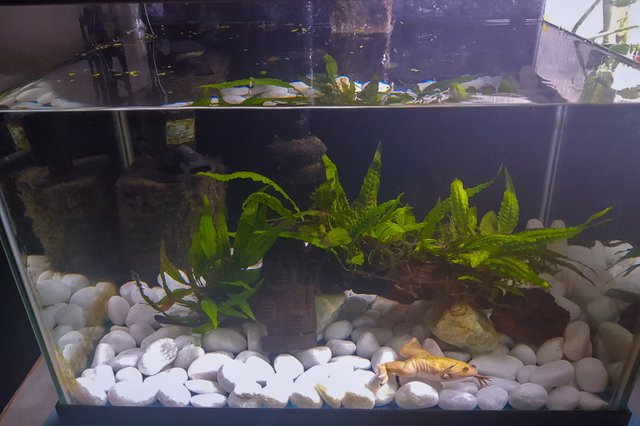 What a happy frog! Today, I changed his substrate from black and gray pea-gravel to large white stones. It really bringes out his yellowish back. I was worried that he was eating the gravel. These stones are much to big for him to eat. Cleaning in between them is harder but I have a good vaccuum and he doesn't actually make a mess compared to fishes. Eventually the rocks will turn a little green or very green with algae. Actually, I think I will like that. I hope they get good and slimey

Summing the 4 week Power Down Proposal
I doubt my pros and cons were fair, do your own research and come to your own conclusions.
Personally, I don't see any reason to change it or any reason not to change it. We noticed a lot of changes from the last hard fork and EIP. But those were some complex changes. We can easily change the power down to whatever we want.
I'm more excited about Steem Communities and SMTs. I know they are more complicated and currently in alpha (SMTs) and beta (communities) testing.
This proposal is going to be difficult to see how it impacts price in either case. It will barely make Steem less complicated and power down is still slow. It would have to be 24-72 hours to be considered fast. However, that change may actually end up presenting some seriously twisted scenarios because we will have to react faster and faster.

I would actually vote for the 4-week power down if it was being proposed about 6 months after the SMTs and communities hard fork.
The reason being if SMTs and communities fail to bring serious price action, this could be a new way forward. Personally, I would be most up for a complicated change with varying inflation and permissions depending on a varying powerdown period. Right now there are whispers of doing away with inflation faster than the whitepaper mentions. I think that will be more strongly considered if a reduced power down doesn't improve Steem's value combined with the SMT/communities hard fork.
Let's see where next year brings us?

The last thing I want to mention is the new Steem Leo Shop: https://shop.steemleo.com/
You can buy and sell digital things with Steem, SBD or LEO. Kinda neat. There is everything being sold from 10cents coconut curry (yum) to 1000$ #JAHMfest 3 days all-inclusive ticket.
I really like where communities and tokens are already headed. SMTs and Steem communities will only help supercharge this. Exciting times ahead. I'll write more about the shop (Steem Leo is going places) and especially JAHM later.
#posh #oc #twitter: https://twitter.com/abitskeptic/status/1223628578945822721