Today was the first day every I reached 10000 SP. This was thanks to a 2600Steem donation from @binance-hot.
Actually, I bought the Steem and powered up for a few reasons:
The price was around 16.2 cents. This is a great deal, in my opinion, especially considering I bought my first #Steem when it was worth over $2 and I bought the majority of my Steem around 30 cents. I missed the low of 15.5 :(
#HF21 fixed a lot of things I thought were wrong with Steem, it's now been a couple of weeks and I'm very happy with what I've noticed so far. Maybe the price will go down a little more as some of the whales who got upset sell-off, but I think the price has stabilized enough.
With bid bots being dead, liquid Steem is much less valuable compared to before. I used to get as much liquid Steem as possible to buy bids. Now there is no point since I can get decent upvotes when I put effort into my posts.
#newsteem is much better than I expected and I want to remain part of this community.
I am confident the price of Steem will rise, in anycase, I will get to enjoy it more.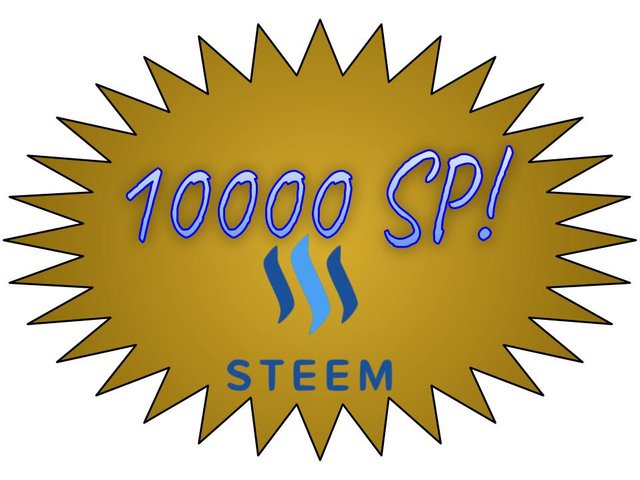 A Double-Dolphin
Most people agree you are a dolphin when you have 5000 Steem or 10Mvests. I now have over double this. Actually, I bought most of my Steem, or above 7500. Anyone who is against buying Steem is an idiot in my opinion, not that I've met too many of these people.
I didn't feel like waiting for #spud. I buy stuff when I think it's a nice time to buy stuff. Personally, I think Steem has hit a bottom and it will rise. Although, I said this before. In any case, I lowered my average price significantly now, not that I'm planning on selling anything anytime soon. I just like to keep track of how much Steem I made blogging and how much money I've made investing in Steem (I'm down while it's at 16 cents).

Curation
I am cutting most of my delegations now because at 50% I find the #curation rewards are worth it now. Before HF21, curation was a loser's game. Now it's the new game in town.
I'll be using my VP to vote for people and initiatives I like. I won't pretend to be a manual curator. It's too much work. I use steemrewarding.com to automate some of my voting. It's kinda tricky to set up because of all the options, but I've figured it out.
I don't just try to maximize curation. I do vote for some of the large accounts, but these are all authors I respect for one reason or another. Also, I regularly adjust it.
I do vote trails. Right now I'm following @ocd and @curangel. I've set it to follow with 0% + 10%. it means no matter what those accounts curate, I give a 10% (1000sp) vote now. I couldn't handle their weird %s. I'll do up to 10 votes a day for each when my VP is above 85 or 90. I'm going to rotate at least one of them a month to change things up a little.
I follow a lot of curation things like ocd, curangel, helpie, qurator, c-cubed, steemworldmap, and steemsteem. I'm opinion to anything that is within my interests. I ain't gonna start curating porn, but if you know someone who does, that's hilarious.
Changing My Style after HF21
The bots are gone. I don't miss the bots. Actually, I used @ocdb a lot before and even a couple time after. I never thought there was anything wrong with buying votes. However, it was out of control and there was a lot of abuse. People were buying 100+ SBD or bidding on absolute crap (I'll definitely judge). A lot of bots decided to change it to curation. I've noticed a few nice upvotes have been received.
Actually, I figured out how to make a lot, but buying bids only got me like 4 Steem per post. I figured my time to be worth around 150 Steem a week for at least 15 hours worth of blogging time on Steem which is less 2 dollars an hour. It was depressing. I don't miss the bots.
I no longer sell or trade any votes. I only delegate to @steembasicincome and @steem-ua. I'm not sure how long I'll keep this up for or if I'll delegate to more accounts. I like to be in control of my voting and never really liked delegating. I like to follow vote or just upvote accounts asking for delegations.
I still self-vote. Actually, this is contentious. I won't self-vote comments or crap posts. Actually, I don't tend to make posts under 500 words and usually, they are around 1500 and include original pictures. My opinion on self-voting is it is fine if you put in the effort. If I don't value my posts, why should anyone else?
I've stopped voting comments on my posts. I'll always respond and I'll even check out their blogs if I don't follow them and give them a vote. The change in the voting curve has made voting on comments quite a bad idea unless you are an orca or whale and can afford the VP.
HF21 Thoughts
I have a lot of hopes for Steem moving forward.
SPS: The proposals are great. I'm voting for proposals by @steempeak, @steemchiller and @inertia. I use and like Steempeak and Steem World. I don't understand what Inertia's proposal is but it seems important and I trust him. I also, vote for @gtg's thing but that's not really a proposal and I'll unvote it if I find it's blocking stuff I really like. For now I suggest people have patience.

Downvotes: Free downvotes are not abused. The quality of content has gone up. Trending is starting to look normal. More diverse posts are reaching trending. I've been getting random votes.

Increased Curation: This is obviously great. I checked and I'm definitely not losing money as an author since a lot more people are voting on decent content and not just circle jerking, self-voting, selling or trading. I predicted this outcome.

The new curve: I hate this. It wrecked comments voting. I used to like voting people who comment, but I don't have enough VP to do this and support people. I'll just visit their blogs or maybe vote if they don't really blog much. Maybe it stopped microfarming, but I don't really think this was a huge problem. However, maybe it could have got out of control as a result of other HF21 changes.
NewSteem
I've definitely noticed a change of attitude for the best. The whales and orcas are acting nicer. Steemit is acting nicer. Everyone is acting nicer. Just give it a few months and word will get out. New Steem will set up their base on the Moon's of Jupiter or something because that is where the price is going.
I am really liking the new Steem. I said I would buy more Steem to celebrate the Fork after things calmed down. I feel like I have more power now with new Steem and definitely with around 100% more Steem power than pre-HF21 (I had like 5k after considering delegations and liquid Steem).
I took a 3-week break to go on vacation and I only posted a few times. I'm not sure if I will go back to posting daily, but I will definitely try to maintain 5 posts a week moving forward.
I think all the changes are good, but I'm still not entirely sure what is happening. For all of you who are confused or sad with the new Steem, I don't care if the door hits you on the way out.
Investing in Steem
Steem is a great investment and things are finally looking good post mira, post-bidbots, etc. We now have scot-tokens and tribes going strong. We have Steemit/SteemINC working on SMTs and communicating. We have a dao or proposal system. We have more great front ends and tools like Steem Peak and Steemworld.
The rank of Steem is around 80 and I think it should get back in the top 30 within a few months if things go well.
I'm just sharing my opinions and I don't think Steem is a good investment if you aren't willing to learn it and invest the time. Actually, this is because I think HF21 may eventually lower the ROI for delegating Steem. Will people be happy with 10%? I think so. But it's become less of a passive game.

I have really been enjoying Steem. But it took a lot of effort to get where I am. It's not a get rich quick thing or scam. Actually, new Steem is a lot more friendly than old Steem.
For those who want friends, why don't you join #powerhousecreatives, or some other engagement or social circle? I found this a great way to engage and make friends, etc.