In a recent post we have seen that the one thing that was going up on the Steem blockchain in the bear market were custom JSON transactions.
They have overtaken the lead from the votes, and from recently custom_json is the no.1 activity on the blockchain.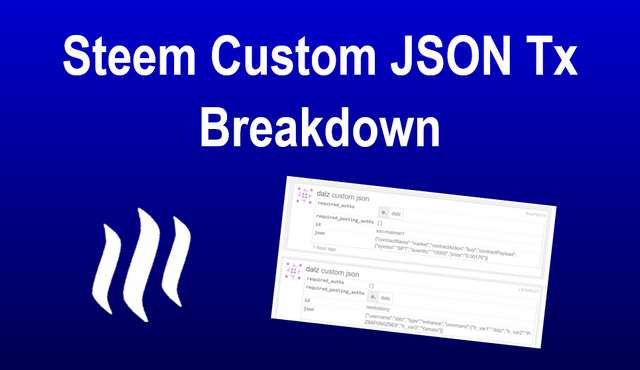 Just to be clear here, the custom_json transaction is a one click action, just like the voting. Comparing them with activity like posting is not recommended, since they have a totally different weight.
Custom JSON Transaction Over Time
Here are the custom JSON transaction in the past 10 months, starting from May 2019.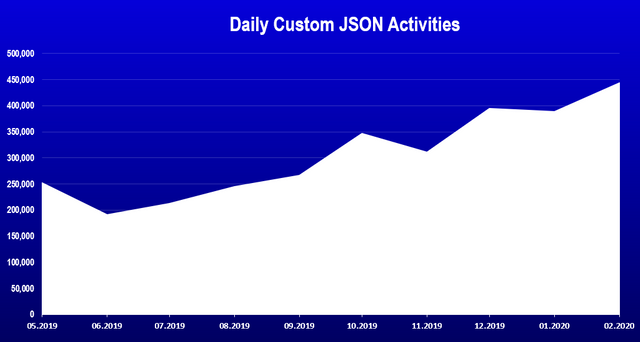 It is based on daily data on a given day.
As we can see the custom JSON transactions have increased from 250k in May 2019 to a 450k in February 2020.
Who is making the custom json transactions?
Users basically. But from which dApp. Here are few:
Splinterlands
Steem-Engine
Nextcolony
Drugwars
New games like HolyBread
Custom JSON Transactions Share by dApp May 01, 2019
Here is the breakdown of the 250k custom JSON transaction in May 2019.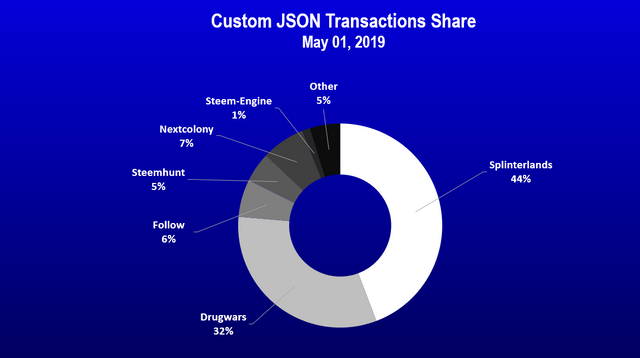 Splinterlands/Steemmonsters is on the top with a 44% share at the time, or a total of 111k daily transactions from their side. Next comes Drugwars (remember this one 😊), they had a massive 32% share and an 80k JSON transactions per day. The follow transaction is next with a 6% share. This transaction was the original intentions for the custom JSON. Steemhunt and Nextcolony are next, and at the end is Steem Engine. Steem Engine at this time was just starting and it has a 1% share.
Custom JSON Transactions Share by dApp February 09, 2020
Jump forward to present time with a 450k custom JSON transaction per day and this is what we have.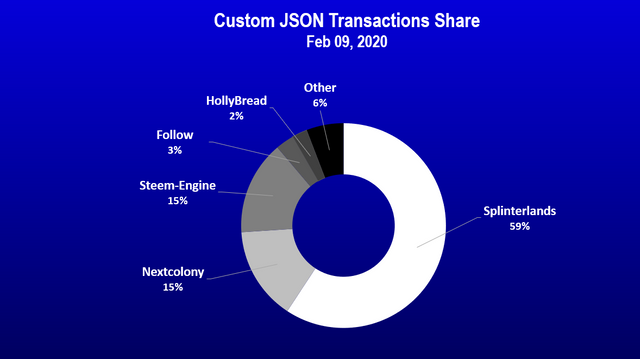 Splinterlands has grown even bigger in terms of the share of the transaction and its absolute number. A 59% share from all the custom JSON transactions and a total of 288k transaction per day. They more than doubled their 111k from May 2019.
Next are Nextcolony and Steem Engine with 15% share of the custom JSON transactions. Steem Engine has also grown in activity from its launch and now it has around 72k custom JSON transaction per day. Drugwars in not present anymore. This is showing how fast a project can grow and go down on the blockchain. The follow share is even smaller with only 3%.
We can notice HollyBread is also here even though it's a brand new game that just have been launched. They have around 12k daily custom JSON transactions.
The future looks bright for the custom JSON on Steem!

All the best
@dalz
Posted via Steemleo