Today I celebrate two full years on STEEM.
Cue the confetti.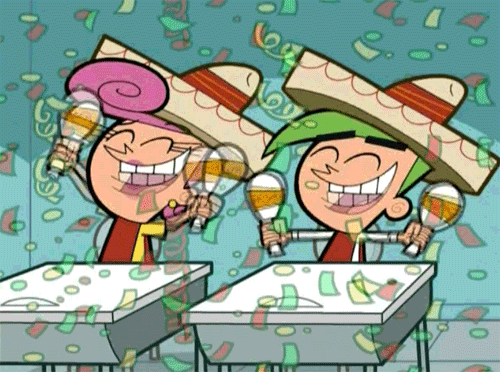 I went searching for a post I thought I wrote when I completed my first year on STEEEM and couldn't find it. Looks like I took a big chunk of December off last year. The closest I have to an anniversary post happened in January, where I wrote about where I ranked on STEEM in different categories by the end of 2018.
I will be doing something similar to that in this post, but first, I'd like to talk about how I think 2019 went.
Alas 2019, I Barely Knew You
It went fast. Compared to 2018, this year was over almost before it began. And yet, I feel like I accomplished quite a bit, even though my output was down considerably (especially from mid-June on, when I went back to work).

I also think 2019 was less of an emotional rollercoaster ride than 2018 was. By a lot. It's not like drama or controversy was down on STEEM per se (though it does kind of seem like it), I think I just navigated it better. In 2018 I spent way too much time diving down rabbit holes when I could have been doing something a little more productive. However, I can't say it was a total waste of time—the way things work with me, I would have been chasing down information about this and that anyway, so the sooner I get it out of my system, the better.

I think I found more of a rhythm this year as far as blogging goes. I spent a lot of 2018 trying to churn out as many posts as I could, and it was a factor in a lot of the burnout I felt. This year, I don't think I ever got to the point of burnout, though I did find myself scrambling for topics even though I was more or less limiting myself to five or six posts a week.

I think the value of STEEM being so low for all of 2019, compared to the highs and lows of 2018, also helped. That might sound counterintuitive, but as the year wore on and STEEM prices went sideways for a lot of it, before falling some more and never really bouncing up like it did in 2018, provided a different kind of stress, but one that was a tad bit more predictable, too.

My STEEM earnings were up, along with my ability to earn STEEM. Part of that can be attributed to the investments of 2018, a lot of curation by many of you (especially if you followed a curation trail), and me being somewhat consistent in posting once spring hit. Hard Fork 21 helped keep earnings up for me, too, even as my production fell off in the fall, thanks to more curation trails, whales and former bidbots getting into the curation game.
All-in-all, I would call it a good year.
To All Those Who Faded Off Into The Sunset
The one category I feel I should note where the year didn't go so great is with the number of people who fell off my feed. For whatever reasons—STEEM value, life getting in the way, run-ins with users (downvoting, general disagreements, etc.), lack of earnings, lack of engagement—more people I interacted with seemed to disappear in 2019 than in 2018. A lot of that can be blamed on my own personal lack of time. It's hard to keep up with everyone when you need to pick and choose how you will spend your time.
I am thankful for the associations and the conversations that I did have with all of these fine folks for as long as they lasted. It's been hard to find another niche of people to hang with, but I guess that's what 2020 and Communities can be about.
How I Ranked in 2019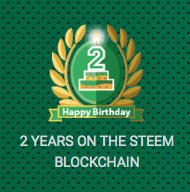 As I mentioned above, I'd like to spend this next section with my personal rankings. The numbers come courtesy of @steemitboard, which periodically stops by with a nice word on some benchmark you've achieved. This time around, they were nice enough to supply me with this cool little personal achievement award.
I'm going to provide where I ended up in 2019 compared to 2018 to see the progress made in each category. The first number in a column represents the total amount as of the end of that year (so 2019 will be cumulative), while the number following it in parentheses is the year end ranking against all users on STEEM, which is now up to 1,351,279.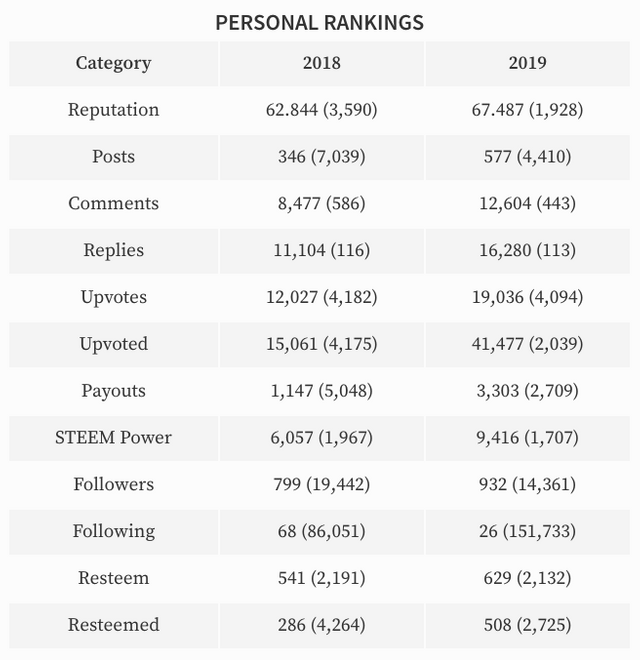 Some pretty decent improvement year to year if I do say so myself.
Except for following. Apparently, I'm not that good of a follower.
While I'm glad to have any improvement at all, I'm happiest about the engagement categories of comments and replies. As I've noted elsewhere on this blockchain (and more than once), those numbers are directly tied to my involvement with @abh12345's Engagement League. And while my numbers are down substantially in both categories, I still consider the league and the weekly contest to be one of the best communities on STEEM.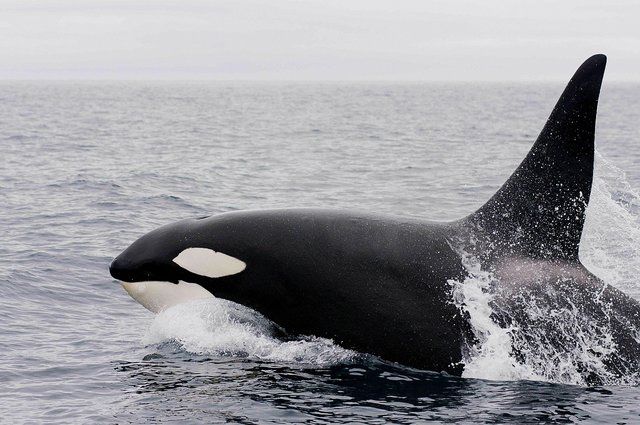 What's In Store For 2020?
It is customary as the old year fades out and the new one fades in to set some goals. For some reason, I'm feeling quite bold in what I would like to accomplish in 2020, though insane is probably a better term for it.
Reputation—Over 70
I think that's pretty doable by year's end. If curation keeps up the way it has for the latter part of 2019, getting to 70 may happen within the first six months.
I'm aware I'm the only one who cares about my own personal reputation ranking, but I've worked hard to keep it as meaningful as one can on STEEM.
Posts—1,000
Don't know how at this point, but after this post, I will need 422. That's a little over eight posts a week, something I didn't average when I had more time to do it. I need to be gainfully employed throughout all of 2020, so we'll see how this one goes.
Comments—20,000
One way or another, I need to get these numbers back up above where they will end up this year. I'm just going to need to start getting more efficient with my time on STEEM.
Replies—30,000
This one is largely out of my hands, but if I'm doing my part to generate content, someone's bound to comment on it, and if I can get out more on your posts, maybe this can happen.
Upvotes—30,000
I may have to start upvoting comments again. It seems like that's a doable thing, even with the curve, from what I've been observing. And since I don't have plans to automate, I might as well upvote comments along with posts, and just make sure they're getting over the payout threshold.
Upvoted—80,000
Yep, that's right. I'm going for almost double what the count is now. I told you this was going to be either bold or insane. Considering I have little control over this one other than to get the posts out there and maybe see some upvotes on comments, this will largely be up to all of you as to whether or not receiving 80,000 accumulative upvotes by the end of 2020 is possible or not.
Payouts—6,000
I'm still not sure how this is calculated, so who knows what I'm trying to accomplish here, other than to increase the number of payouts, however that happens.
STEEM Power—50,000-plus
Yeah. This is the majorly insane part. For this to happen, I will either need to average close to 100 STEEM/SBD/SP per post (based on the 422 I need to write between now and this time next year), or pony up some major investment money (unless STEEM drops to two cents—then I'm looking at how sane an investment STEEM is, probably).
Since I'm hoping that the value of STEEM will rise, not fall, I'm thoroughly expecting my ability to buy or earn STEEM to drop as 2020 unfolds. Like I said, it's insane, but I've been a dolphin long enough, and I don't want to be saying I'm a double dolphin, or triple dolphin, etc., for the next five years.
So, somehow, I'm going for it. Guess I better get a plan. Would be good to have a plan already before I make the insane goal, but I'm ready for some major movement, one way or another.
Followers/Following—N/A
I would like to see an uptick in both of these categories, but since I don't know how Communities is going to affect this, and whether following outside of belonging to some communities is going to matter, I'm not going to spend a whole lot of time working on it. If it's still a deal after Communities, maybe I'll come up with something.
Resteem/Resteemed—N/A
Again, will this be necessary within Communities? Maybe. My guess is, maybe not so much. I guess it will largely depend on how much Communities are used, and whether or not it makes sense to try to reach outside of them to the general populace, is my guess. Until then, I have no goals in these categories.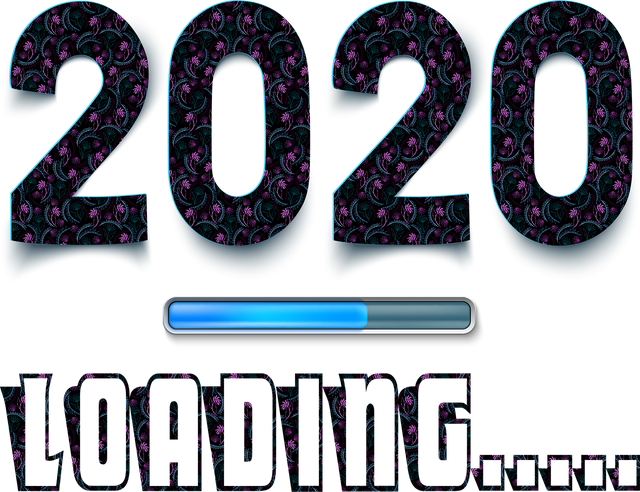 That's Enough
Time to put this post to bed, and then trundle off myself.
Thanks to all of you who have had anything to do with my two-years and counting on STEEM worthwhile, no matter how big or small you may think your contribution is. It may have been just the thing I needed to keep going in the moment.
I also hope I've been able to reciprocate in some small way, too. It's tough to be a small fish in a relatively large sea and somehow affect the whole of it, but I figure if I keep my little corner of STEEM clean, cozy and civil, then I've probably done what I can for the good of the order.
Here's wishing you and yours a Happy and Prosperous New Year.
Onward and upward.
Images sources—giphy.com, steemitboard, pixabay