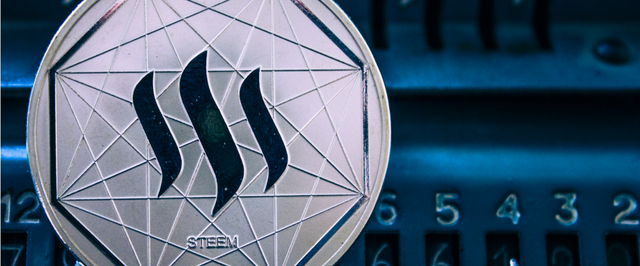 EOS's hiccup is Steem's gain?
It was revealed recently that Voice would not be running (at least initially) on the EOS mainnet.
The announcement was actually revealed slightly earlier, but news outlets really started to run with it yesterday when Coindesk put out an article.
That article can be seen here btw:
https://www.coindesk.com/block-one-will-not-launch-its-social-network-on-eos
The basic premise is that EOS won't be releasing Voice on the mainnet with the beta launch on Feb. 14th 2020 like many had anticipated.
The official beta launch was emailed and mentioned all over the inter-webs about a month ago:
https://www.eosgo.io/news/voice-beta-to-launch-on-february-14-2020
As you might imagine, many were disappointed by this news, especially those who had bought EOS as an investment specifically because of the promise of Voice.
Though, keep in mind that it does look like they intend to run Voice on the mainnet eventually.
Reading between the lines, it is possible that Voice never actually launches on the mainnet...
And that may be exactly what is causing users to flee EOS and pick up some steem again.
The charts of EOS and Steem over the past 24 hours look close to complete opposites: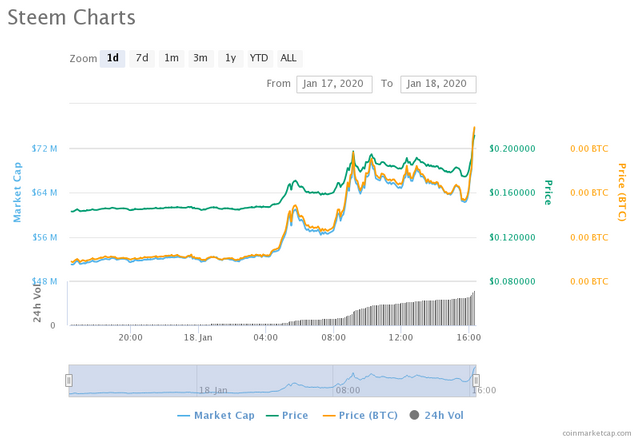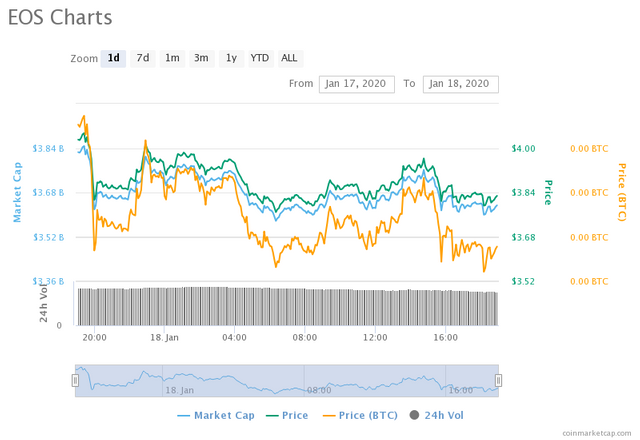 Steem is up roughly 50%, and EOS is down close to 4%.
https://steemit.com/steem/@jrcornel/steem-up-50-on-the-day-currently-sitting-usd-22-on-bittrex
There is no guarantee of course that this is what is behind the price rise in steem.
In fact, it may be completely random and completely unrelated.
However, steem is significantly outperforming just about every other project currently, so there is reason to believe it is being driven by something.
Steem was ranked 80th on Coinmarketcap.com yesterday morning, and today it is ranked 67th.
Something I found interesting...
The interesting thing about running Voice as they plan to means that perhaps at some point Voice could be run on steem...
At least potentially...
The quote from their website:
"While Voice is in beta and a highly iterative state, it will be run on a purpose-made EOSIO blockchain. In time, we would like Voice to leverage the EOS Public Blockchain, and potentially others that can meet the performance and governance demands of Voice."
Perhaps that is why steem is suddenly finding itself catching a bid again?
I'm not sure exactly why, but for now it appears that EOS's hiccup is Steem's gain.
Stay informed my friends.
Image Source:
https://unhashed.com/cryptocurrency-news/best-steem-wallets/
-Doc