It appears the days of Justin Sun controlling the STEEM community are numbered
It was announced, with lots of community support, by @blocktrades that they would be forking the steem blockchain.
The announcement can be seen here:
https://steemit.com/steem/@blocktrades/why-i-won-t-be-compromising-with-justin-sun
In doing so, they would create a new blockchain and a new token called "HIVE".
The blockchain will operate with most of the same specs and rules as the current steem blockchain, but without the steemit,inc stakes.
There will be a snapshot and airdrop at some date in the future (yet to be announced) for all current steemians (outside of the steemit,inc stake).
My favorite part of the announcement...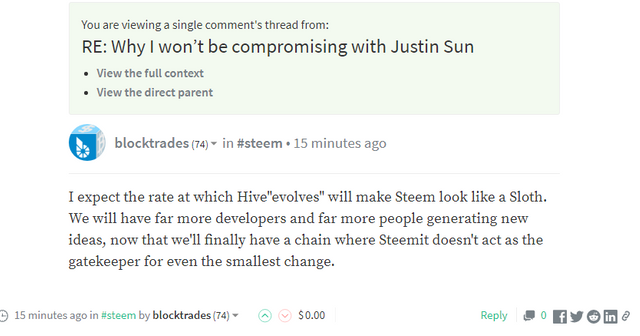 (Source: https://steemit.com/steem/@blocktrades/q7awsh)
The slow pace of development with steem has been beyond maddening.
Now, it appears that we will be able to move at a much quicker pace going forward.
It sounds like there will be dozens of developers on board and a wealth of knowledge gained from steem's failures.
The only real difficulty will be creating and maintaining value for the newly created coin. Without numerous exchange listings, it will be difficult to have a large valuation.
The announcement acknowledges that though and says they are already in conversations with exchanges for listings.
Very interesting times ahead.
Stay informed my friends.
-Doc