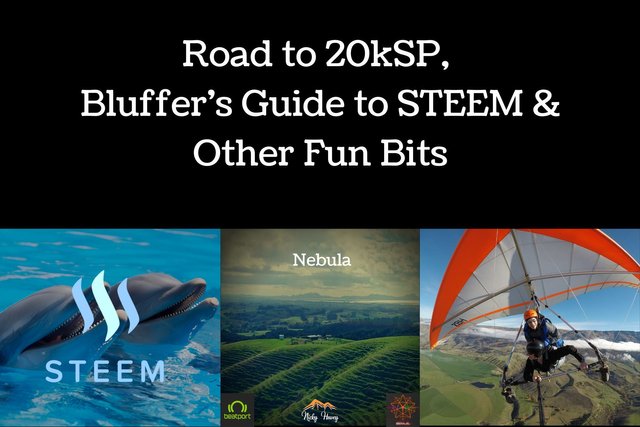 Here For The Long Run
What's up Steemians, it's your boy aka "complete legend", Nicky Havey here bringing you a bumper pack of STEEM related vocabulary in a non-technical language. It's so non-technical that if I was to go back 27 years in time to my 5 year old self, EVEN I'd be able to teach that screaming little ball bag a thing or two about crypto!
I've been around STEEM since March 2018 through the ups and downs with this platform and let's face it, we all have had some nonsense we've got involved with. But seeing as the other crypto content platforms out there are a load of dross, I'm planning on sticking around for a long time yet here, doing what I can to sprinkle some of that good, positive stuff around the place, whether it's from my music, travel posts, the @yourtop3 contest or some other thing to help contribute content that can pass as "mildly entertaining"!
Not only that but I'm also planting seeds here and there outside the STEEM world to get more people involved with what this platform has to offer, which is a lot!
Firstly, let's do that whole, "LOOK AT ME, I'M BUILDING MY STEEM ACCOUNT!" thing so you can see exactly what I'm doing...errrr...building my STEEM account... or should that be "buidl"... no, definitely "build" ugh!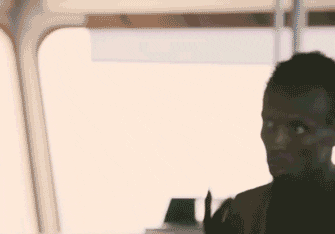 Image Source
Hashtag "Road to 20kSP"
The following is a real life documentation of the sequence of events as they unfolded this past year in my head with some hilarious comic exaggeration thrown in to the mix. I don't know why I became obsessed with getting to 20k Steem Power, maybe it was the unofficial name this landmark has of "Dolphin Mark II"...
Well holy s__t, sounds like something mega is about to go down. Dolphin Mark II?! Get those jet fueled booster packs on, strap me in and thrust me in to warp drive! I'm down for that!
But wait, I was only on 1k SP at the beginning of 2019... ah, rat's piss. Oh and you're going travelling for 3 months, oh and you have no job... you bum.
So just getting to your bog standard singular, regular dolphin status at 5k SP was going to be a "bit of a mish (mission)".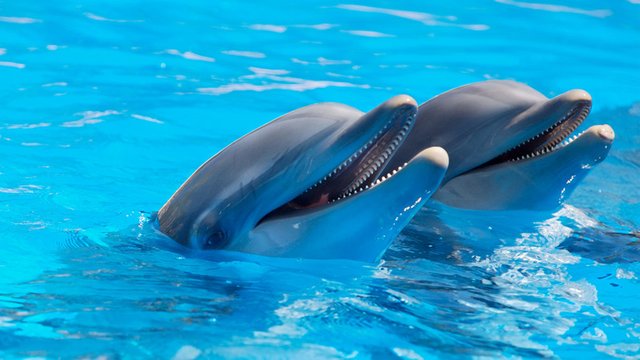 Why be just one dolphin when you can level up to Mark II??
Image Source
Fast forward that clock to July...
Bingo! We got a job!
Another couple of months later...
Bingo! STEEM prices seemed to plummet down to the lowest I've ever seen them and they've floated around the 10-11p mark for the last couple of months.
Hmm... being single and not having to run any expenditures past "the other half"? BINGO! FULL HOUSE! Let's buy up and make a bit of a splash!
Seeing other Steemians load up inspired me to as well and the way things have panned out since HF21, looks like those stars aligned. My account is still floating around 17kSP at the moment but my #roadto20kSP is very much on for the end of the year and then I'm going on an all out rampage to get to Orca status in my #2020vision.
But as much fun as it is blasting hot air through your own blow hole (gosh, would you look at that pun work), I'm not just doing this for myself - I'm hoping to inspire others to power up and I know there's a load of great initiatives going on to help folks grow their accounts on STEEM... This is one of the reasons that I'll be bringing back the good old Havey patented...
Bluffer's Guide to STEEM
"Wha... you... dafuq is a "Bluffer's Guide to STEEM"?"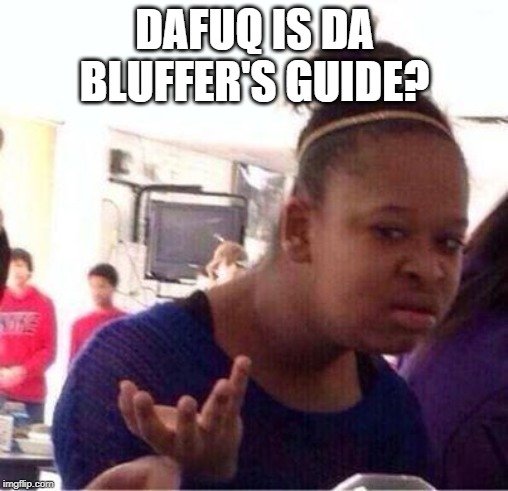 Yea, I made this one over at Meme Generator
That's right mofos, Bluffer's Guide to STEEM! Put the brakes on, I have a funny story (I know, another one)!
When I was in one of my previous jobs, I needed to have some training on the theory of how hydraulic systems work. So one of the senior engineers sent me a meeting invite called "Bluffer's intro to hydraulics and some other s__t"
"Some other s__t" - This guy...
That had me in stitches but he explained hydraulics really well to me and in a fun way so I took a lot from that and decided to create the Bluffer's Guide to Cryptocurrency last year to help explain the technical, psychological and historical aspects of blockchain technology to complete beginners without using any complex lingo. So it might be time to bring this beast back...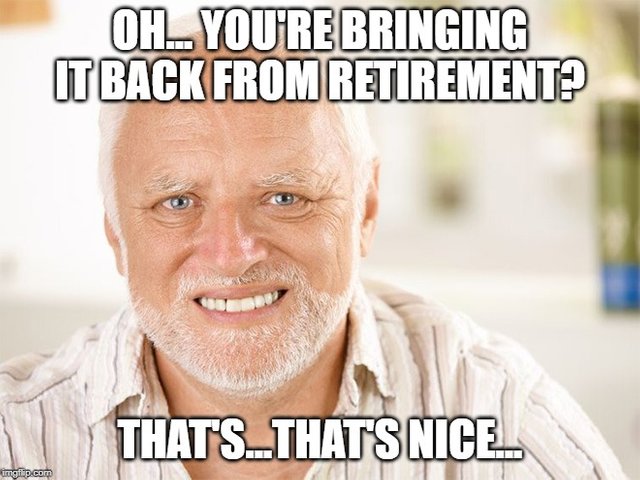 I do like making memes, another one I made over at Meme Generator
Back From Retirement
Now, despite writing 8 chapters of the guide on this platform last year, it netted me a grand total of about $1.49, which I tried not to spend all at once!
Then all this downvoting debate happened and there was a great deal of confusion as to what it all meant so I decided to do a one off special which went through the Rewards Pool, Upvotes and Downvotes, which seemed to go supernova and struck a chord with... well... seemingly everyone.
But now... after seeing a post in trending from @steemonboarding, I thought that I might chip in to the whole "Onboarding" thing and start focusing the Bluffer's Guide purely on STEEM as this is a vast place to get your head around. Some of you legends commented saying you'd like to see a few topics covered in future so I'll list what I've got in mind and then you can let me know in the comments if you want to see any more stuff covered:
"Growing Your STEEM Account" - mostly focusing on getting more Steem Power as a minnow (but can apply in general) and what I've been doing to try and build up my account more (other than buying STEEM of course)!
"Upvote Curve" - ugh... I struggled to get my head around this when it first came out and there's aspects I still don't fully get but will try to cover it
"Differences between SP, Steem, SBD and STU" - So many tokens native to just STEEM, it's no wonder we don't know exactly where we stand, will try to explain how they all link together.
"The $0.02 threshold" - If you are a low SP account (<500SP), I'll put something together to advise on how to use your upvote seeing as there isn't much point in you voting comments.
"Steem Engine" - What is this mysterious engine that generates tokens left right and centre? Chug chug chug.... choo choo!!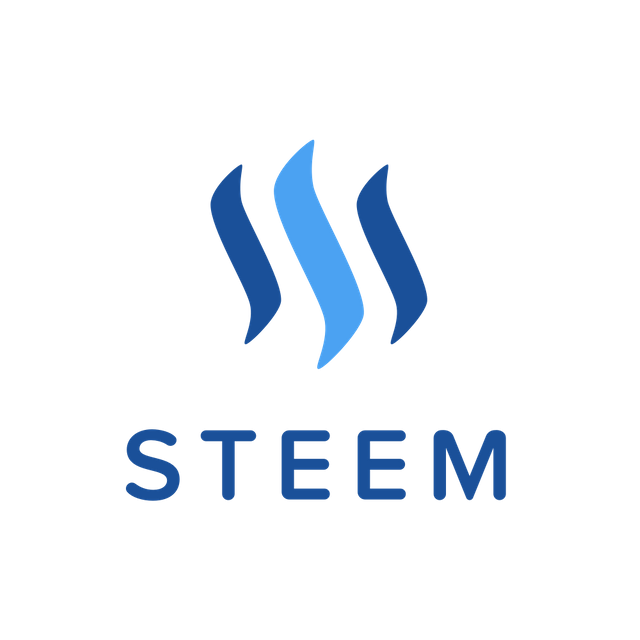 Image Source
Other STEEM Related Fun
Things have been really hotting up with the contest I set up with @cheese4ead, @plantstoplanks and @foxyspirit. We called it the Top 3 Contest where basically, we ask you, the STEEM community to tell us about your top 3 favourite things about a different topic we choose each month.
Since we shimmied on over to our new account @yourtop3, we decided that we'd like to play as big a part as possible with getting newcomers involved with STEEM and get them developing their reasoning skills by entering our contest - more on that here and more STEEM to be won in our Discord server!
I'll be hopping back on to writing about my New Zealand and Australia Travel adventures via @travelfeed after this weekend is up (as my brother is getting married and I'm best man - AWESOME!) but, of course, I'll be continuing with sharing those Drum & Bass vibes, particularly as I have got what can only be described as a digital "s__t ton" of tracks coming your way... here's a sneaky preview of the release coming up on Friday 22nd November 2019, called Nebula, to see out this blog. Enjoy my friends!
Until after this weekend folks, take it easy won't you?
Nicky