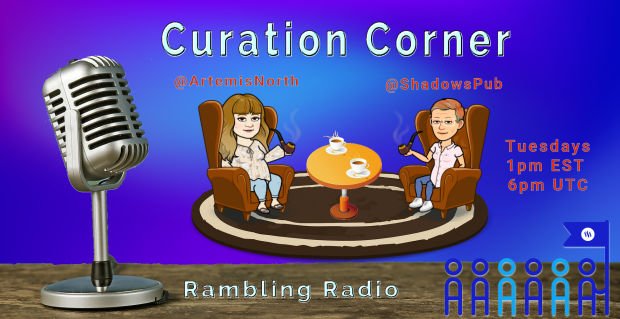 Special guests — you the community members
Normally on Curation Corner, cohost @artemisnorth and I interview someone from a project to learn more about what is happening on Steem.
Tomorrow, the community is invited to come and share how they feel about what has been happening. It'll be an open hangout so to speak.
What we know so far.
Steemit / TRON Partnership
Friday we woke up to the news that the rumours of Steemit being sold were true. The buyer, Justin Sun of the TRON Network. The announcement lacked a lot of clarity.
The only actual useful information was there would be an AMA on DLive on Saturday. Maybe then we'd get some answers.
There was nothing posted on the @steemitblog and many criticized them for it. We learned later, the Steemit team got caught short with the news just like we did.
A screenshot shared around the community from @elipowell told us the details shared in the sale announcement were just ideas and that the Steemit team had not met with the Tron team. So nothing has been decided.
In light of the hardwork that @elipowell and the team has done over more than a year since the announcements of the layoffs in November 2018, their decision to wait until they have more hard facts to announce is wise.
AMA On Saturday — My Thoughts
I saw somewhere that about 1500 tuned into the AMA on Saturday. I found it rather underwhelming for the most part. We did get some further confirmation that @ned is still a lousy communicator.
While very few of the very many questions were answered it did become clear that Justin Sun had appeared to have heard some of the concerns. We picked up a few pieces of information valid for at least a while:
no immediate changes to Steem
the Steemit team stays together
no token swap for now
he wont be using his stake to vote Witnesses (for now)
Communities are expected to go live this week
SMT preparations can continue
@elipowell and the Steemit Inc Team
@ned gave as one of his reasons for the sale of Steemit that he wanted to leave Steem with really strong leadership. That comment to me demonstrated his utter lack of appreciation and respect for @elipowell and the team at Steemit Inc. They are definitely the better for his official departure.
Under her leadership since November 2018, more has been accomplished than @ned could have dreamed about. Well actually that was about all he did, dream and play his guitar it seems. I pity the idea that he's working on two new companies. He's such a business genius — in his own mind.
Communities are happening, SMTs are in testnet with an actual release in sight. Previously non-existent communication and bridge building with the community has been strong. Someone from the Steemit team has been available and willing to answer questions at every Witness Chat held in The Ramble and at the Witness Forums @aggroed has hosted on MSP.
Witness Forum in MSP Last Saturday
An afterchat (after the AMA) was held in MSP discord following the AMA on Saturday. It ran for about three hours with a wide range of discussion taking place every where from forking away from TRON to optimism about the possibilities of having someone with capital and marketing savvy onboard.
There was over 250 people in the chat. The text chat was fast moving and hard to keep up with but interesting. The number of people created some technical struggles but that was a discord issue.
Community Chat Tomorrow on The Ramble
It's been a few days now. We've had chance to hear the AMA and to listen in on the afterchat. There have been many posts up with a variety of perspectives.
Have you had a chance to process how you feel about what is coming or could be coming?
Tomorrow is an opportunity to come together with others in the community and chat about it. Don't know about you, but sometimes I need some time to formulate how I am reacting to change.
Change is often difficult. Change that emerges from chaotic communication is even tougher.
I've reached out to @elipowell and invited either her or members of her team to join in. BUT, be aware, they are only just starting to communicate with the TRON people and may have nothing they can share.
OR, they may choose to talk about how Communities are going to roll out. Going to be flexible on this as real information is what we need most of going forward. Not hype.
It should be an interesting hour. As always, if it's active, we'll run longer than an hour.
Come and join us in The Ramble at 1pm EDT / 6pm UTC
Throwing Some SHADE
There will be a draw during the show for SHADE tokens. Two attendees will be winning 25 SHADE each.

Want to know when shows are on in The Ramble? Sign up here