It is a SPUD kinda day today, and for those who don't yet know, SPUD stands for STEEM Power Up Day, which is held on the first of every month. Of course, every day is a good day to power up some Steem and keep it active.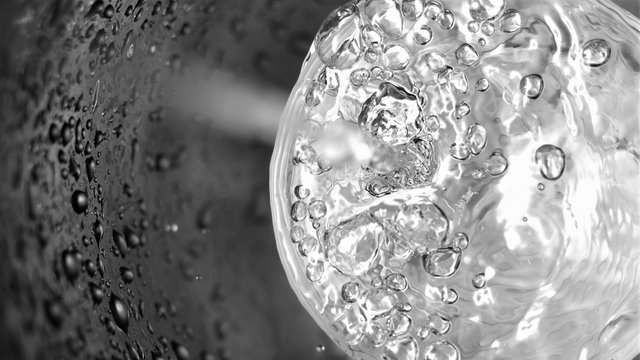 This is from @penguinpablo's exchange report and it is promising to see that the amount stored on exchanges is going down, though that might change if price goes up. Regardless, since the EIP came in, there is a steady decline off the exchanges and that I will take as a good sign for now.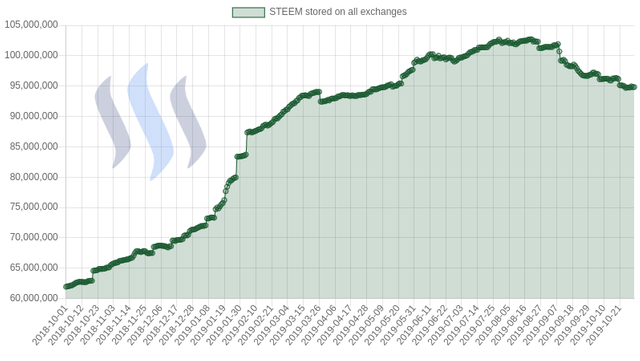 So I powered up a bit. Only a bit, because I want some liquids too as I am hoping that I can catch a spike or so and then benefit from someone willing to sell low.
But, there is something else that is pretty interesting in those charts and that is for Poloniex.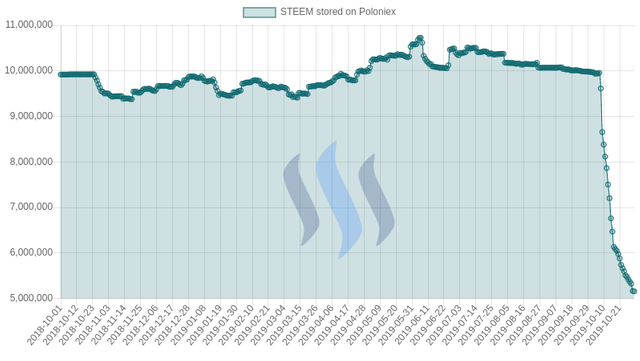 That massive drop is because Poloniex closed the Steem markets and will remove it in a few weeks (I think totally), but while it looks like it goes to zero, only 50% of the Steem stored there has been moved out, and there is still 5,156,260 STEEM sitting there waiting, what happens after they shut transfers? Do they keep it, is it theirs, do they dump it or, is it forever trapped. I am hoping for burn or trapped.
For those playing along at home:
That 5+ million Steem represents 1.5% of all Steem currently in existence and if it is effectively locked, that makes it unavailable ever. In about 15 years from now, the inflation rate of Steem will be 0.95% per annum and at that point, around 6,000,000 Steem will be generated each year, slowly growing a little each year to follow. However, at that point, there will be around double the Steem there is now, meaning that the 5 million Steem trapped would represent 0.75% of the entire supply 15 years from now. Doesn't sound like much?
That is enormous.
There is of course a lot more than that locked up and it would be interesting to be able to get visibility on just how much will never again be accessible and factor that into the concerns of inflation. Once that is taken away from the totals, the inflation rate might look quite different and the scarcity of Steem much higher. Since we have no visibility, the blockchain number of total stands, even though some degree of that will never see the light of another block.
How many people have lost their keys, how many exchanges will falter, how many users will die without having set up a contingency for someone else to access? These are questions that are largely unanswerable but during the last BTC pump, the stories of lost hardrives and addresses were rife, and while I am sure many stories were false and "I lost 5000 BTC" was some kind of self-promotion, there are many that weren't and millions of BTC are lost forever. This makes the 21 million total a lot lower.
You may have noticed a trend of people sending rewards to @null, which effectively burns that Steem forever and takes it out of circulation (or in that case, not print it at all I think) and the idea behind it is to increase scarcity and lower the inflation rate. @burnpost does this, @steemitblog does this and some users. This is good for all holders as the higher the scarcity, the more valuable something becomes. If Lamborghinis were as ubiquitous as VW Golfs or Toyota Corollas, not many people would be hoping to get one with their crypto wins.
As you can see in the image above, not only has Steem come off exchanges and 5 million odd Steem could be lost, the vesting fund keeps climbing and to date since the EIP took effect, almost 8 million Steem has been vested or, not powered down. This means that in the last few months, the stake has increased by 4% in total, which is an incredible amount considering that I think this is as high as it has ever been.
I will make the reach that a lot of that is from people who have concluded that, the bottom is in and they are looking to put their Steem to work with things like 50% curation return and empowering users. Obviously though, they are buying from someone, somewhere, so there are still sellers and as of todat, there is about 120 million Steem liquid. This is good for power holders too, as while it can be easily dumped on the markets during a spike, liquid Steem has no draw on the inflation pool which means, those who have powered up and are active will benefit more heavily fromt heir stake than if all the steem was powered up.
In a few months, communities and SMTs will arrive as well as the Resource Credit pools that will support them both, and this might have a slow but snowballing effect on the Steem that gets powered up too, as RCs are only created from staked Steem. If RCs are demanded, that puts a value on them and if SMTs and communities perform well, that demand could force a lot of staking of the current liquids. That creates market scarcity and if there is demand for Steem, scarcity pushes price upward.
Higher value Steem price also means relatively higher value Steem rewards and curation which means, a great number of people could be having a nice little stream of Steem that can be sold to create market liquidity without dropping price or lowering stake.
There are many dynamic in Steem and it goes beyond the economic because of the community factors involved. This complexity makes it difficult to predict in many ways and as a result, many people do not understand just how incredible this place is and could be.
Some would take pleasure to see it fail so they could say, I told you so, but these people almost invariably have no skin in the game. However, I prefer to take joy from it succeeding and having tens of thousands of people effectively change their life situation at least for their economic betterment.
Imagine what it would look like if everyone over 5000 Steem power had a 2 dollar vote and how much distribution of value could take place. There are a few thousand dolphins now and once they have value to apply, they will recognize that what will take this place to full potential is using it to attract more and more users. At that point, rather than centralized media choosing who gets paid or not, it really will be the community.
It is hard to visualize when Steem is 15 cents, but if we can get it toward 15 dollars, that changes everything and makes Steem a global powerhouse in the media and publishing industry, and one that will be very, very difficult to restrict again.
Happy SPUD!
Taraz
[ a Steem original ]