today when i visit coingecko market to get view of market behave , i noticed and i checked all history of the market , last year same day. here i wana clearly mention , and i did also mentions in my many post when ever i wrote on crypto.
today look at this informations.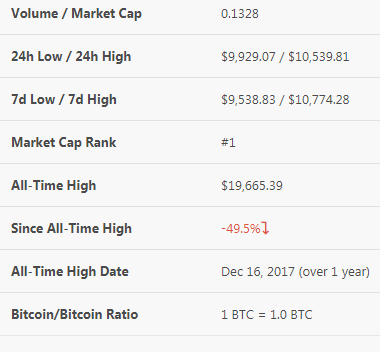 if we notice bitcoin go down 14% in two week, and last month was on its peak in prsent year. so i am talking about over all market behave, when we notice that if bitcoin went up in last month , its peak, but other market was sleeping,, only bitcoin get jump and other just fall in same speed as btc go up.
my experience and when i talked with my senior , every one was saying disscussiing that 2019 is not year of crypto, yeah only few coin like btc own can go up, but not long term,, btc price will rise just for one week, and then go down, so this up and down will continue, but not for one month period.
so here we need to be care full before investing in any coin, this time, is best time to buy,, some top coin, but here are also chances, that btc has no gurrante to rise, and there is gurante to go down but not gurante to rise.
but here i will again say,,, before purchasing any coin please keep in mind , first make own reseach, search google and then make any decession,, my view is my view.
so here i say with gurante that 2020--2021 is year of crypto and if you wana invest for long term then steem, , steem leo, palnet, is best choice will be.
thanks for reading my post
regards
@yousafharoonkhan