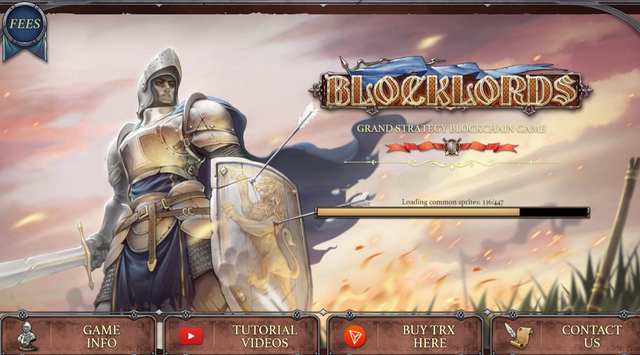 Nothing gets me posting like finding out about a new blockchain-based game.
I'm a gamer, and if there is something I crave more than games are games which allow me to earn real money.
Thus, I am always on the Dapp ranking sites checking out FRESH, GOOD and NEW crypto-based games for me to invest in.
That's right, I invest in these because they usually spread like wildfire and getting in early is key to maximize the investment.
Now, the bad thing is that these projects are usually left under the radar until they mature, the good thing is that if you follow me here you'll learn all about the best ones while they are still fresh.
Today I'm going to talk about a Grande Strategy Blockchain Game - Blocklords!
---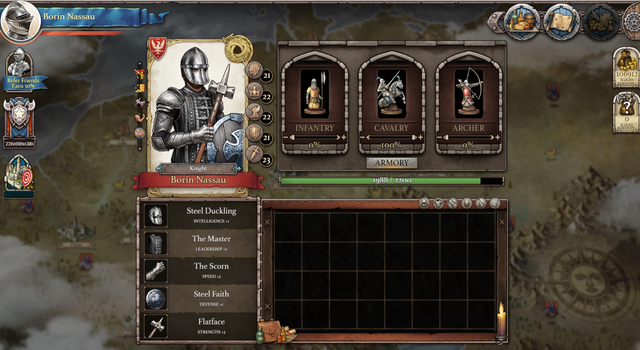 Meet Borin Nassau: AKA Spiritualmax
When you first join the game, you have to buy yourself a hero.
Getting a hero costs 100 TRX and you get 3 randomly generated heroes to choose from. They will have a different stat composition (intelligence, strength, speed, leadership etc) and a different amount of troops they can command, composed by infantry, cavalry, and archers.
To me, Borin Nassau was the best choice since he had more troops under his command and had the same stats as the 2nd best one.
Also, doesn't his starting equipment look great already?
Your equipment is what determines your stats, and it earns EXP as you fight bandits and siege cities, villages and strongholds.
---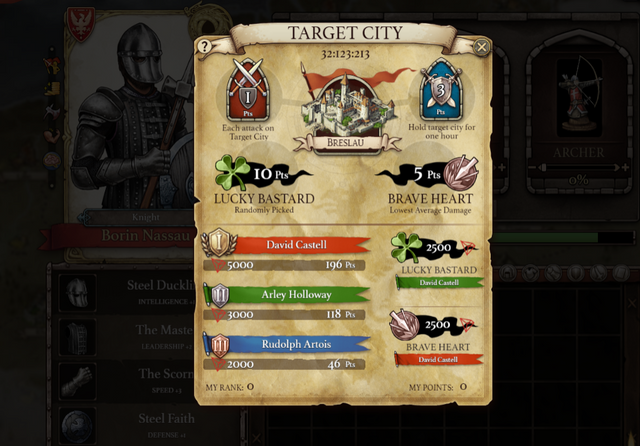 About the Gameplay: What Can You Do?
So, as I said earlier, you can fight bandits and siege towns, cities and strongholds.
These are a key part of the gameplay. When you fight bandits, they'll give you EXP to a random piece of equipment, but when you siege a location and you win, you become the new lord of the location.
What's so good about it?
You get 10% of every TRON charged as a fee in that whole town - market, fighting fees, etc...
So, basically, you want to be a feudal lord here as that will skyrocket your earnings.
Of course, since it is a blockchain-based game, the equipment is your bread and butter to earn - selling it on the market, or even buying it, getting exp on it and flipping it for a profit.
All in all, that's pretty much it for the moment. I think new features will be added in the future, the game is still fresh, but it looks and feels great already.
As you can see from the image above, Blocklords gives out special prizes during events as well.
This week's event is all about controlling BRESLAU, but you can see there are other achievements to be rewarded.
Basically, you get points for holding the city, attacking it, and more - and this is only during this week, the events change
---

Here's how the marketplace looks like.
Items here are important because there's no character level up, you are just as strong as your items are, so getting good gear is vital.
On the other hand, selling good gear is profitable... you get the drill.
List your items for sale or buy new ones to get ahead, it's your choice.
Holding strongholds will also enable you to get better equipment - another incentive to holding land, but as a lord, you'll be targetted to be hit!
Measure the pros and cons.
---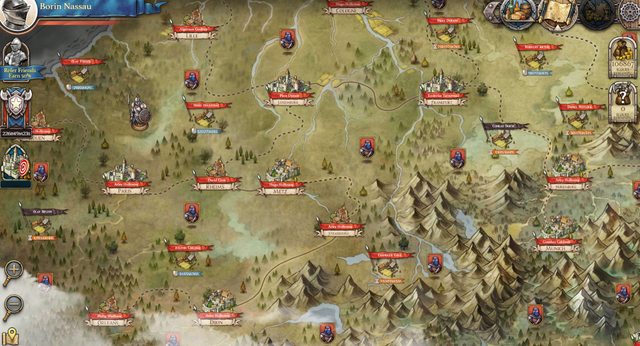 Real World Locations: Conquer the Blockchain
As you can see in the map, the in-game world represents real-world locations.
You have France, Italy and the surrounding regions here, with cities as Genoa, Paris, Bordeaux and more.
I'm currently the Lord of a small village to the East of Genoa, in the Italian border. If all goes well and I can hold my own in combat for a few more hours, I'll receive the city's coffers and be able to drain all of its wealth for my own.
Isn't it neat? The wealth is as real as Tron is, so I'm a virtual landlord now.
---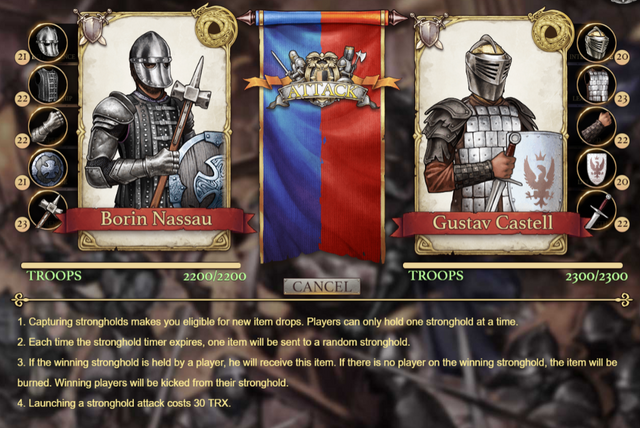 Fighting in Blocklords: Here's the Fighting Screen
As you can see in the picture above, the fighting screen will show you an overview of the enemy's stats and troop amounts.
You can see this screen before attacking... but if you're defending you'll have to fight by default, so if you own a village be ready for some surprise fights.
On this screen, you can see that the opponent I was targeting seems too close to my own stats for comfort, and he has a bit more troops at his disposal.
It was because of this I decided not to attack, and to scout for an easier target, after all - I have time to grow, the game's beginning.
---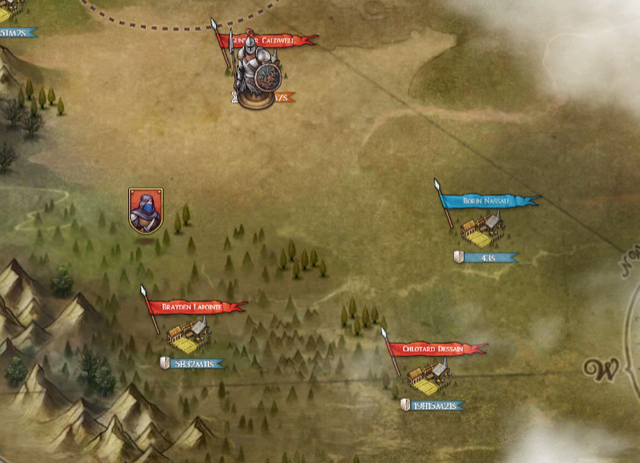 In the picture above you can see the region my troops are currently at.
I'm at the city with the warrior icon, as I was browsing the market there. The items there all pay taxes to that town's owner.
The town in blue is the city I'm the lord of. I rule that small town and so the taxes come to me.
Then you can spot bandits nearby, it's that isolated icon with the cutthroat.
---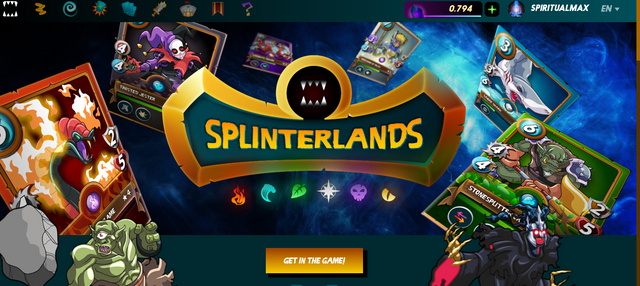 There's ample room in the world for good blockchain-based games.
In fact, I wager that there's a lot of scarcity as far as games are concerned because even though I'm the biggest gaming fan on the blockchains I hang out on, I feel there's not enough good games for me to explore.
Here on Steem, the only game that is only worth my time is Splinterlands so far... On EOS there are a few, and on TRON there are others.
I'd like to see Ethereum and Steem having a bigger variety of games... maybe one day I'll make one of my own.
Who knows...
For now, I'll play the good ones out there.
If you want to join Blocklords, feel free to use my link:
https://tron.blocklords.io/?referalLink=TWEYTVJF372uLzPCp2r51vQbxQmKdsdsRj-4501
Thanks... see you around.