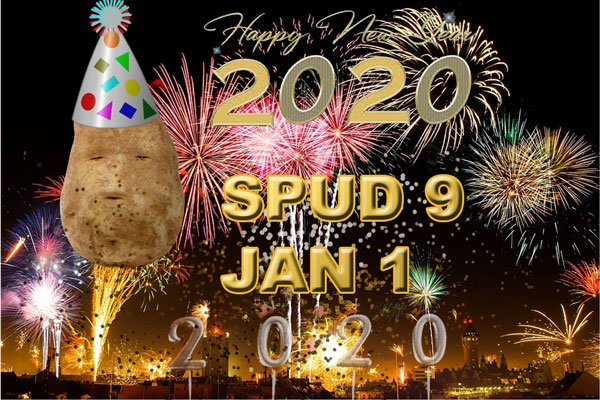 Source #SPUD (Steem Power Up Day) is an initiative from @streetstyle where people are encouraged to buy some Steem and power up at the start of a month. There are prizes to be won for smaller accounts with 40-69 reputation.
STEEMCAMPUK 2020 - save the date
SteemCampUK will take place on Saturday 25 April 2020 at De Montfort University, Leicester, with @lloyddavis, SteemCampUK founder, facilitating the day. The Institute of Applied Economics and Social Value at the University are providing a free venue and there may be some fringe events in the afternoon on Friday 24 April.
I'd like to do some scheduled sessions as well as our usual free-wheeling unconference open-space style:
an introductory "Welcome to the (Steem) Blockchain" conversation,
another with @spinvest about decentralised finance and saving and investing on the blockchain,
and one with @reggaesteem about the #jahm token and plans for building the hospitality and tourism industry in Jamaica.
I'd like to organise live video links with @silverstackeruk and @donald.porter, @dmilliz and @miyard as part of their respective sessions.
It would be really great if anyone had any ideas for leading a couple of other sessions - @splinterlands comes to mind, and, especially, everything around music and other creatives. It would be very relaxed and informal, a low-key round table conversation, but really useful to have some themes, I'm thinking?
Let me know in the comments if there is anything you are interested in doing or anything that you would like to take part in, so we can get an idea about the type of space we will need.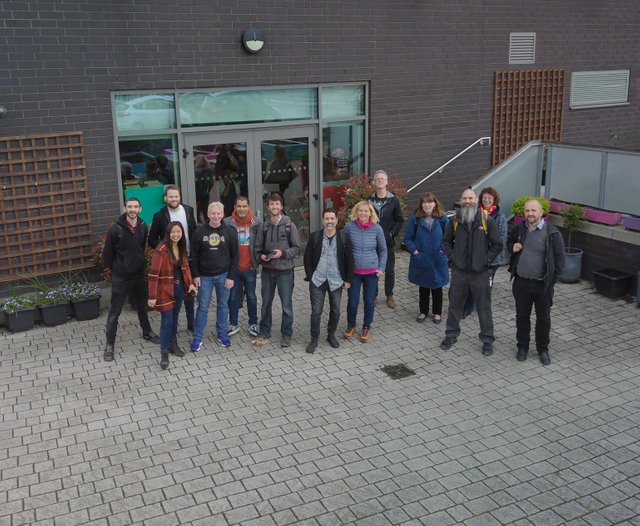 Source SteemCampUk 2019 at the Phoenix Arts Centre in Leicester, with thanks to @dronegraphica. There's also the video that @ashtv made of SteemCampUK 2019.
SPUD 2020
I've just powered up 513.81 Steem to bring me to 28,600 Steem Power, aiming for 30,000 SP by 1 March 2020, maybe half-Orca (is there such a thing?) by the end of the year. I think I had just under 6,000 Steem Power when I went to SteemFest 2 in November 2018, so one way and another I've added about 20,000 Steem over the past thirteen or so months.
I buy a small amount weekly, regardless of the price, but I have had a couple of big buys when the price was very low - the largest was just over 7,000 Steem in September. I'm powering up all the time and I forget about #spud :)
Not everything is powered up: I've invested in @reggaesteem's jahm token, buying about 95,000 at 0.03 (max) Steem over the summer months; and about 7,500 Steem's worth of SPI through the Steem Power Investment Club (@spinvest). Between them, that's about another 10,000 Steem.
I also have some LEO and NEOXAG, which are delegated to @spinvest-leo and @spinvest-neo respectively; both return SPI tokens for delegation and help to build the SPI holdings overall. My PAL and Creative Coin holdings are delegated to @needleworkmonday to help build that account and its fabulous community.
JPUD
Yesterday, I powered up 1,545 jahm, and over the month it was 3,299 jahm. This is passive curation earnings from following the @jahm.whitelist run by @crypticat while I've been away from the keyboard.
My total jahm holdings now are 141,790 and I'm very happy with that. Reggaesteem has a sound business idea, a talented team and a great community (I especially like the food).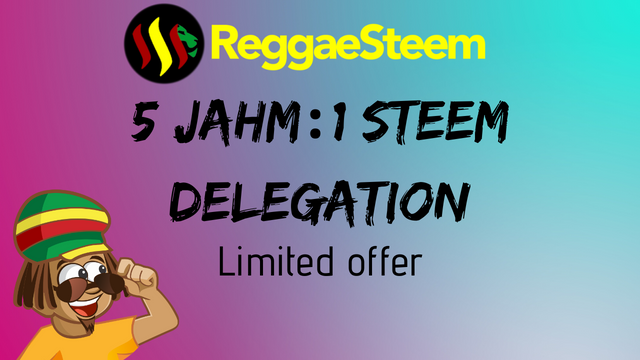 Source There is a 5:1 delegation offer available until Friday 3 January - it's a great way to dip your toes in the water!
SPINVEST
Last, but not least, Steem Power Investments (@spinvest). We've had a token split (which means you can get started at just 1 Steem per SPI token) which increased my holdings by 25%, bringing them to 7,850 SPI. When @spinvest started, I had a vague idea that I'd like to own 10% of the fund overall. Why not? I'm a little behind that target, but it's looking good.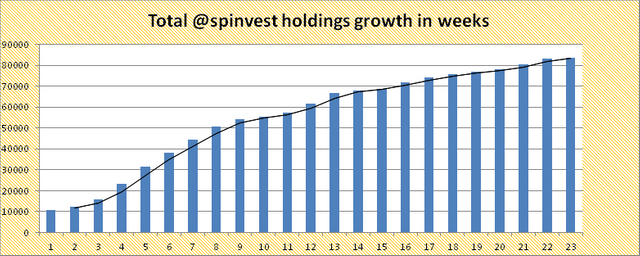 Source Steem Power Investments holdings growth over the past half year.
One of the (many) latest developments is a proposal to set up a member-owned buy-back wall on Steem-Engine. This is a great idea, I'm really happy about having reserves in place, it will keep SPI tokens in circulation and committed members get a 5% discount.
It would be rude not to, and so part of my Steem buying plans this SPUD have included a 200 Steem provision for the buy-back wall. More detail is in @spinvest's post from Friday 3 January (remember, that's also the deadline for your delegation to @reggaesteem :)~ ).
Some other great news is the soft launch of the SPI beneficiary scheme. As an advocate of regular saving, I'm really in favour of this. By setting @spinvest as a beneficiary for a percentage of your post rewards, you'll receive the equivalent in SPI tokens. This is really the best way to save - remove what you want to save (5%,10%, 20%) before it ever gets in your wallet.
During the soft launch, this benefit is only available to members, which is a really good reason to buy some SPI tokens and confirm your membership (links to all the details available on any @spinvest post). Sorry, I got this wrong: everyone can start to build their SPI holdings by using @spi-payments as a beneficiary. More details in @spinvest's post.
Charidee
I've been supporting @phoenixwren's upfundme project for a mutual first aid kit (latest post). I don't like those decimal numbers, so mostly my contributions are the loose change in my wallet (one week it really was 2 cents worth). I really like these mutual projects and if you have some decimals rattling round your wallet, please consider sending them @phoenixwren's way.
The opportunities for organised support for charity are much lower than they were on Steem. I try and support good works with delegations to community projects that support smaller accounts - @tenkminnows, @chops.support, @steemclub-uk and @needleworkmonday.
I really appreciate the work that the founders and hosts do for these accounts, helping to grow the Steem eco-system: many thanks to @slobberchops, @steevc, @pennsif, @crosheille, @muscara and @marblely.
that's it for SPUD, JPUD and the rest for today, hope you and yours have a wonderful new year's day and a fabulously abundant 2020.