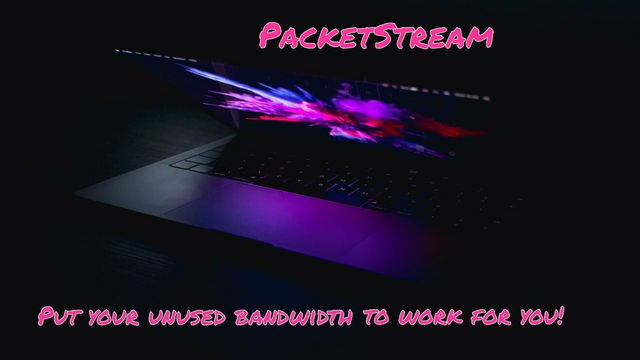 source - edited by me with LunaPic
PacketStream is one of the first major players to use peer-to-peer technology to become a residential proxy network. And the point of this is that as a business you can purchase this peer-to-peer bandwidth that will show your traffic coming from real residential IP addresses. This allows access that would normally be blocked with HTTP requests coming from traditional VPN services and proxy servers. Their website states that they have over 590K residential IP addresses in use and over 900 clients so far.
The simple explanation of this passive income is that you share your unused bandwidth with PacketStream and they pay you for the amount of bandwidth you share and automatically credit your account.
There is no complicated set up required. You simply download the PacketStream client on your computer and log in to your account. You immediately start earning credits and the dashboard will show you your earnings. If you want to temporarily stop the program, just close it from running. Reopen when you want to begin sharing again. If you ever want out of the program, simply uninstall the client.
Getting paid for your credits is simple too. PacketStream uses PayPal. Your minimum withdrawal amount is $5.00 and there is a 3% charge for withdrawals. The rate of pay is $.10/GB shared. If you want to increase your earnings, they have a referral program as well that will give you an extra 3% on the lifetime earnings of anyone who signs up with your referral link.
Is PacketStream safe? No one wants to share bandwidth and open up a chance for malware or viruses. Here are two questions answered directly quoted from the PacketStream FAQ page:
IS PACKET STREAM SAFE?
We employ various measures to maintain the privacy and security of our users. Our product engineers use industry-established encryption and security practices to keep Packeter & customer data safe and secure.
IS ALL COMMUNICATION BETWEEN RELAYS SECURE?
A proxy client making HTTPS requests to an endpoint first initiates a TLS handshake that negotiates encryption keys directly with the endpoint server before any data is transmitted. The decryption key is never transmitted across the network and cannot be obtained by any Packeter relaying data in the middle. It's considered best practice to avoid relaying sensitive data to endpoints that don't support secure requests.
Everyone is looking for simple ways to increase their income. I came across this platform through an ad given to me by my Brave browser. Here is the website for PacketStream. This is NOT a referral link, it's just their home page. If it's something that might interest you, please check it out and do your own research.


If you enjoy writing short fiction stories (less than 1,000 words) I'd love to have you join me on Narrative. Don't abandon STEEM - there's room in your life for both! Here's a link directly to my page featuring Flash Fiction:
Get in on the ground floor and see what it's all about. If you have any questions, feel free to ask me in the comments.