There are 8 million Steem still left at Poloniex. On November, 15 withdrawal will be permanently disabled. Guesses are that up to 4 million Steem could be stuck in @poloniex since large number of Steem holders are not aware of the notice.
Now, the big question is that what will happen to these left over Steem to @poloniex. Do @poloniex own them legally?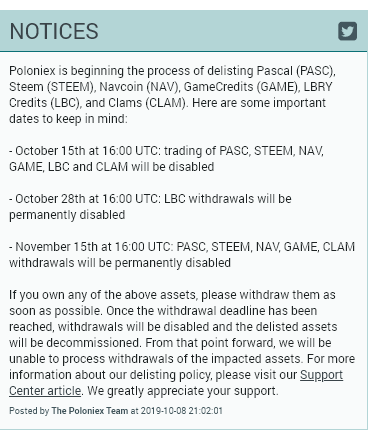 In their delisting policy, they states that they will decommission the asset but nothing about left over asset's future:
Once the withdrawal deadline for a particular asset has been reached, withdrawals will be disabled and the asset will be fully decommissioned. From this point forward, we will be unable to process withdrawals of impacted assets. It is imperative that customers withdraw delisted tokens by the withdrawal deadline.
It is pretty much unclear what they will do with the leftover Steem. However, STINC and community can request to Poloniex to burn the leftover Steem sending them to @null.
Otherwise, even 1 million left over Steem selling to the other exchanges will dampen Steem price further.
Moreover, it is borderline unethical to provide jittery service for years and then delisting the coin. @poloniex had Steem transfers disabled for months when other other exchanges such as @bittrex or @binance-hot remained steady.
It would be shame to provide 1-4M Steem bonus to @poloniex for providing jittery services which has affected Steem's price earlier.
Therefore, I request STINC and community to request (Email support) @poloniex to send those leftover Steem to @null since its not their asset, somebody's asset. Moreover, they never explicitly mentioned about owning the leftover asset and selling them in other market.
Disclaimer: This opinion is not a financial advice, it my personal perspective and opinion. Please seek professionals for financial decisions.
Image sources: Most images are open sourced (e.g. Pixabay, Wikimedia etc.) with Creative common license. Some images are used with due courtesy to respected owners.
Thanks for reading.
@dtrade
Cryptominer , occasional trader and tech blogger since 2013