Steem is having worst year in term's of year's high which is only 54 cents along with only 5X swing between year's low to high in 2019.
For Steem's nostalgia, Steem had 2016's high at $4.35 along with 40X swing between year's low to high, 2017's high at $2.65 along with 30X swing, and 2018's high at $8.5 along with 40X swing,
2016: Peak during May- July: $4.35, Low during November-December: 11 cents, 40X swing
2017: Peak during May- July: $2.65, Low during March-April: 7.5 cents, 30X swing
2018: Peak during January-February: $8.5 and May-July: $4, Low during November-December: 22 cents, 20-40X swing
2019: Peak during March-April $0.54 and Bottom during November-December $0.102, 5X swing
2020: Peak during XXX-XXX: $x.xx and Bottom during XXX-XXX $x.xx, X times swing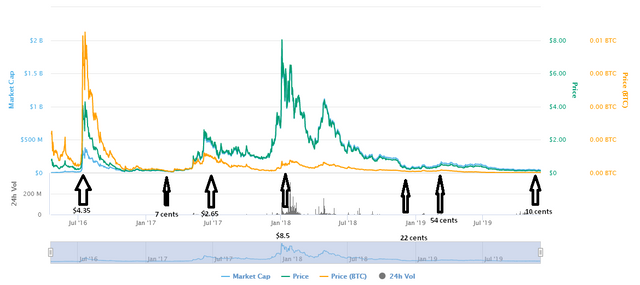 After the launch of Steem, it went up in CMC ranking as high as 3rd. It was also trading at $4.35 in July 2016 when BTC was less than $1K and LTC was less than $4.
Then Steem had a debacle in price at Q1, 2017 due to major split between founders and 100% inflation which was changed to 10%. It went down to 7 cents. That is almost 98% drop from the peak.
Then Steem rode the overall crypto bull run of 2017 and went up to $8.5 in January, 2018. It is a sheer rise of 12100% from its low of early 2017.
Again it dropped another 98% from the peak of $8.5 in December, 2018 to 22 cents.
It recovered to only 2.5X to 54 cents in March which is year's high for 2019. Unfortunately, Steem hit all time low against BTC at 0.000014 in October and recent year's low at 10.2 cents other than all time low of 7 cents in 2017.
Other than that in past three year, Steem had an interesting pattern for price swing. Steem has swung 30-40X between year's low to high within a year. For example, if one buys at bottom for $10K Steem, than it can become $300-400K at the peak with the exception of the year 2019.
However, in case of 2018 and 2019, one has to short-sell to the 30-40X profit. As far as I know, Steem cannot be shorted at any exchange. In that case, if one already had say, 50K Steem, sell it for $8.5, then buy back at 25 cents in 2018 then he will have 1.7M Steem. Such an wild swing!
If the short history of Steem's price action is any indication, then it can rise another 10000% in next bull run to reach $20 and from there can fall back 98% to reach 40 cents again and again.
This kind of price actions attract of lots of speculators both savvy ones and newbies. The newbies and skittish Steem traders enter the market with lots of enthusiasm. But they leave in drove in crappy price action such as the year for 2019.
When Steem returns to the bull run, these noob investors will buy Steem back at $1, $2, $4, even as high as $8. But they are too afraid to enter now. That is how money are made. Very few savvy traders will make lots of money by riding this bear and bull. But a large number of skittish and noob traders will also lose lots of money during these ups and downs.
However, is Steem a better blockchain when price was $4.35 or $8.5. Or, Steem is a worse blockchain when its price was 7 cents or 10 cents.
Nope, period.
In fact, Steem is ever growing blockchain that is getting better everyday. Total number of accounts, DApps, Steem based tokens (i.e. tribe tokes) etc. are increasing everyday.
Ideally we would like to see Steem price would start at 7 cents, reach $1 now and $8 in this year. But in the area of trading paradigm of new assets, there is no such rule. The price discovery is a wild-wild-west and has parabolic ups and downs.
As (wannbe be) savvy investors we may only buy in each deeps to acquire more Steem if we can afford. And, we can earn more through blogging, curation, delegations, even trading (if we are good at).
Steem will reach a high floor price say, $1 or $5 at some time in future. Since my current buying average for Steem is around 50 cents, I would keep buying at dips to make them lower. These kinds of severe price actions are also opportunities for us to make my holding bigger too.
#AskSteemit and #AskSteemLeo: What do guys think about this highest price for Steem in 2020? Will Steem see $2 or more in 2020? (Steem surpassed $2 in 2016, 2017, 2018 but in 2019 only 54 cents)
Wwill we see wild swing of 30-40X similar to 2016,2017, 2018 in 2020?
What you guys think about peak and bottom for steem in 2020?
Disclaimer: This opinion is not a financial advice, it my personal perspective and opinion. Please seek professionals for financial decisions. This opinion is only for educational purpose.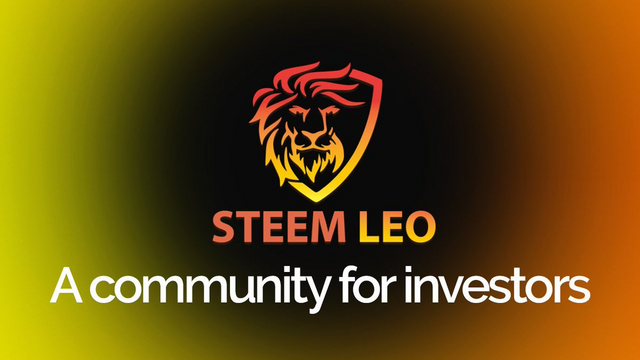 Image sources: Most images are open sourced (e.g. Pixabay, Wikimedia etc.) with Creative common license. Some images are used with due courtesy to respected owners.
Thanks for reading.
@dtrade
Cryptominer , occasional trader and tech blogger since 2013