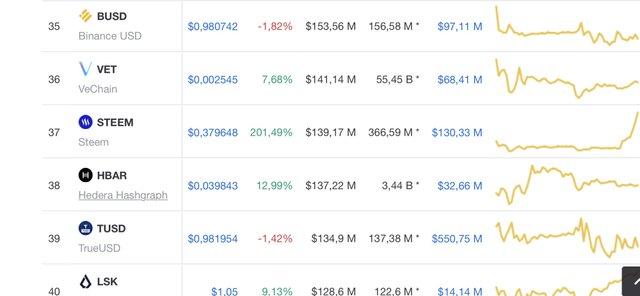 Not only is confirmed that Justin Sun is trying to profit out of this and started to gather STEEM on Binance to participate in the Airdrop, no, also a real Hype has started!
The word of Hive.io is spreading faster then light! The reason is very simple, every major Crypto outlet started to report on this super urgent Airdrop. That led overnight to Investors and Hodlers from all over the place gathering around STEEM to suck up the tradeable supply. Now at this moment due to the Witness War between Justin and the community, vast amounts are staked anyway and can not be traded. Low Supply meets high demand, life can be so simple :))
The Price is going straight through the ROOF and STEEM is making a comeback in the TOP40 of Crypo Currency. We are currently at an +200% and still more then 30Hours away from the critical Snapshot moment - tomorrow 15:00 CET.
Considering that the price has already trippelt, some might actually take their profits already and 'flatten the curve' for the STEEM price again. What we see here is well in my prediction and is already the first big success of the HIVE.IO Project.
This is more then great for HIVE, because the higher STEEM rises now, the higher will Hive Start eventually. There is a strong price correlation between currently and obviously.
For these two critical questions remain strong:
Will US Investors take their profit in the Morning (5 Hours from now)?
Will Corona spread in the same speed soon?
Both would be very bad, so stay healthy and stay clean!
Bzzzz, Manni