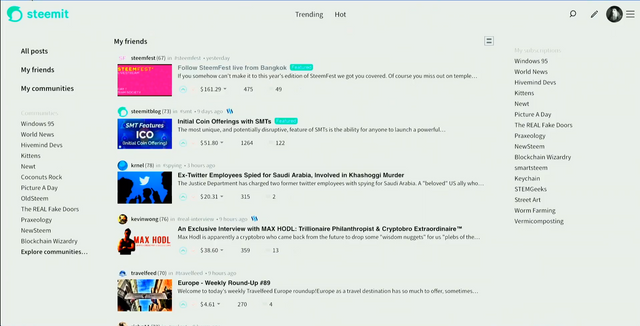 If you haven't been watching the Steemfest live streams you should. Tons of great presentations that will get you pumped about what's coming down the pipe for Steem and some of our favorite apps/dapps.
That's all good and I'm looking forward to seeing some of those things come to fruition, but the number one thing I wanted to get a sneak peek on was Communities, and I did, or we did, whatever.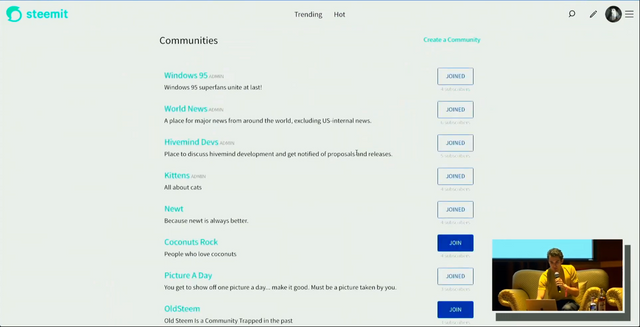 One of the biggest and arguably THE biggest problem with Steem is content discovery. I think this is the biggest problem when it comes to Steem as a content platform, maybe not as blockchain tech or as an investment overall, but regardless, it's a huge problem.
For a while now the word on the street was that Communities was supposed to address this, but it really wasn't clear exactly what Communities was or what they would look like. Today we got our first peek at Communities and you can see a preview in the video above. Here are a few key features.
Starting a Community will cost the amount of creating an account(around 3 Steem ie nothing practically)
You "own" your community. You can assign mods, mute people, create rules and guidelines, etc.
You can launch an SMT around your Community.
You can just have your Community on Steemit or you can also have your own separate frontend for it.
This is a big one
When you post in a Community, that post doesn't show up on your blog by default, but you can resteem it to your blog.
The reason I think that last tidbit is really powerful is because we can finally use Steem as true social media. If there is a chat community, or a meme community, you don't have to worry about polluting your blog with low value posts, they'll just live in the Community where you posted them.
So the big idea here though is that this should fix content discovery. I'm still shocked at how well the EIP worked, within a few weeks bidbots were basically done. Abusers were turning over a new leaf, people were and are downvoting like crazy. I shutter to think that content discovery might also just get fixed as well, just like that. We'll still need to fill these Communities with people, but we'll actually be READY for people now. This is super exciting to see. It's all finally happening. Hold on Steemians for a little longer. The Steem shall rise again.
Enjoy the rest of Steemfest for all who are there and all us losers just watching. See you all in the next post!