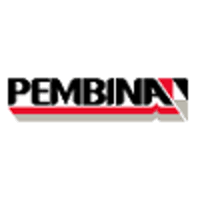 Pembina Pipeline Corporation provides transportation and midstream services for the energy industry in North America. Pembina owns an integrated system of pipelines that transport various hydrocarbon liquids and natural gas products produced primarily in western Canada. It operates through three divisions: Pipelines, Facilities, and Marketing & New Ventures. Pembina Pipeline Corporation was founded in 1997 and is headquartered in Calgary, Canada.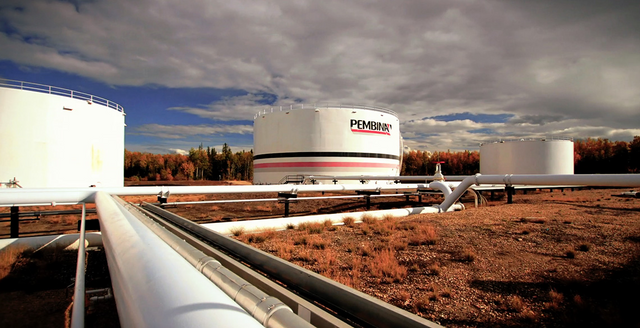 So
Pembina Pipeline is like a MLP, but just North of the boarder. Master Limited Partnerships or MLPs are limited partnerships that trade on securities markets like normal stocks. However, MLPs are not subject to income tax, but because of their special tax status as pass-through entities, pay distributions, which are a kind of tax-deferred dividend.
Two weeks ago, Pembina Pipeline (PBA) reported quarterly earnings. PBA earned $0.50 per share, beating estimates of $0.43 per share. This compares to earnings of $0.46 per share a year ago, so not bad. Probably what's more impressive is they have been earnings / share estimates the last 3 out of 4 earnings announcement.
One week ago, Pembina announced that its Board of Directors declared a common share cash dividend for November 2019 of $0.20 per share to be paid, subject to applicable law, on December 13, 2019 to shareholders of record on November 25, 2019. November 25 is known as the ex-dividend date. If you purchase a stock on or after its ex-dividend date, you will not receive the next dividend payment. But, if you purchase before the ex-dividend date, you will get the dividend.
So is Pembina Pipeline a great dividend stock? An article published by Nasdaq thinks Pembina Pipeline they are and I learned some things in the process of reading it.
Canadian pipeline giant Pembina Pipeline (NYSE: PBA) would likely score a high rating since it yields 4.8%, which is more than double the average of the S&P 500.

Companies that routinely increased their dividends generated a 9.6% total annual return over the past several decades, according to a study by Ned Davis Research. Those that maintained their payouts, on the other hand, only produced a 6.9% total annual return, which underperformed the S&P 500's return of 7.3%.

The company has built its financial foundation on four main pillars that it uses to maintain a sound profile. Here's how it currently stacks up against those guidelines:

Get at least 80% of adjusted EBITDA (earnings before interest, taxes, depreciation, and amortization) from predictable fee-based sources: In 2019, fees supplied 85% of its earnings.

Target a dividend payout ratio of less than 100% of fee-based cash flow (and an even lower rate overall): In 2019, it paid out 78% of fee-based cash flow and just 56% of overall cash flow.

Target at least 75% credit exposure from investment-grade customers: In 2019, 82% of its EBITDA came from creditworthy customers.

Maintain a strong BBB credit rating: It achieved this in 2019 with metrics at the low end of its target range.
Source
A couple of take notes I jotted down:
Look for dividend companies who have been able to increase their dividend over time as these type of companies using have a better ROI, then those companies that don't.

Dividend payout ratio is another key metric. The dividend payout ratio is the ratio of the total amount of dividends paid out to shareholders relative to the net income of the company. If a company has a dividend payout ratio over 100% then that means that the company is paying out more to its shareholders than earnings coming in.
According to Dividend.com, payout ratios that are between 55% to 75% are considered high because the company is expected to distribute more than half of its earnings as dividends, which implies less retained earnings and leaves less room for the company to employ CAPEX plans. This, in turn, limits the company's ability to grow dividends in the future.
Thus, although Pembina is a decent dividend company to own, I'm going to put this company on my watch list for now.
This post is my personal opinion. I'm not a financial advisor, this isn't financial advise. Do your own research before making investment decisions.