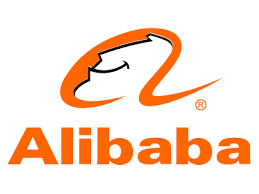 Alibaba Group Holding Limited, through its subsidiaries, provides online and mobile commerce businesses in the People's Republic of China and internationally. Alibaba is the house (really the company) that Jack Ma built. A former English teacher, Jack Ma cofounded and Alibaba and eventually made Jack the richest man in China, as well as one of the wealthiest people in the world.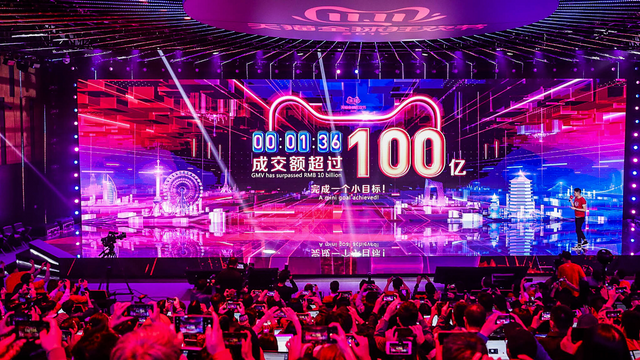 Jack also created Singles Day. Singles Day is very similar to Amazon Prime day. Introduced in 2015 in part to celebrate Amazon's 20th anniversary, the first Amazon Prime Day was a one day only retail holiday that sought to overtake Black Friday as the sales event of the year. This year Prime Day was a 48-hour event sold over 175 million items and raked in over $2 billion dollars.
OK, so Singles Day is like Amazon Prime day, but much, much larger because last year, Singles' Day took in approximately $30 billion. So, Singles Day is like Black Friday. But you know what, can't even compare Singles Day to Black Friday because, in the past few years, Singles Day has surpassed the transaction volume of both Black Friday and Cyber Monday combined.
Alibaba founded Singles Day after the company got wind of a new trend sweeping China's college campuses in the 1990s -- men celebrating their singlehood. Ma and his executive staff toyed with the idea for years and finally formalized the occasion by marking Nov. 11, 2009, as the first-ever Singles Day.

Strangely enough, Chinese couples have begun ringing in Singles Day with a very un-single like tradition -- getting married. In 2011, for example, 4,000 couples got married in Beijing, China. Compare that to an average of 700 marriages on an average day in the Chinese city.

Singles Day is also generating other non-shopping traditions in China. For example, blind date parties are becoming more common on Singles Day, thus morphing the holiday into something of a Valentine's Day, as well.
Source
Singles Day this year got off to a bang. Singles Day sales hit $1 billion mark in 1 minute, 8 seconds. And within the first within the first hour, sales hit $12 billion, up 22% from last year. And within the first nine hours, sales hit $23 billion. And the chart suggests, the results from Singles Day will result in Alibaba breaking out to the upside from this wedge pattern.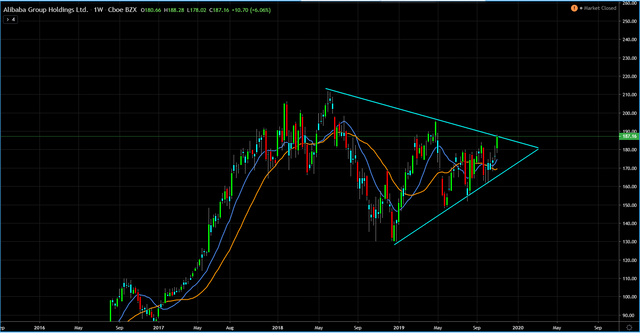 and this major weekly resistance/support band.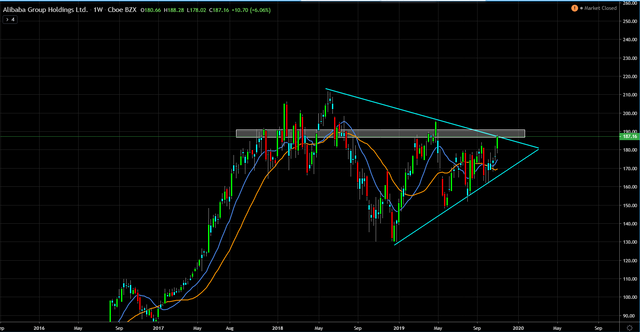 with a target at $200.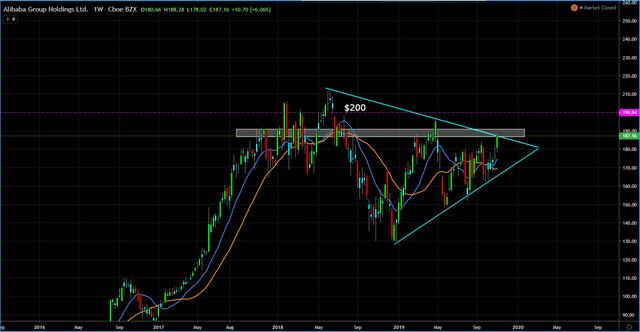 This post is my personal opinion. I'm not a financial advisor, this isn't financial advise. Do your own research before making investment decisions.